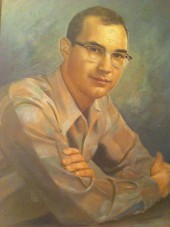 July 21, 2008.
My memory is that I met Jim Kepner at ONE, Incorporated, when I was at loose ends.
We talked over a coke after meeting at ONE's offices on Hill Street (I think that old elevator was on the Broadway side) in the Thrifty Drug across from Pershing Square.
He said he was going to the convention. I decided to go — I must have had a car, but I went anyway.
I wonder if there are any records of who signed up, any brochures if any? I know it got lots of publicity in the two papers: The Denver Post and Rocky Mountain News. I don't know if Jim wrote it up in his journals. Today, I don't remember any of the meetings or even the speakers.
But they all are relatively unimportant (what did Hal Call write up about it later? I'm not sure if Don Lucas was there…) because people there were so excited at how well things were going and all the good publicity they had received, etc. They paid little attention to a sneaky proposal to honor San Francisco Mayor George Christopher for being so helpful and in a sense gay friendly.
Now as I recall, San Francisco was not all that gay friendly in those days. But no one thought much about it, and the motion to honor Christopher passed along with some other things, and the convention ended and everyone went home — except, of course, those Mattachine members who had done such a great job and lived in Denver.
Then all hell broke loose — they lost jobs, etc.
And suddenly Russell Wolden, running against Christopher, started publicizing the "queer" (I forget what term he used) organization that had honored Christopher and saying how terrible this was for San Francisco's image, etc. Talk about unintended consequences — the papers, etc., which were not especially gay-friendly, took out after Wolden, calling him a troublemaker and supporting Christopher!
Hal Call, et al., loved this of course — it brought Mattachine great publicity. I'm not sure how many new members it attracted, but in those days neither Mattachine nor ONE got much help from all the publicity they received — which wasn't much anyway.
I am not sure of the dates, but I must have moved to San Francisco just after the convention, and that is when I first (of two times) stayed with Hal and worked a week or so in the PanGraphic office, and the only surviving record is the book review I did of Advise and Consent, which appeared later.
I had actually lived a few months in San Francisco earlier and did not contact Mattachine at the time — I was working the last "regular" job, as "caller to check on credit" at Retailers Commercial Agency (now called something else) in Atlanta, GA. Ironically my first job after getting kicked out of the Army at Ft. Riley, dropping off my car in Bossier City, taking the train to L.A., and following Don Slater's idea even before I knew him.
I had lied on my application, but neither firm ever checked my military service (and thus learned of my discharge) though they did send for my lousy transcript at LSU). Retailers Commercial was a southern company that should have checked as that was their business. (The first company was southern also, Anderson, Clayton Cotton Co., of Houston, with some parts still in business on 6th St. at Lafayette Park.) Retailers in L.A. had been on Wilshire near downtown, across from the hospital. I was not doing well there, so they transferred me to try San Francisco, and finally we just mutually called it quits.
I took a bus trip around the country — Boston, New York, etc. I left my car parked on hill in San Francisco, and it was in good shape when I returned.
I then returned to Los Angeles and went to work for ONE, Incorporated, and rest is history.
It seems important to think that what we or they thought was the main thing at the convention turned out to be nothing, yet the convention put the Mattachine Society (as it was) on the map and in a sense started San Francisco toward being what it is today.
And that was not what the agent provocateur had wanted, making this a lesson right-wingers might want to consider.
---