January 10, 2001.
I'm not sure what a "gay movie" is. It seems that it should be a movie that sleeps with other movies.
By that definition, Billy Elliot might be the gayest of movies. (BTW, I do not think that it is at all clear what Billy's sexual orientation will be when he grows up.) However, insofar as all movies have genre conventions and almost all have the intertextuality of performers who have been or will be in other movies, movies that sleep with other movies is too over inclusive a definition.
Without suggesting what I meant by "best gay movies," I asked my West Hollywood hosts on a recent visit to LA what they thought were the best gay movies ever. One of them nominated All About Eve and nothing else. The other suggested LA Tool and Die, and, for company, Made in the Shade, Bazaar, Voyage à Venice, and Track-meet. There is not a gay character in All About Eve, although it is the ne plus ultra of representations of the travails of being a queen. I doubt anyone would question the gay content and interest in the other man's list. Two of the five are in French, though it is the Greek parts of all five that are imprinted on my friend's brain.
I am going to include films in which the major male character loves and/or desires males, and leave the hardcore list to my friend. For gay sensibility without overtly gay characters, The Importance of Being Earnest (1952) written and directed by Anthony Asquith with Michael Red grave and Edith Evans, is the obvious choice. Another is Jean Cocteau's La belle et la bête (Beauty and the Beast, 1946) with his lover Jean Marais as the beast turned into a (less interesting!) prince at the end. For a gay actor in a gay fantasy, Montgomery Clift is an even better choice knocking down John Wayne in Red River. (The young men's dialogue about their pistols was mostly censored, but still seems unmistakable to me.)
However, my list is of movies that are either not made in the USA, or not made entirely in English. Thus, there is one film on my list that was made in London and another made in New York. Both are about immigrants and their family expectations and include segments not in English.
I am not presenting them in ascending order of merit, but attempting some topical links between successive components of the list.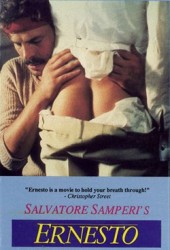 Ernesto (1979, Italian, based on the novel by Ernesto Sabba, directed by Salvatore Samperi). Set in Trieste just before World War I, the film portrays the sexual explorations of the title character, the seventeen-year-old son of a Jewish mother and an absent non-Jewish father, who has deserted his family. Ernesto puts in time in his uncle's company, though he is intent on becoming a violinist. He notices the lustful looks of a stablehand and gives and then withdraws sexual access to the man. Moving on from the love-besotted man who initiated him to sex, Ernesto soon falls in love with Emilio, with a beautiful violinist a few years older than Ernesto. Whether they are going to mate with each other or through exchanging sisters is an open question at the end.
Direct physical contact is denied the prisoners in solitary cells in Jean Genet's even more supercharged Un Chant d'amour (Song of Love, 1950) a supercharged with homoeroticism 26 minute soundless film (no music, no dialogue). The lovers are very creative in finding ways to communicate. The audience is made complicit with a voyeuristic warden. This short, intense film is infinitely superior to Fassbinder's adaptation of Genet's Querelle. and far ahead of its time in objectifying/fetishizing masculinity
In Der Konsequenz (The Consequence, 1977), in German, written and directed by Wolfgang Petersen (who went on to direct Das Boot, In the Line of Fire, and The Perfect Storm), it is Thomas (Ernst Hannawald) the son of the warden who is interested and more than interested in prisoner (Martin, played by Jürgen Prochnow, who would go on to star in Das Boot). Thomas seduces Martin (in contrast to Ernesto allowing himself to be taken, Thomas is decisive about getting what he wants). After Martin is released from prison, he and Thomas live together for a while. However, Thomas's father learns of the liaison and has his son committed to a facility for juvenile delinquents. Martin manages to get hired as a teacher there and resume their relationship. Love conquers all, though not easily.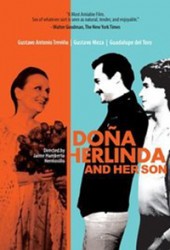 Doña Herlinda y su hijos (Doña Herlinda and her sons, (1985, in Spanish, or "Mexican" in America's president's views, directed by Jaime Humberto Hermosillo) also has a happy ending. One could justly say it has a "fairy-tale ending." I don't recall if Mrs. Herlinda (Guadalupe del Toro) is literally a Jewish mother. She continues to pamper her son Rodolfo, a physician of about 30 (Marco Antonio Treviño). She badly wants to get him married and does not consider his being gay an insurmountable obstacle. She eventually constructs a household in which he can live with his mother, his quickly-impregnated wife (Lupercio Olga), and his very attractive boyfriend (Gustavo Mezza). Rodolfo gets over some of his macho attitudes and everyone is set to live happily ever after in the heartland of machismo, Guadalajara, Mexico.
My Beautiful Laundrette (1985 in English and Urdu), directed by Stephen Frears (who also directed Prick Up Your Ears) from a screenplay by Hanif Kureishi (author of My Son, the Fanatic and The Buddha of the Suburbs) also has a happy ending after much familial (a Pakistani emigrant family's) opposition to Omar (the sleekly gorgeous Gordon Warnecke) partnering Johnny (a punkish young Daniel Day-Lewis) in business and bed (or on a table). The laundrette they fashion is also a fantasy facility, but it is an amusing one. The two lead characters sizzle amidst racial/economic resentments of a decaying London.
Hsi yen (The Wedding Banquet, 1993, in English and Mandarin) written and directed by Taiwanese film-maker Ang Lee is undoubtedly the best-known film on my list, and has to be considered to be "made in the USA." I think that Winston Chao is very attractive as Waitung and Mitchell Lichtenstein is amusing as Simon (he was far more provocative in his previous gay part, in "Streamers"). Baby will make four (or six) in the amalgamation of a gay primary relationship, a marriage of convenience, and Chinese patriline extension.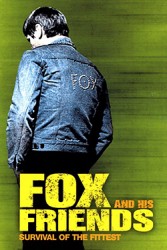 Faustrecht der Freiheit (Fox and his Friends, 1975 in German) directed by and starring Rainer Marie Fassbinder, is a harsh antidote to the happy endings of the preceding four films on my list. Franz "Fox" Biberkopf is a doughty, dimwitted proletarian lad, unsure what to do when the police arrest his lover and shut down carnival booth. To pay for his weekly lottery ticket, Fox rents his body to an affluent older man named Max (played by Karlheinz Bohm, the star of Peeping Tom 15 years earlier). Fox meets some younger gay friends of Max's with expensive tastes and less income than they need to maintain the lifestyle to which they are accustomed. When Max wins the lottery, the suave and very handsome Eugen Theiss (Peter Chatel) takes him on long enough to drain his winnings. Fox is easily deluded and exploited—not just exploited but ground down far beyond his original penury. Fassbinder shows that his endowments were not confined to directing, and that if he hadn't been churning out his own movies, he could have appeared in Joe Gage's.
For soap opera excess, it seems natural to move from Fassbinder to Pedro Almodóvar. Both painted with a garish palette and more often focused more upon women on various verges than on the amours of gay men. The Almodóvar films before he was tamed that might be considered "gay films" in senses beyond being made by a gay writer-director are Matador and La ley del deseo (Law of Desire, 1987). The latter shows the very messy amours of siblings (once brothers) Pablo (Eusebio Poncela) and Tina (Carmen Maura). Tina is a man-hating transsexual, raising a girl and trying to succeed as an actress. Pablo is a gay writer-director of plays and movies, in love with Juan, who is indifferent to him. Antonio Banderas, as Antonio Benítez, a model and would-be actor, provides an alternative when Juan goes away, but Antonio becomes unbalanced with jealousy for Juan and tracks him down and kills him. Pablo veers into amnesia. When he recovers, he finds that Tina is now enjoying Antonio's embraces (etc.). Everyone drinks too much. Everyone except Juan loves too much. For Almodóvar, nothing succeeds like excess, and he piles it on here.
The Thai soap opera of revenge Rak Toraman (Tortured Love, 1986) is a sequel to Pisan Archaraseranee's 1985 film Playing Soot Tai (The Last Song) in which a professional female impersonator has an unhappy love affair, cuts off his long hair on stage, and then shoots himself. His butch twin returns and seduces the heart-breaker. Like Doña Herlinda, this film takes gender stereotypes head-on, with entertaining results.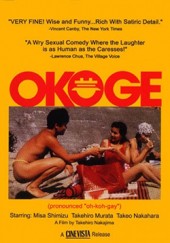 Okoge (released with the Japanese title, which refers to the rice that sticks at the bottom of the pot; it was also released with a title epinions blocks including F-a-g-h-a-g, 1992 in Japanese), written and directed by Nakajima Takehiro, is a vivid portrait of a Japanese family refusing to acknowledge the attempt to come out of a not very verbal but very lovable son (Takehiro Murata as Goh). He is exploited by his siblings as much as Fassbinder's Fox is exploited by his gold-digging pseudo-friends. Sayoko, an independent young woman (I think she had an American military father), is fascinated by gay men—first on a gay beach and then in a bar. She attempts to aid Goh's romances, is raped and impregnated by one. Goh takes her in and his former lover Tochi (Shimizu Misa) bursts out of the closet and breaks with the jealous wife and the job with her father's company. Goh and the film are far more earnest than Fassbinder or Almodóvar could ever be, although the film is not without humor. It has a color scheme as blatant as one of theirs, but is touching in ways one cannot imagine Fassbinder or Almodóvar being. For inclusivity, it is right in there with Doña Herlinda and The Wedding Banquet. And for hotness, it is up there with My Beautiful Laundrette, Tortured Love, and Law of Desire.
Writing this list, I have concluded that Okoge is my favorite "gay film." I guess that the best one is My Beautiful Laundrette, though I suspect I am overinfluenced by this being the one with a romantic Pakistani lead.
Honorable Mentions
I considered a number of Chinese and Taiwanese films, including the pioneering but dated Niezi (Crystal Boys, Outcasts or Outsiders, 1986), directed by Ping Yu-Kan), Cheun gwong tsa sit (released in English as Happy Together, 1997 in Cantonese, filmed in Argentina) directed by Wong Kar-wai (Chunking Express) starring Hong Kong superstars Leslie Cheung and Tony Leung Chiu Wai as lovers and the Taiwanese heart-throb Chen Chang before he played the younger romantic lead in Crouching Tiger, Hidden Dragon).
Dung fong bat baai 2: fung wan joi hei (released in English as The East is Red and Swordsman III 1992, in Mandarin) , directed by Ching Siu-Tung with Brigitte Lin as Invincible Asia. For gender-bending martial arts, it is clearly the champion.
For dark perversity (and saturated color schemes) there is the trilogy of Tsai Ming-Lian films with Lee Kang-sheng as an alienated young gay rebel in Rebels of the Neon God, Vive l'amour, and The River.
Dong gong xi gong (East Palace, West Palace 1997), directed by Zhang Yuan and somewhat in the Genet captor/prisoner tradition, though far less objectifying and infinitely more verbal.
I'm not sure that Ba wang bie ji (Farewell My Concubine, 1993 in Mandarin), directed by Chen Kaige, with Leslie Cheung, Cheng Dieyi, and Li Gong is a "gay film." The triad does not have the procreative success of some of the films on my list, and it could be argued that the apex of the triangle is not gay—in contrast to the gay males who impregnate women in Wedding Banquet and "Doña Herlinda and the gay male who takes on the social aspects of the father role in Okoge (and akin to the ultimate ambiguity of the sexualities of both Ernesto and Emilio in Ernesto).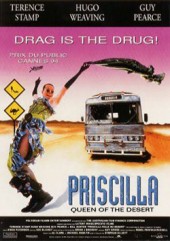 If I weren't shunning Anglophone films, I'd include two from Australia: Priscilla, Queen of the Desert ( 1994, directed by Stephan Elliot) about a drag troupe's tour of the out-back, starring Terrence Stamp and Guy Pearce, and The Sum of Us (1994) directed by Geoff Burton and Kevin Dowling from David Stevens' play, starring Russell Crowe. Before leaving Australia for Hollywood stardom (LA Confidential), Crowe played a gay part and Pearce a flamboyantly effeminate and promiscuous one.
Mention of Stamp suggests both his first starring part, in the title role of Peter Ustinov's 1962 film of Billy Budd, and Pier Paolo Pasolini's intriguing Teorema (1968 in Italian) in which Stamp as an omnisexual being who seduces every member of a bourgeois family
And mention of the homoerotic Melville novella leads to the 1999 French Foreign legion in Africa adaptation by Claire Denis, Beau Travail, which is intensely homoerotic with no gay characters. The sergeant, however, is close to Genet's warden in sadism brought on by unacknowledged desire.
Another very interesting, relatively recent French film with a proto-gay character is Les Roseaux Sauvage (Wild Reeds, 1994) directed by André Téchiné. Although it has a fairly hot sex scene between two young males, it is less "a gay film" than Ernesto, though it is a more interesting coming of age film overall. And for a proto-gay child (like Billy Elliot's friend Michael, there is the 1997 Belgian film Ma vie en rose, directed by Alain Berliner.
I have a weakness for Macho Dancer (1988 in Pilipino), directed by Lino Brocka. The young men in it are very hot, though homosexual mostly for money. It runs on too long and is more than a little mawkish. With some of the entries on my list, I can't say that it's too melodramatic, but although marketed to gay audiences, it seems somewhat suspectly homophobic to me.
I liked the Peruvian melodrama No se las digas a nadie (Don't Tell Anyone, 1998) directed by Francisco J. Lombardi with its androgynous scion of an upper-class family (as in Ernesto). I did not like the androgynous Giton in Fellini Satyricon but found his suitors (Martin Potter's Encolpio and Hiram Keller's Asclito) hot.
Also a very funny Japanese film parodying the paramilitary adventures of writer Yukio Mishima, the title of which escaped my brain (I want to call it Pink Samurai).
And if I were going to include American movies, I'd be sure to include Parting Glances, Longtime Companion, and The Opposite of Sex.
Before Night Falls (2000, in Spanish and English) filmed mostly in Mexico by painter Julian Schnabel, based on the posthumously published memoirs by the exiled Cuban writer Reinaldo Arenas, probably should be on the list. It considerably downplays the gay content of the book, although it is far more overtly gay than some of the films that did make my list. For now, it can be on top of my list of films about writers.
---
©2001, 2016, Stephen O. Murray
---