BearCity

Directed by Douglas Langway
Written by Douglas Langway and Lawrence Ferber
Premiered June 11, 2010, at the Newfest New York LGBT Film Festival
Comedy/Romance
104 min.
Review by Stephen O. Murray
March 20, 2014.
---
Unlike other reviewers, I don't see BearCity as influenced by Sex in the City. More The Broken Heart Club, Love, Valor, Compassion!, or "Queer as Folk" — or the 1930s The Women, perhaps.
I guess that some of the participants in the NYC gay bear subculture of NYC are friends, but they mostly gather in commercial spaces: a coffeehouse and a bar with a backroom (those still exist?!).
Tyler [Joe Conti], who has no facial or body hair and no fat, is an actor who secretly lusts after hairy beasts. He has no experience and at the start of the movie is warding off the unsubtle interest of his diminutive circuit-boy Asian room-mate Simon [Alex Di Dio—with a name like that, he must be Filipino].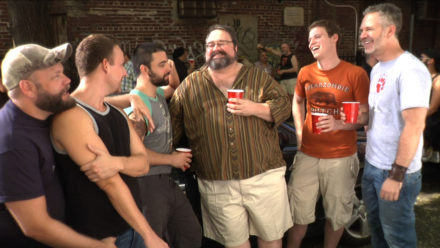 Tyler arrives (late) to an audition, not that cameraman Fred [the hirsute Brian Keane], who is very attracted to Tyler, is quite ready to shoot. The taping begins with name and phone number, which is very convenient.
Soon Tyler is renting a room in the apartment that Fred and his lover Brent [Stephen Guarino] share, just as Fred is seeking to open up their relationship. Fred also introduces Tyler to Brent's favorite coffee shop, where Tyler is soon working, and to the legendary (though I can't imagine why) player Roger [Gerald McCoullouch]. Tyler falls for Roger, and Roger is taken with Tyler until a hirsute go-go dancer from a Barcelona gay bear bar, Fernando [Sebastian La Cause], literally inserts himself between Tyler and Roger.
Meanwhile, Roger's best friend Michael [Gregory Gunter], the mother hen of the loose network, is thinking of getting his stomach banded, much to the dismay of his jealous boyfriend Carlos [James Martinez].
There is some simulated sex, a nude dance (home alone) by Simon, and lots of big bare bellies. But what is most puzzling in an exceedingly predictable romantic comedy is that while making such a big deal about being attracted to obese men, Tyler zeroes in on one with no discernible fat (one whom I do not find particularly attractive and not at all charismatic). It was also not clear to me what Roger's "type" was  considering Tyler and Fernando are so dissimilar.
This segment of gaydom has different criteria for what is "hot," but it is quite judgmental by its own fashion edicts and is pretty heteronormative in preoccupation with finding (and then holding onto) a husband. The movie is schmaltzy as all get out, even for gay movies with mandatory happy endings and a fixation on love and sex (not necessarily in that order). Work intrudes little, and biological families not at all.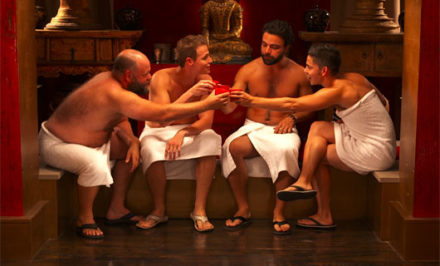 I thought that Simon's shock that a bearded man old enough to be his grandfather comes on to him was more entertaining than the rocky road to romance of Tyler and Roger. The ménage a trois Fred and Brent arrange is funny in a slapstick way, but the movie is rarely as funny as writer-director Douglas Langway seems to think it is. The 400-pound Gunter manages some poignancy in his frustrations at job interviews, and Carlos comes through in Hallmark movie fashion for the beast he adores the way he is.
(BTW, I am not a chubby-chaser. I'm also not a twink like Simon, though I find him sweet and his role is to be sympathetic (to Tyler). A far better bear movie—in which all those in the circle of gay adults have facial hair — is the 2004 Spanish Cachorro, released in English as Bear Cub.)
---
First posted on the Outinjersey website, 20 March 2014
©2014, 2017, Stephen O. Murray
---