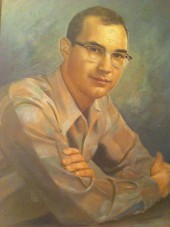 October 8, 2008.
I hope your readers appreciate the good news in the article by Matt Hanne that has the news that the material Bruce McKinney has collected and saved over the years, The Berdache Archives, is now at KU, Special Collections and that the University of Kansas person who helped place it there, Tami Albin, the Women's Gender and Sexuality studies special collections librarian understands the value of the material.
I had not heard of this collection, which for some years was located in the LGBT center until it closed. (McKinney had started the collection when he started the Student Homophile Alliance at WSU; the name came from an article in Blue Boy magazine about Native Americans, something Mattachine movement founder Harry Hay would appreciate.)
This once again points to the need for the community/movement to at least support the few such archives, much less trying to get others started. Let's hope that publications, such as The Advocate, will find space among its articles on celebrities, who want to thank their gay consumers, to report this good new resource that will be available not only to students, faculty and researchers in the Midwest, but perhaps online someday to everyone seeking knowledge of this historic part of the civil rights movement in America.
There needs to be a listing of our archives/libraries,that include this one and the few others, some held privately, such as Lesbian Herstory in New York, Lavender Library in Sacramento, Stonewall Library in Fort Lauderdale, Lambda Archives in San Diego, "ONE Institute" at USC (Los Angeles), and the Mazer Archives in West Hollywood and some in educational institutions, such as Frank Kameny's at the Library of Congress, the Homosexual Information Center's archives at Cal State, Northridge (the HIC Archives), now joined with the Vern and Bonnie Bullough Collection on Sex and Gender.
We need to be proud of our history, celebrate it, add to it and save it for future generations.
---