Billy Glover
Founder and Long-term Board Member of HIC
Profile by C. Todd White
---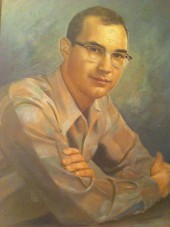 William Edward "Billy" Glover was born September 16, 1932, in Shreveport, Louisiana. He grew up in Bossier City and attended local public schools, the high school being four blocks from his home on Monroe Street.
Glover played flute in the high school band, and he enjoyed traveling over the summers to  performances in Lion Club meetings. He graduated in 1950 and went to Louisiana State University in Baton Rouge, where he says he "had more fun than learning."
He had been religious throughout school and most of college, but by the time he left LSU he sought elsewhere for answers to complex issues such regarding race, gender, and sexuality.
Out of the Military, Into the Movement
Glover graduated in 1955 and was immediately drafted into the Army, training at Camp Chafee, Arkansas. He was transferred to Fort Riley, Kansas at the time the 10th Division was being deployed to Germany and the 1st was returning. He later went to Fort Benjamin Harrison for further training, with the understanding that he would go to Germany for his time remaining. When that didn't happen, he got upset and started "acting up," as he put it. In 1956, he was caught in an alleged sexual encounter with another man and was promptly discharged.
Glover had seen ONE magazine on the newsstands, so now he contacted the publishers at ONE, Incorporated, first meeting Jim Kepner at the original office on Hill Street in Los Angeles.
He decided to attend the 1959 convention of Mattachine in Denver, and after this spent a few weeks working with Hal Call and Don Lucas and Mattachine in San Francisco.
Glover soon returned to Los Angeles and started volunteering at ONE, becoming the first paid employee shortly after Jim Kepner left in late 1960. His first professional assignment was the un-glorious task of painting the library floor (bright red—the only color on hand).
On the day of President Kennedy's assassination, Nov. 22, 1963, Billy Glover met Melvin Cain, and the two became lovers and life-long friends.
At ONE, Glover worked in all areas and might be considered the office go-fer, but he found the proofreading sessions tedious. He was most helpful when it came to distributing issues of ONE magazine to the local newsstands (since Slater and Legg were often without a car). He was also a part of the committee that slipped the magazines into their brown paper wrappers, and it was often Glover who toted the bundled issues to the post office.
Division and Loyalty
When the differences between Don Slater and Dorr Legg came to a head in the Spring of 1965, Glover's loyalties remained with the magazine. He joined with Slater, Tony Reyes, Joseph and Jane Hansen, and Jim Schneider to incorporate the Homosexual Information Center, founded as a California non-profit organization in 1968.
It was eventually decided that Glover, who over the years had also worked through temporary jobs to support himself and to raise funds for HIC, should return to Louisiana. Until recently, he lived in his boyhood home, close to his old school and surrounded by old friends and neighbors. He still works daily on behalf of the HIC and for the LGBT movement, distributing information on homosexuality through the Internet from his home in Bossier.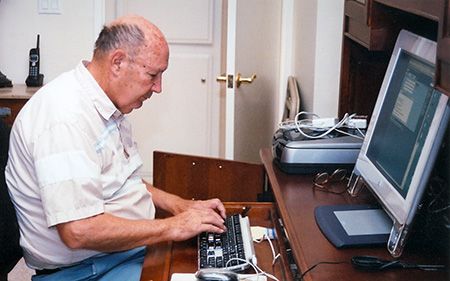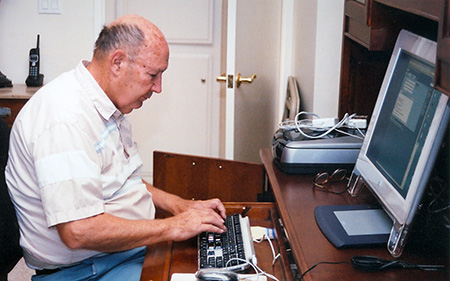 Glover is proud to have participated at meetings at all of the locations of ONE and HIC, some of which he moderated as business manager. He recalls the excitement of picketing of the Los Angeles Times and Fort MacArthur, and he was a key organizer for the Motorcade in 1966 over homosexuals and the military, appearing afterward on television shows such as Regis Philbin and Louis Lomax.
Glover is also proud to have worked shoulder-to-shoulder with such pioneers in the movement for homosexual rights as Jim Kepner, Don Slater, Dorr Legg, Joe and Jane Hansen, Vern L. Bullough, Harry Hay and John Burnside, as well as his colleagues Bob Waltrip, Morgan Farley, Fred Frisbie, Susan Howe, Jim Schneider, C. Todd White, Rodney Riggall, J. J. Belanger, Bob Haugen, Betty Perdue, Peter Blumer, Rudi Steinert, Dave Kennedy, and Melvin Cain.
As a young man fresh out of high school, Billy Glover had no idea what work he would do in the future. Now, in retrospect, he considers himself destined to have become an advocate for homosexual rights and causes. Glover considers himself lucky to have found so many wonderful places to serve and so many good people to serve with, and he hopes that young people of this new century will be so fortunate.
---
Image: Billy Typing, June 2005. Photo by C. Todd White.
---
This page was created by C. Todd White from information gathered while researching his doctoral dissertation, Out of Many… A Social History of the Homosexual Rights Movement. Dr. G. Alexander Moore was director of White's dissertation committee, in the Department of Anthropology at the University of Southern California.