Blackmail, My Love

by Katie Gilmartin
Published by Cleis Press

Published November 18, 2014
Fiction (mystery)
306 pgs. • Find on Amazon.com
Reviewed by C. Todd White
June 16, 2015.
---
Blackmail, My Love, the debut novel by Katie Gilmartin, should be read late at night by oil lamp or candle light, with the world around you shifted from technicolor to shades of gray.
The novel presents Josephine  O'Conner, "Josie," who has just arrived in San Francisco to learn why her brother, Jimmy, has seemingly disappeared.
The intrigue begins with Josie in a gay bar, surrounded by butches and femmes propped against the brass rail, the femmes festooned in genuine pearls—a high-class joint for society's lowlifes. Josie asks the pressing question: "Does anyone here know my brother?" And is quickly removed from the Dollar Bill bar.
Josie stays at her brother's haunted flat in the Tenderloin. The landlord, Mr. Wilkinson, provides shelter and hospitality, so Josie has safe landing in her brother's shady world.
An ex-cop, Jimmy had become a private investigator working for multiple clients involving an elaborate blackmail scheme. Josie discovers her brother's files—and gun—hidden under a floorboard, and she begins introducing herself to his former clients. Patterns unfold, and leads take her back and forth between San Francisco's dim-lit taverns and the stark fluorescence of the police department her brother used to serve.
Josie's love for Jimmy provides the impetus of the novel. The reader becomes instantly curious about what happened to her charismatic big brother, and the risks and sacrifices Josie makes on his behalf reveal her vulnerabilities while making us care for her, too.
Foiled against the specter of Jimmy, Joe/Josie, is deftly constructed and falls well within the mystery noir genre of the homophile era, a tradition originated in American letters by Joseph Hansen and his David Brandstetter mystery series.
Gilmartin, a historian by training, uses her academic familiarity to evoke San Francisco's first gay places. The Black Cat Cafe, Finnocchios, the Fillmore District, and the Tenderloin are all accurately situated with fictional establishments and colorful characters blended in.
Blackmail, My Love is beautifully illustrated as well, with woodcut-style illustrations, created by the author, adding to the tone and dimensionality of the read.
As a classic noir mystery, there is death, tragedy, sex, and romance, all in good measure and order. Best of all are the flowery characters, some based on historical figures such as José Sarria and musician Ada "Brockton" Smith. The supporting cast, including Black Pearl, Lily Wu, Madge Collins, and other regulars of the fictional Pandora's Box, are entirely made up yet nevertheless "real."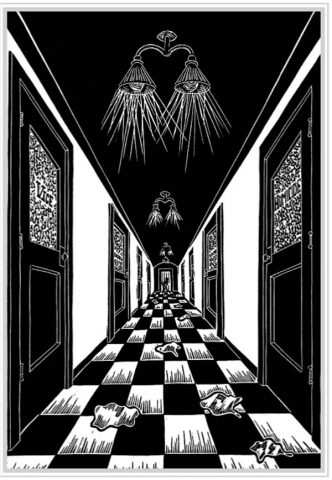 By transporting us into the underground world of San Francisco in the 1950s, Gilmartin shows us what it was like to be a homosexual during the post-war boom. It was a dark and lonely world, indeed—yet it was a time of growing prosperity as well, especially in America's seaport cities.
Gillmartin is a skilled writer who uses the power of our own imagining to take us into this world, to walk us around, smell the musty smoke-filled bars, sit surrounded by pseudonyms and spy holes, cocktails, jazz, and whispers, wondering if you'd be able to slip out that small window in the back should there be another raid.
The cops were on the pay—all of them. And they didn't call it a "beat" for nothing. To be caught in the wrong place and the wrong time meant losing your job, your family, your way of life—or even your life.
Still, with the proper connections and allies, it could be a powerful club to belong to. There was more than friendship here. It was a kindred that Josie found herself tapping into, a secret sodality sexual in essence but sororal in spirit. Josie finds her first love in San Francisco, and she learns to sit more comfortably within her own skin (if not her brother's boxy suit).
Of course she survives in the end—the story is written from her point of view. But the twists and turns, highs and lows are of the sort only a great writer can connive
This is a book that deserves to be widely read, and I trust there will be more forthcoming from Katie Gilmartin.
---
Blackmail, My Love was named 2015 Best Mystery by the Lambda Literary Foundation.
This review has also been published by Out In Jersey magazine.
©2015, 2016 by C. Todd White
---