Dale Peck reads from
The Law of Enclosures in San Francisco
by Stephen O. Murray
January 20, 1996
The Law of Enclosures
First published 1996
Farrar, Straus, Giroux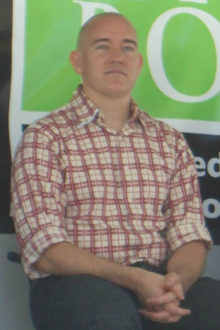 Dale Peck was born on Long Island in 1967 and raised in Kansas. He overcame an acute fear of flying (especially flying over storms) with drugs and said that he was very "spaced out." His speech certainly was not slurred. Indeed, I thought his reading from his new novel,  The Law of Enclosures, was over enunciated: in an affected "poetic" register.
Answering questions, Peck was funny and articulate. I asked what his father thinks (or will think) of his portrait in Law. He said that his father (Henry) would not read it but would eventually be told by his sisters, and he doesn't know what his reaction will be.
Someone else asked if he really wrote the whole book in cafés. He explained that, after the sale of Martin and John (1993) gave him enough money (just barely enough) to quit his day job he found himself too distracted by solitude to write. After walking to a distant café he was able to write and drink a lot of coffee. Now, he says, he can write at home, either in New York or London, where he has a "boyfriend thingee" with someone he met while staying with a friend there after Martin and John publicity. He said he attended Drew University (in all-white, ultra-Republican Madison, NJ) because they made him the best offer.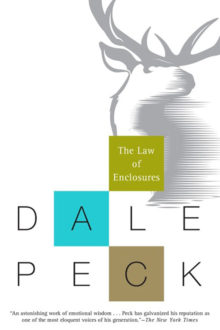 And Peck expressed skepticism about the "whole truth" ever being in any "autobiography" or any "fiction" being entirely made up—though he makes the distinction in his current "novel."
("Any literary work, even if intentionally 'autobiographical,' is always fictional, since it is bound to select and arrange, and hence interpret" (Miyoshi, Accomplices of Silence, 1974, p. 147).
Since he was wearing a stocking-cap, I couldn't tell if he has become bald (at 27 or 28) or if he had shaved his head. In the publicity photo for Martin and John, he had hair. He was wearing a dark sweater, cuffed jeans, black boots. Not lean and Nautilused, but not pudgy either. Seemingly more self-indulgent than self-lacerating (more like Martin than like John?).
The Law of Enclosures was adapted for the screen in 1999 by Canadian director John Greyson [Lilies, Zero Patience, Fig Trees] with Sarah Polley and Diane Ladd playing Peck's mother, Beatrice.
The Law of Enclosures was reprinted in May, 2015 by SOHO Press of New York
---
© 20 January 1996, Stephen O. Murray