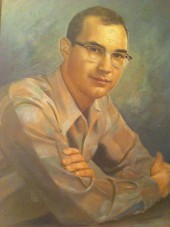 June 21, 2013
The San Francisco Gate published an obituary of Don Lucas (9-25-03), saying he died at age 77 of Parkinson's Disease.
He was born in Colorado in 1926,  attended a college in Pueblo, moved to Tacoma at age 18 (cleaned Liberty ships) and moved to San Francisco in 1949. He worked at an insurance company and did a show as Jus Foo Ling in 1953. At age 27 he, in the Spring of 1953, joined Hal call in the Mattachine Society. They formed Pan Graphic Press in 1954 to publish the organization's magazine, Mattachine Review. (Shortly after the Daughters of Bilitis (DOB) started their magazine, The Ladder, also in San Francisco. ONE had started in 1953, the first national homosexual publication, having been a product of people in the early Mattachine before the founders quit and Hal Call and cohorts took it over and moved it to San Francisco.)
Hal Call ran the organization and was the editor of the magazine and has been described as aggressive, and Don Lucas was called the quiet stable partner, the business part/accountant. Probably the high point of the organization was the publicity it got in San Francisco in 1959/60 from a "resolution" praising the Mayor, George Christopher, passed at the convention in Denver. It was proposed by a man working for someone seeking to replace the Mayor. The thought was that it would turn the voters off, but the plan backfired and the Mayor won reelection, and Mattachine got lots of publicity — no one could say they had not heard of it.
Later Lucas got interested in working for an organization attempting to get understanding of homosexuals in the religious community, the Council on Religion and the Homosexual. Then he went to work on the staff of an effort of the Office of Economic Opportunity, with a man from the new organization, SIR, to work with hustlers and the poor in an area of San Francisco.
Lucas said, about his motive for working in the movement to gain equal rights for homosexual Americans, "My agenda was to be able to integrate the homosexual into society and have him live a normal life without being harmed." (Behind The Mask of the Matachine, by James Sears).
Lucas has been covered several places, such as the Sears' book.  He is on a list of LGBTran for his religious work, and his papers are listed on Online Archives of California. His papers are at the GLBT Historical Society in San Francisco. He appeared in a TV show, The Rejected, in 1961. There is also a mention on something called EBSCO Host, perhaps by Martin Meeker. The Advocate mentioned him in 08-01-73. There is also something called FIU Library (Florida International University). There is material/coverage by Paul Gabriel, and an oral history. He also worked, apparently at the Haight Asbury Free Clinic, but I did not follow up on this.
---