It's Only the End of the World

Directed by Xaviar Dolan
Based on the play by Jean-Luc Lagarce
Premiered May 19, 2016, at the Cannes Film Festival
Drama (foreign/Canada)
97 min.
Review by Stephen O. Murray
November 28, 2017.
---
Gay Québecois filmmaker Xavier Dolan was only 20 when his first film, I Killed My Mother, came out in 2009. He may no longer count as a wunderkind, but his adaptation of It's Only the End of the World / Juste la fin du monde, by gay French playwright Jean-Luc Lagarce (1957–95), again looks at an unhappy family.
Dolan can now enlist an A-list French cast, headed by Nathalie Baye (who earlier played in his 2012 Laurence Anyways with Melvil Poupaud) and including Oscar-winner Marion Cottilard (La vie en rose).
The protagonist, Louis [Gaspard Ulliel, who played Yves Saint-Laurent in the 2014 Saint Laurent] is first seen on an airplane trying not to show annoyance with the boy in the seat behind him. Louis spends the whole movie trying to suppress his annoyance. Before the opening credits, the audience learns that the 34-year-old is returning to his birthplace and natal family after twelve years to tell them that he is dying. Of what is not specified, but I assumed AIDS even before knowing that Lagarce died of an AIDS-related disease.
Once "home" (a house which he had never seen before, not the one where he grew up but the one he had fled), he is greeted by the sister-in-law whom he is just meeting, Catherine [Marion Cotillard]. Her husband/his brother, Antoine [Vincent Cassel, La Haine] is very rude to her (and later to his other family members). The menacing, seething older brother seems to have dropped from a Pinter play.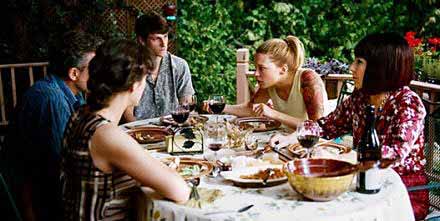 His mother [Nathalie Baye] is vain and seems quite addled. His younger sister, Suzanne [Léa Seydoux, Blue Is the Warmest Color, Saint Laurent] has no memory of him though she has followed his career in the press. She is also a major pothead.
The play has many monologues, whereas the movie has a series of téte-a-tétes between Louis and each of the other characters, starting with sister Suzanne.  His sister-in-law wants him to tell Antoine whatever he has come to tell—but not her, because that would make things even worse between them. His mother turns out to be considerably more astute than had first appeared.
Antoine grows particularly abusive during a drive to buy cigarettes, but more must have been said between the brothers than what is onscreen because Antoine swoops Louis off to drive back to the airport, disappointing their mother and sister.
None of them had asked Louis anything about his life, except the mother asking him if he still lives in the "homo ghetto" (presumably the Marais, though there is nothing to establish that the movie takes place in France rather than in Dolan's native Québec). He does get a cellphone call from a man I presume to be his lover back in his home of choice.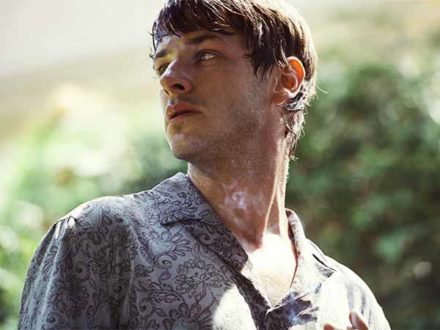 Having fled small-town life (if a far less dysfunctional family) myself, I identify with Louis trying to connect, trying not to feel insulted by the lack of interest in his life, swallowing frustration at not having the opportunity to make the announcement he came to make. I could drown in Gaspard Ulliel's eyes with his very long eyelashes, though I was puzzled by what seems to be a laugh-line wrinkle on his left cheek (unmatched on the other side).
I thought Cotillard was more tentative even than her cowed character called for. Baye, Cassel, and Seydoux were each quite flamboyant. Everyone was filmed mostly in closeup, so there was no aura of stage blocking. Though very talky, the unsaid dwarfed the said— which is Pinteresque even beyond the thuggish Antoine.
I don't understand why Antoine is so bitter and nasty. When he says he is tired of being treated like a "circus freak," I wanted to retort: "Then behave better!" But I certainly understand why Louis fled and returned only reluctantly, out of some sense of duty, to be the bearer of ill news.
Juste la fin du monde won the Grand Prix at Cannes and the Ecumenical Jury Prize. (I didn't think one film could win both!) Dolan also received Césars for directing and editing, and Ulliel received the award for Best Actor. Oddly, Ulliel was was not even nominated for a Canadian Screen Award. In a grand sweep, Cassel was chosen best actor, Dolan won for Direction and Adapted Screenplay, André Turpin for Cinematography, Maïna Militz and Denis Vidal for Best Makeup, and the film was chosen Best Motion Picture.
The DVD features an interview in English with Dolan and Cotillard, but I streamed the movie on Netflix so didn't have access to it.
---
©2017, Stephen O. Murray
---