The Folding Star
by Allan Holinghurst
Published by Pantheon (American Ed.)
Published October 4, 1994
Fiction (foreign/England)
422 pgs. • Find on Amazon.com
Reviewed by Stephen O. Murray
December 2, 1994
---
Allan Hollinghurst's The Folding Star is at the far edge of stuffing oodles of diverse material into a book called a "novel." Perhaps Hollinghurst is the gay Milan Kundera.
Several pasts are invoked, one a major digression in the middle of the novel. Too much is tied up too fast at the end after a quite leisurely, meandering course. (It has a perfunctory ending in contrast to The Swimming Pool Library, which seemed just to stop, not to have an ending at all. Obviously endings are not a strength for Hollinghurst.) Paul throwing himself at Edward seems too easy a re-establishment of ego after the frustrations of relations with younger men (Cherif, Alejo, and even Matt, as well as Luc).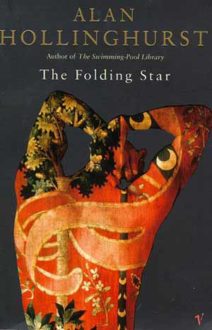 The writing is often beautiful, often sardonic (but I don't recall it ever being both at the same time?). It is very sexually explicit, and self-deprecating, even for a British narrative. A substantial book, it has afforded me pleasure this week, even when the narrator seems too craven in his fantasies about his Belgian student, Luc. (This plot line is something of an inversion of the one in Death in Venice with the beautiful youth rather than his older admirer disappearing, presumed to be dead. There are so many other frustrated infatuations in the book that I don't think this is a major plot-spoiler.)
I heard Hollinghurst read from it in San Francisco and was impressed that he could read, without flinching, the youthful camping out at the edge of a cruising ground scene. He didn't answer questions and put me off a bit (I'm not sure why).
The Folding Star won the James Tait Black Memorial Prize for fiction in 1994 and was also shortlisted for the Booker Prize, which Hollinghurst (1954– ) would win a decade later for The Line of Beauty. He'd already won the Somerset Maugham Prize for his 1988 novel The Swimming-Pool Library, which remains [in 2018] my favorite of his novels.
---
© 2 December 1994, Stephen O. Murray
---