Fresa y chocolate
(Strawberry and Chocolate)
Directed by Tomás Gutiérrez Alea and Juan Carlos Tabío
Written by 

Tomás Gutiérrez and Senel Paz

Premiere: Dec. 1993, Havana Film Festival
U.S. Premier: Sept. 24, 1994, New York Film Festival

Drama (comedy|romance|foreign)
108 min. • Find on imdb
Review by Stephen O. Murray
February 13, 1995.
---
Who would expect a Cuban film about overcoming homophobia that also illustrates official persecution?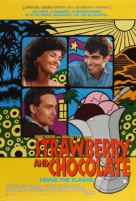 Allegedly, director Tomás Alea (who made Memories of an Underdevelopment once upon a time) denied that there are HIV concentration camps, and neither HIV nor AIDS are mentioned in this film. I guess it is set in the late 1970s. Whether AIDS is avoided or irrelevant, a friendship between a straight communist and a self-proclaimed maricón is a sweet surprise from the last Stalinist outpost in "the West."
Moreover, the prettiest, most narcissistic character, Miguel (Francisco Gattorno), is the most doctrinaire communist. He preens in a mirror with a picture of James Dean next to it, whereas Diego (Jorge Perugorria) is a resolute supporter of Cuban culture, with a prominent picture of José Lezama Lima. (Diego also copies a dinner I don't remember from Paradiso as a reward for Davíd and as a prelude for his losing his virginity with Nancy.)
I thought the film was going to end with the last line of Some Like It Hot ("Nobody's perfect"—Davíd's response to Diego's "pero no eres un maricón!") which is perhaps even greater acceptance than the hug.
I found the return to the ice cream outdoor cafe even funnier than the first visit, since Davíd mimics what Diego did then. A sunny acceptance anywhere, particularly in a Latino society, particularly in Cuba.
I didn't cry at Fresa y Chocolate either (Philadelphia was the other tearjerker of the moment), even though it is the whore Nancy (Mirta Ibarra), rather than the maricón, who beds heart-throb Vladimir Cruz (Davíd).
I realized that Alea's Diego has some strong resemblances to Reinaldo Arenas (Before Night Falls). Diego is more mandarinate (seemingly from a more privileged background) but devoted to Cuban culture. Both reluctantly leave Cuba. The main difference is that Arenas got the hombres he wanted. There was none of Diego's noble unrequited love for Reinaldo!
---
©1995, 2016 by Stephen O. Murray
13 February 1995
---