Gay L.A.: A History of Sexual Outlaws, Power Politics, and Lipstick Lesbians
by Lillian Faderman and Stuart Timmons
Published by Basic Books
Published October 2, 2006
Nonfiction: LGBT history
464 pages, index
Find on Amazon.com:
Hardback • Paperback
Review by Billy Glover
Submitted September 10, 2007
---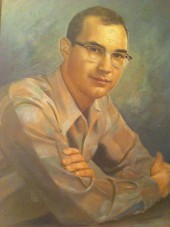 This review is by someone who was there for about a 10th of the material covered.
The main thing this excellent book points out is that the continuing  movement for civil rights for homosexual Americans started in about 1950 in Southern California, by the founders of early Mattachine (Harry Hay, Dale Jennings, et al.) and ONE, Inc. (Tony Reyes, Don Slater, Dale Jennings, W. Dorr Legg (first known as Bill Lambert), Martin Block, et al.), which came out of that start, and that each decade since then there has seen a large growth of people and organizations and publications that pushed he cause forward.
The first 100 or so pages cover early Los Angeles, which was transgendered Indians (often called berdache) and then the closeted movie stars, none of who did a thing to make the world a better place of homosexuals — and there were ways to do that and remain in the closet, then as now. Then we come to the moment when a few good men and women decided to fight back, at the discrimination, by cops, preachers, psychiatrists, and the media — which gaily published names, address and employers of those arrested. Women were arrested as well as men.
And the work of ONE, Inc. is covered after the early Mattachine essentially died in L.A. as it was "moved" to San Francisco by the Hal Call faction which took over to remove the communist legacy that they feared would eventually destroy the cause in the McCarthy era.
The internal disagreements in ONE that eventually led to a separation are covered in a sense, but not well, as I will discuss later. But almost every decade saw gay/lesbian groups have internal disagreements, up to today, so that is a generic problem.
When ONE, Inc., was the only local organization, it had to do everything: publish its main work, ONE magazine, and then educate homosexuals and non-homosexuals-often while under attack for making the issue public which closeted gays feared would hurt them by making the public aware that not all homosexuals were acting like the opposite sex.
Each decade from 1960 on saw new organizations, such as PRIDE, publications like The Advocate, and later specialized groups, such as political ones (MECLA), religious ones (MCC), ethnic groups, women's groups, running and hiking clubs, as well as the a growing number of gay bars.
And finally homosexuals became politicians and won offices, such as state senator, and became judges. Gay attorneys became willing to handle cases which they had been afraid to in the first decades. (That is why the movement had to rely on allies such as attorneys like Eric Julber, who handled the ONE magazine case all the way to the U.S. Supreme Court — and won (1958), and Herb Selwyn, who incorporated Mattachine and the Homosexual Information Center and other groups and also handled arrest cases. They didn't get as much notoriety and make as much money as others, such as Gladys Towle Root or Harry Weiss, but the did the most important work for the nascent movement.
The authors say what they intend to do in their introduction and tell us what they did in the ending pages. Mostly they did a good job in the 351 pages, and they give us lots of notes and an index. Any student of the history of the homosexual movement will have to know what is in the pages of this book.
But regarding the one part of history that I was in, I believe that the authors, for what eve reason, seem to have a biased view of the problems at ONE, Inc., and I wonder if the fact that Stuart Timmons was at one time a director of "ONE Institute" might have given him a biased view of the facts. I'm not sure they would have come out different even if they had interviewed me, which they easily could have but didn't. But I will leave it to my co-workers at ONE and the Homosexual Information Center (many of whom are no longer with us) and to other serious scholars of the civil rights movements to point out some significant distortions of the facts.
Often it is just the words they select that give a "flavor" that is wrong. For instance, Faderman and Timmons seem to say that Don Slater agreed to sign a settlement agreement as if Dorr Legg didn't have to sign the agreement too. And they imply that Don owed Dorr's materials, when a reading of the settlement (which is on our website at www.tangentgroup.org, as is much of the material covered, including a famous speech by Dale Jennings that the authors mention but fails to cite) would show that mainly all Dorr got was the right to the name "ONE." And they imply that Don held material and didn't give it back till his death in 1997. In the first place, the notes of this history are full of material from ONE Institute, which would seem to say Dorr had the material — otherwise how would Faderman and Timmons have access to it? But Don Slater's death was irrelevant since the material belongs to the Corporation and not to him as an individual.
A distinction that should be made is that ONE Institute is not ONE, Inc.
ONE, Inc. is owned by the funding arm of ONE, the Institute for the Study of Human Resources, so that any material in dispute would be ONE's, not the Institute's.
The authors seem to say that the internal problems in ONE were mainly between Don and Dorr (the only remaining, and equal, co-founders of ONE, Inc.) and only became problematic in 1965. The problem had actually been building for several years as former board members kept pointing out to Don. Many, such as Joe Hansen, were upset over Dorr's behavior and attitude. As several told Don later, they had warned him. But until Legg attacked the magazine, Don just ignored the problem. But they pointed out that ethically only Don and Dorr had a right to decide what ONE would do since they were the reason it existed in the first place. And there were obviously two sides to the issues: Dorr was right that we needed to promote education with the education classes and that lousy Quarterly, etc. But they were local and money spent on the courses was not getting a return. Don was right that the magazine brought in the money and "educated" a national audience.
What I never understood is why this was an issue in 1965, since by the time Reed Erickson had come from Louisiana, as I had (and LSU as I had) and was funding our work by ISHR. Later Dorr would try to deceive the court and public by claiming that Don must have been mentally unstable to have moved the material and was not even a ONE employee at the time. Technically (although time would prove Don's mental ability was better than Dorr's) that was true, since once ISHR was started, Don and I were "moved" to ISHR, and paid by ISHR, so as to help cut the overhead at ONE.
When Dorr rigged the election in 1965 (to keep me from being elected to the board, which again was strange since up to that time I worked mainly with Dorr, not Don), Don knew he had to do something to save the work he had done since 1952. He consulted with an attorney and then acted. On Easter Sunday, 1965, a few of us (Don, Tony, Jano, Melvin, and I) moved ONE to Cahuenga Blvd West. Dorr refused to try to compromise, and Jim Kepner got what may have been a "deciding" vote, Chet Sampson's, to go to Dorr by telling him Don would not last a month — another bit of evidence that even good people can be wrong — and thus Jim Schneider's attempt to get a settlement was killed. As a reward for his good effort, Dorr kicked him off ONE's  board.
Dorr filed a lawsuit to recover ONE's materials. His attorney, Hillel Chodos, was misinformed from the start, but then blundered and got the judge mad at him, and our attorney, Ed Raiden (and Lequita McKay) was doing a good job, so the judge made it plain he was not going to waste much time on this frivolous case, and the attorneys decided to work fast on a settlement, which they did and the judge approved.
Dorr immediately violated the settlement by issuing a claim that we were crooks and he had won. One day, he and I were sitting on the floor in our office on Cahuenga dividing books we were going to give him, and the next we stopped all contact. We did NOT give up the right to use the name "ONE." Since The Tangent Group (a dba) had incorporated in the name of the Homosexual Information Center, and was the first honest homosexual organization gain tax-exemption, we continued to operate as ONE for tax purposes, until we closed the Book Service years later. Government agencies knew and understood the two ONEs, and we had no problem.  I think later there was also a third ONE, since the center in Long Beach at first was also called "ONE."
There are other little questions I have as to why the authors chose to cover one incident and ignore another which was done by HIC. For instance, in covering Troy Perry and the MCC, they also cover Perry picketing with Gay Lib (and Morris Kight) at the Los Angeles Times and getting a good mention the paper. The reason for the picket I gather was trying to get the paper to print the word "homosexual." Well, why do the authors ignore, then, the HIC-sponsored picketing of the paper, earlier, which was over their refusal to let us use the word homosexual in an ad for a play we were helping sponsor, Geese, by Gus Weill (also of Louisiana)? We held discussions after the performances, and while we got no publicity, the paper did change its policy. Troy Perry got the publicity then, since John Dart, a religion writer, came down while we picketed and interviewed Troy, and his article was carried not only in the Los Angeles Times but in many other papers.
Also, while the authors cover our work as the Committee to Fight Exclusion of Homosexuals From the Armed Forces, they say only that it was covered by ABC news. Why do they not say the person was Connie Chung, and that Tom Brokaw also interviewed us for NBC? They say correctly that the Los AngelesTimes ignored us but don't say that Peter Bart, now with Variety, did a good article in the New York Times. They ignore Don's further work with draftees, covered by Randy Shilts in his book Conduct Unbecoming. Don won court cases and was successful in his legal work, using attorneys, psychologists, etc.
They report that someone appeared on the Regis Philbin show. Why then not point out that I also appeared on his show — and was treated badly. And that I was on the Louis Lomax show, Don was on Joe Pyne, and Harry and John were on shows, etc. But probably most important, they don't mention that Maria Cole and Stan Bohrman had Don Slater on as co-host of their KHJ show for a week — Don had others as guests to talk about aspects of homosexuality. If we are going to honor celebrities who seem gay-friendly now, why not honor Maria Cole who did it before it was cool?
And a part of the cause they ignore, while covering almost too much the movie stars, are writers and authors. Why do they mention Joseph Hansen only once, and in a strange way? "By 1948, the center of action had moved west along with the burgeoning migration, as L.A. writer Joseph Hansen reports." (Where?) That's it! There is no mention of him being a world-famous author, probably the first "out" one, and a co-founder of HIC, with his wife Jane (who created HIC's logo).
And the only other author/writer and book mentioned that I remember was ONLY mentioned because it was an example of how "Hollywood" had been fearful of gay movies. That of course is Patricia Nell Warren and her famous book, The Front Runner.
We hosted political speakers and argued when Dorr tried to support Lamport despite his anti-gay ways. We supported the Gay-In. We had a play, thanks to Don Schneider, who organized with friends a benefit for HIC by a performance of an all-male version of The Women, at which time Don Slater was arrested, and we changed the rules that had made a permit necessary. We had a good time as well as working for the cause.
Some may think I'm worrying too much about these details, but it is interesting that the authors went to the trouble of seeking out Marvin Edwards, who came to L.A. with Dorr, and was arrested and left town. So why not take the trouble of seeking out other primary sources to be sure their version of events were right and present readers with both sides of arguments?
But the information and groups covered in this book are important, and I know of no other place they are on the record. And the history of this movement and the work to gain equal/civil rights for homosexual Americans needs to be told, just as those of the black movement, the women's movement, etc.
Because of what a few brave souls did in 1950 (Mattachine), '52 (ONE), '55 (DOB) and the people and groups and publications that follow each decade, starting in the dozens, then hundreds and now thousands, we now celebrate our lives, as the founders/pioneers dreamed of. We have the institutions they dreamed of, churches, centers, housing for older homosexuals, a few places for the poor, and in several places large housing developments where retired homosexuals live in luxury.
The authors have done a good job of telling this history in a book that is a pleasure to read and deserve the gratitude of those who helped make this history. This book removes any excuse for future historians not to know how we got to where we are today and who helped get us here.
---