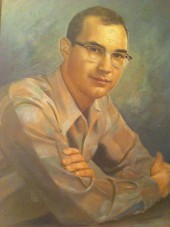 October 1, 2008.
The historic news that the Republican party's candidates for president and vice president have said they are gay-friendly is good, and I have suggested that people view the McCain interview in your publication, on line.
You also did a good coverage of our community/movement loss of Del Martin. I have not seen coverage of the loss of John Burnside. But this is the time in our movement's history, which essentially started in Los Angeles in 1950 with Harry Hay, Dale Jennings, et al. and early Mattachine, from which came the first public organization and publication, ONE, Inc. and ONE magazine (Jan. 1953), and then a different Mattachine under Hal Call, and then Del and Phyllis and the Daughters of Bilitis, SIR, etc., when those who got us started are leaving us.
So it is good that Equality Forum and others are aware of just who did start this movement. The question is why they have not been able to cite the words of Don Slater, Jim Kepner, Stella Rush, or mention the history as recorded in the book Vern Bullough edited, Before Stonewall, or in Paul Cain's Leading the Parade, etc.
But my worry is that in your pages some of us see the major event of McCain's interview, but what your columnist seems to only see is that Palin, equally historic, says that terribly un-pc word: choice. In what world is that the most important word she said? How does an intelligent, objective person ignore the other words? And who gave your columnist the authority to decide technical issues such as what makes us homosexual or heterosexual, etc.? That sure sounds just like the bigots, who come from the most ignorant part of society but, seem to personally know when life begins and want the authority to force the rest of us to let them make our choice — in other words, we have no choice.
Perhaps serious homosexuals or gays should go back and read a few of the great articles in ONE magazine and Tangents where the founders put forth their ideas, and then tell us why such ideas are wrong. That might be difficult of course, since those are the ideas that have got us to where we are today — which is a great place to most of us.
---