The Harlem Renaissance: Hub of African-American Culture, 1920–1930

by Steven Watson
Published by Pantheon

Published 08/13/1996 (reprint ed.)
History (American)
240 pgs. • Find on Amazon.com
Reviewed by Stephen O. Murray
---
In The Harlem Renaissance, Steven Watson (who more recently wrote a book about the first production of Virgil Thompson's opera Four Saints in Three Acts with a libretto by Gertrude Stein and an all-black cast) focuses on the writers who emerged during the 1920s.
Jean Toomer and Claude McKay had tenuous connections to the circle that dubbed itself the "niggerati," led by Wallace Thurman and including Langston Hughes, Zora Neale Hurston, Richard Bruce Nugent, Eric Walrond, Rudolph Fisher, and Countee Cullen.
He also explains their relationship to their elders who were gatekeepers (notably Alain Locke and W. E. B. Du Bois, rival adjudicators of what about African American life should be portrayed) and to various white patrons, the best known of whom was Carl Van Vechten (who photographed most every Harlem celebrity, tirelessly promoted them, and also wrote Nigger Heaven, the title of which was as controversial then as it is now). In that her fortune came from hair-straightening products, the main black patroness, A'Lelia Walker, was a heavily compromised champion of black pride (après la lettre).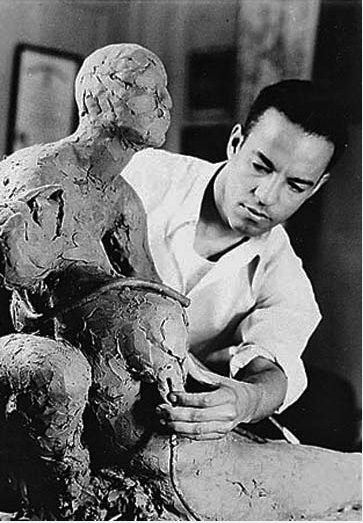 Painter Aaron Douglas (see above) and sculptor Richmond Barthé (at left) were also involved with the writers. Then there was the music. The nightclubs patronized by white folks from downtown mostly excluded blacks except on stage. Thus, the writers and painters had few chances to see the performances of such legendary figures as Josephine Baker, W. C. Handy, Louis Armstrong, Duke Ellington, Alberta Hunter, Mr. Bojangles (Bill Robinson), Fats Waller, Bessie Smith, and Ethel Waters, many of whom went on to downtown (Broadway) successes.
In addition to co-opting downtown, the Harlem Renaissance was a victim to the early deaths of some of its best writers (Walrond, Fisher, Thurman), the drifting apart that is common as young artists age, and the harsh realities of the Depression that chilled such welcome as there had been for aestheticization of black experience. In some sense, Du Bois prevailed, though the next generation (Richard Wright, Chester Himes) went beyond the engaged proletarian realism that Du Bois wanted to naturalism and existential absurdism. Also the Harlem vogue passed, especially when Prohibition was repealed and bars opened in downtown Manhattan.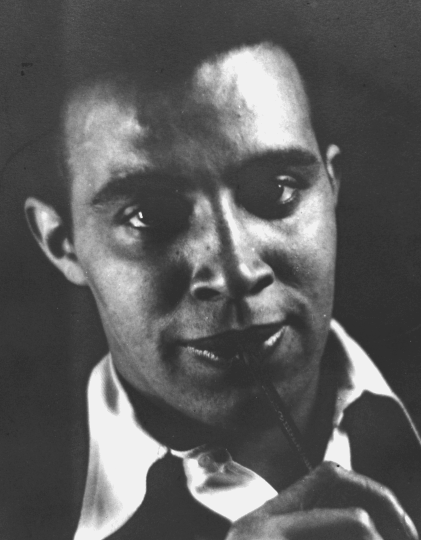 But in the years before the Great Depression set in, as I think I have indicated, there was a lot going on. Watson explains something of the socioeconomic bases as well as the inter-relations of white patrons (buyers of books and magazines as well as those providing cash subsidies to chosen artists), the themes of Harlem Renaissance work, and more. And he does it in 180 pages, of which I estimate a third are pictures.
His observation that Barthé and many of the Renaissance writers had more than casual sexual interest in other males is elaborated in Christa Schwarz's Gay Voices of the Harlem Renaissance.
Along with The Portable Harlem Renaissance Reader, edited by David Levering Lewis, I can highly recommend this as an introduction to the major figures of a legendary epoch and to their inter-relations.
For the visual arts of the Harlem Renaissance, Rhapsodies in Black, the catalog of an exhibit organized in England that toured the U.S. a few years ago is very good, and a more expansive book about the period that I would also highly recommend is David Levering Lewis's When Harlem Was In Vogue, which has more extensive quotation from survivors of the epoch, including the most openly gay participant, Bruce Nugent. Also Wallace Thurman's novel about the "Niggerati Manor," Infants of the Spring, provides a view from inside.
---
©Stephen O. Murray, 2001, 2016
---