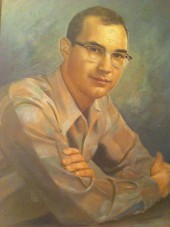 July 2, 2008.
I have been looking around at material and found a copy of our HIC Newsletter #55, of Fall/Winter, 1996.
If we don't let the world know any more about our work, they should know the information and views expressed in the reviews of the books and the books themselves, mainly the two relevant to NLGJA: Straight News: Gays, Lesbians and the News Media, by Edward Alwood (Columbia University Press, 1996) and Unspeakable, the Rise of the Gay and Lesbian Press in America, by Rodger Streitmatter (Faber & Faber, 1995).
The reviews say that for the most part the books give information and history that journalists, and everyone, needs to understand how this movement got to where it is today.
But the reviewers also point out the misinformation, and that is important since for the most part later historians will just quote from the books without checking to see if there are any errors.
Straight News is reviewed by Joseph Hansen, famous not for being an editor and writer for ONE/Tangents magazine but as a gay writer of gay mysteries. But he knows the facts. And he points out important things relevant even to the discussion I have had with NLGJA people and the editor of Bay Windows.
Gay/lesbian journalists of today may not even know how bad the situation was in the '50s and '60s and how awful the media covered us, in the few times they did cover homosexuality.
Later journalists still did not check their facts. As Joe points out, sometimes he, Morris Kight, Troy Perry or others may have been at the same event and the newspaper coverage only gave one view — usually Morris's. One strange point is that AIDS got us attention.
You will understand the feeling I have even now, reading Joe's closing remarks:
The efforts told to us in story after story in Edward Alwood's fine book, efforts by numberless heroic men and women down the decades to educate and awaken to our common humanity the people among whom we lived should lift your hearts.

Not that the war is won as this grisly century dies. Many battles lie ahead, not the least to wipe anti-homosexual laws off the books of all states. But reading this account of the equal-rights battles already won should give all of us courage to fight on with the certainty that if we do, in the end our victory will be complete.
Joe and Don would rejoice to see how much has been done so far.
Unspeakable is reviewed by Jim Kepner. He of course points out the conflict among lesbian and gay journalists, which in the early days seemed to be that "professional" college-trained journalists looked down on the first gay and lesbian journalists who trained on the job. He says rightly that Streitmatter seems to not have really read his material and makes statements that are simply not true, such as that ONE was not forceful on seeking rights, or that we were not as good as the Mattachine Review and The Ladder, which is by any objective view simply nonsense. Hal Call merely used "professionals" and copied items and ONE did original work, and we never allowed "professionals" to tell us about us: we told them.
He points out that there were publications before Vice Versa, and that even Henry Gerber is ignored. And Jim Kepner's work is completely misunderstood by Streitmatter — Jim didn't merely quote the news, he commented on it — the very title of the "Tangents" section was "News and Views." But ONE has to be given credit as the first public and continuing-for-two-decades homosexual publication. And the NLGJA honored Don Slater as its editor and his struggle to make the magazine professional and something our community could be proud of.
Jim also points out the constantly repeated error that ONE was an all-male publication/organization. Obviously he never looked at the credits as for years the main editor was a woman and Stella Rush, still alive and kicking was a writer as was Betty Perdue (as Geraldine Jackson).
---