The First Homosexual President
by Bob Mitchell
Fiction (humor)
September 1966 • Vol. 1 No. 12
Originally published in the September 1966 issue of Tangents
pp. 8–10
---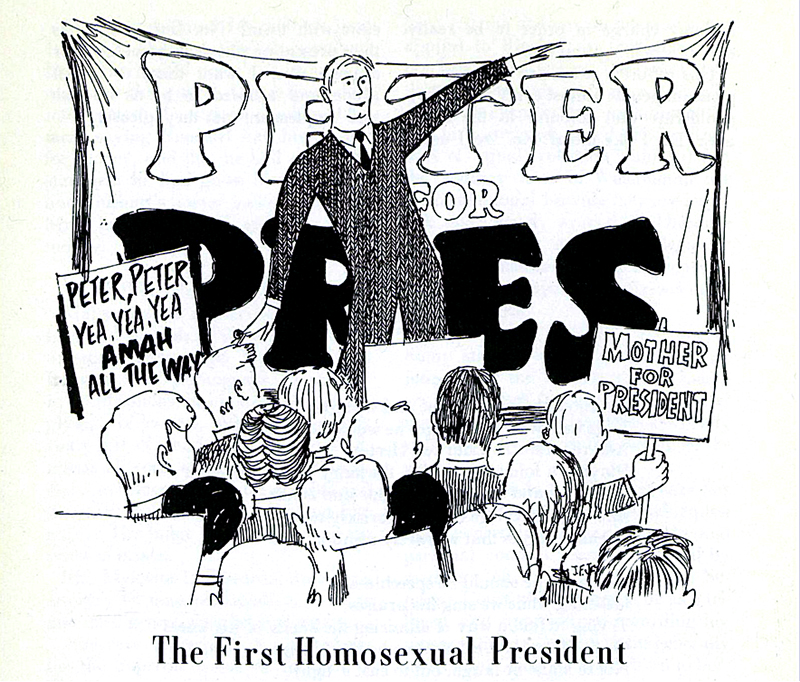 ---
The campaign to put a homosexual in the White House can be said to have jelled in 2025. In that year the AAHM (Affiliated American Homosexual Mothers) changed the name of the organization to the Affiliated Mothers of American Homosexuals (AMAH). The original title had caused a great deal of editorial comment as well as a rash of campy newspaper cartoons and a plethora of purple jokes by swishy TV comedians. The AAP (Association of American Psychiatrists) had challenged the name on scientific grounds. As a result, prominent mothers of homosexuals gained even more prominence, and their sons rode their skirttails to national notoriety.
Time's cover story in one of its April issues of that year featured President Opal Parsons Prewet who had just been named by AMAH the Gay Mother of the Year. The article dealt largely with O.P.P.'s family life at Number 1600 Pennsylvania Avenue. There was a picture of Mr. Prewet (known in Washington social circles as Host Prew) in his new knee-length tails. The nine married Prewet sons were reviewed briefly with a reunion picture of all their families at the Senior Prewet's Fire Island estate. Peter, the tenth son, appeared in a picture taken the year before on inaugural day with his arm around his mother, the first woman President of the United States.
The magazine gave practically as much space to Peter as to the President. A full page color shot of Mrs. Prewet holding Peter (at age 3) in her arms had a Madonna-like quality and was accompanied by Time's usual snide commentary on maternal possessiveness.
The review of Peter's life began with his first day in school when he astounded the teacher by reciting distances to all the planets and naming the first astronaut to reach each one. Much space was given to his youthful escapades, such as the time he ran away from boarding school with his roommate and was arrested on the New York—Chicago Thruway in his new at-pneumatic (atomic powered-pneumatically suspended) sports car. It seems he was driving too close to the slower cars he passed over on the road. His career as Peter Parsons in Hollywood, before he became governor of California, was touched on only slightly, but mention was made of his starring role in the TV series Fairies From Outer Space. By the time the inaugural picture with his mother was taken in 2024, he had resumed his full name, Peter Parsons Prewet, and was serving his second term in Sacramento.
Efforts to elect a homosexual president had been going on for years, but quarreling and backbiting between the old-line OHPU (Organized Homophiles for Political Union) and the more recent FYH (Freedom for Young Homosexuals) had stymied all progress. Three times at Presidential Nominating Conventions the OHPU had attempted to put up their man. In the 2012 campaign the newly formed FYH (in 2010 the voting age had been lowered to 16) accused the OHPU of backing a candidate who was running under a made-up name. From the beginning, the FYH had published the members' names, and now was charging OHPU with hiding behind false identifications, refusing to reveal membership lists and using an organizational name that was not even in the dictionary. They put out bumper stickers, one of which read "Dial a homophile and who answers? A fuddy-duddy homosexual."
In 2016 OHPU tried again, but had to withdraw their candidate when sleuthing FYH's discovered that the OHPU candidate was secretly married and the father of six children.
The 2020 campaign was the bitterest one of all. The OHPU put up a lesbian singing star somewhat past her prime and all hell broke loose within the organization. The female members of OHPU had backed a well-known lesbian business woman, the president of Continental Trucking Lines. Upon losing the fight, the gals withdrew from OHPU, formed their own organization and backed another candidate.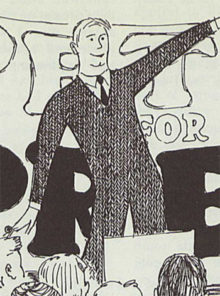 By 2024 OHPU had retired from the national political scene and was devoting its efforts to the establishment of Communities for Senior Homophiles, and it was that year that FYH began to hit its stride nationally. The idol of the younger group had been—and still was —Peter Parsons of television fame. They had helped put him in the governor's chair in (California and because Opal Parsons Prewet was his mother, their votes were admittedly the ones that rocketed Mrs. Prewet into Washington, D.C.
The "Peter for President" boom started almost before the bunting came down after Opal's inauguration. It was inevitable that the 2025 Time article should play up the President's tenth son. Mrs. Prewet was quoted as saying she was gratified for having the opportunity to show her female medals, but four years would be her limit as First Madame, especially with so many upcoming young men in present-day politics. The FYH accepted her statement as an open invitation for her son to follow in his mother's footsteps.
By 2027 the man on the street could tune in on reruns of Fairies From Outer Space on his wrist TV set and listen to numerous singing commercials by the sensational new group, "The Short Hairs." One such jingle ran: "Peter, Peter Parsons Prewet—Let's get behind and help him do it." Billboards littered the Thruways coast to coast with Peter's handsome profile and the simple statement: "Peter Is Coming."
With a record 105 million voters (69% under the age of 30) casting ballots, the 2028 Peter Parsons Prewet presidential landslide was a foregone conclusion. Sitting in his hotel room in Washington on election night, FYH National Chairman Gaylord Goldfoot remarked to his secretary-companion Torn Rock, "Is that any way to run a country?"
Both laughed uproariously.
---
©1966, 2018 by The Tangent Group. All rights reserved.
---