I Killed my Mother

J'ai tué ma mere
Written and Directed by Xavier Dolan
Premiered May 18, 2009, at the Cannes Film Festival
Drama (foreign/Canada)
96 min.
Review by Stephen O. Murray
September 14, 2011.
---
I watched I Killed My Mother (J'ai tué ma mere, 2009) knowing little about it—even that it came from Québec rather than France.
I accepted the protagonist, Hubert Minel [Xavier Dolan] as a teenager (he was still one: a nineteen-year-old playing a high school junior). Only when the closing credits kept repeating "Xavier Dolan" (producer, writer, director, editor, lead actor) did I realize that the actor playing the disaffected youth made the movie in (most every!) other ways. The narcissistic Hubert filming himself ranting about his mother is "semi-autobiographical."
I don't know if Dolan spoke to his real-life mother as nastily as Hubert does, though I don't doubt he was often annoyed by her and sometimes entertained homicidal fantasies.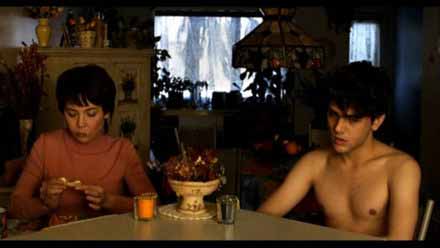 Something I particularly like about the film is that it does not demonize the mother, Chantale Lemming [Anne Dorval], the way Hubert does. Indeed, I generally sympathized with her as she tried to curb her wildly undisciplined son and absorbed his cruel insults. Dolan gave her good lines, not just Hubert, especially when she unleashes a tirade on the phone to someone as impertinent as her son (without the excuse of youth) late in the movie.
I also like that the movie shows a gay son not doting on or otherwise enamored with his mother (putting Dolan in the company of Edward Albee, Frank O'Hara, Scott O'Hara, and Gore Vidal as gay mother-haters). Hubert is not even preoccupied with a love-hate relationship with his mother. He tells a teacher his mother is dead and would like to obliterate her from his mind, eagerly awaiting independence (a legacy from a grandmother) when he turns eighteen.
He has a loving boyfriend, Antonin Rimbaud [François Arnaud, who was about to play the smoldering Cesare Borgia on The Borgias], who has a permissive mother, Hélène [Patricia Tulasne] who Hubert wishes was his mother or at least that his mother was more like her. Having young beaux of her own, Hélène welcomes Hubert as her son's lover. It appears that Chantale has not dated, let alone had a relationship with a man, since Hubert's father left when Hubert was seven. (It is easy so suspect that Hubert would sabotage any relationship his mother attempted to have out of jealousy. That he is all she has is a weapon he would not easily give up!)
Hubert's parents agree he should be consigned to a boarding school. A curly-headed boy, Éric [Niels Schneider] comes onto him there. Hubert is fag bashed by some bullies, and Antonin is less supportive than Hubert hoped, though the film provides catharsis in several helpings.
The mise-en-scène seemed serviceable. Once I found out that Dolan was writer, director, and star, I judged him better as an actor than as a writer, and a better writer than a director.
---
©14 September 2011
---