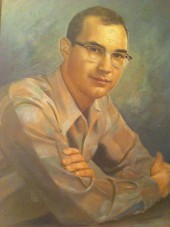 March 17, 2011.
Dear Jerry:
Thank you so much for letting me know the sad news.
I am doing ok, living back in LA the state after most of my life in L.A. (the city). That is why it is "interesting" that I have heard of more movies being made here—one scene right around the corner from my house.
For instance, the film Battle: Los Angeles was made partly here in Shreveport/Bossier and Baton Rouge.
The offices of ONE/HIC at the time of the separation were at 3473 1/2 Cahuenga Blvd. West, across the freeway from Universal Studios and down the street from Hanna Barbera. That is where Harry and John, Don Slater, et al., planned the Motorcade on the military and homosexuals in 1966.
---
From Jerry Berbiar:
I'm not sure if you know me—Jon Sugar sometimes forwards me your emails about the history of ONE, Inc.

I was a close friend of Harry Hay and John Burnside and was one of the Circle of Loving Companions who brought Harry and John to San Francisco from Los Angeles in 1999 to care for them.

I'm in SF and am guessing you're probably in LA.

I thought you would want to know that the last living founder of Mattachine, James Gruber, recently passed away at the age of 82.

You can see his obituary in the Bay Area Reporter of 3/10/11.

Hope you are doing well.

Jerry Berbiar, aka "Jerry the Faerie"
---