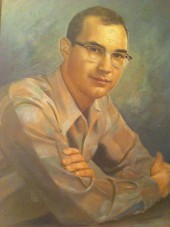 February 1, 2009.
The Winter 09 issue of RFD Magazine (#136, started in 1974) illustrates both the honored past of our community/movement and the hopeful future, as it leaves (Short Mountain) Tennessee and moves again to Massachusetts. (It has also been in Iowa, Oregon.) So best wishes as the new people take up the work.
But after a glance at the beautiful cover (a special point as it has an older man on the front cover and a younger man on the back cover) and the announcement of the new address (SMS will still be involved as the printer is in Nashville and they will do the mailing) and the picture of a group including John Burnside and Harry Hay, 1978, Running Water, if we read nothing more, this issue is worth the work as it has the wonderful obituary of John Burnside by Robert Cronquist.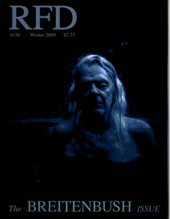 The memories are what gives us evidence of a community, even though many of us keep saying there is no community. Here is a loving portrait of John and the contrast with Harry. Often we ask what got some of us into the movement, and John's path is explained, and I know its true as I and others were there at ONE when John and Harry found each other — in fact some of us helped move material from John's house below the Hollywood Freeway, and later from their place in Laguna Beach, and visited them in San Juan Pueblo.
By the way, although I personally have said that with limited ability: We need to concentrate on one issue, as is pointed out, where Harry and John took the time to work on avery important non-gay issue in helping the people of New Mexico, Indians and non-Indian, save the Rio Grande from an unneeded dam.
Harry of course co-founded (the main impetus) the first continuing homosexual organization, the Mattachine Foundation. Internal troubles with Mattachine and later the faerie group caused them pain, but they kept going, to found the Circle of Loving Companions, which may yet be important in our fight for recognition of our loving relationships in marriage equality. The fact that the group members supported Harry and John is evidence of a community — something you would think the Mormons would respect as that is one of their "selling points," what they are famous for (as well as their choir, which we have several of also).
It is inspirational to know the life of John Burnside and how he "balanced" Harry Hay as a couple, personally and in the movement. RFD deserves thanks for this personal and honest remembrance of a good person and this part of our community/movement history.
And thanks to Robert Cronquist for sharing, and the others in the Circle of Loving Companions for their devotion to these two and our community.
---