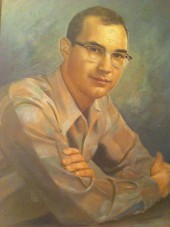 August 31, 2015
For the readers of the Los Angeles Times, the article you have written on ONE Archives — now a part of the USC Library — is good. But if any serious historian or journalist tries to use the information it will give a false history.
 I assume you were told that there had been a legal division of ONE, Inc., completed in the late 1960s, and the two main co-founders, Dorr Legg and Don Slater, thus had two organizations — now archives.  Legg kept the name ONE, but Slater got legal control of most of the material of the organization.
So, if ONE Archives has material legally given to the Slater part — now the Homosexual information Center (The Tangent Group) — that fact should be known by the USC library personnel.
You quote someone as saying they were at the Slater/Reyes home and Reyes — after Slater's death in 1997 — was throwing away HIC material. I doubt the person making that claim was even a part of ONE Archives at that time. Some ONE people were — and promised to help Reyes collect and save the material and would return it when it was decided where it would be permanently placed.  Obviously that material was never returned. (The material Reyes was discarding was not the main collection — he was preparing to sell the house.)
It had been decided by the HIC board to start placing some of the material in the Vern & Bonnie Bullough Collection at the Cal State Northridge library. I sat in the house with Vern and started moving some items, just as at the time of the ONE division I had sat in the HIC offices with Dorr Legg to start moving some items back to his collection.
If you want to give balance to your effort on giving readers information on the material preserved from the time the movement to gain equal rights for homosexual Americans began, in Los Angeles, with early Mattachine (1950) and went public nationally for the first time, ONE magazine (1953), then you would want to let them know of the other ONE historical material, now housed at the Cal State Northridge library.
But I must protest your insinuation that Don Slater and Tony Reyes, co-founders of ONE, Inc., were derelict in preserving the history they made. 
Shame on you and The Los Angeles Times and those at ONE Archives and the USC Library for trying to "boost" the ONE Archives at the expense of discrediting Don Slater and Tony Reyes.
---