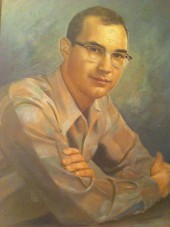 …than the big-city papers are.
January 11, 2009.
To the Editor of Liberty Press:
I think you should be aware of what you are doing there in Kansas. The "enemy" (right-wing religious nuts) know that there are queers working in big cities and "have an agenda" to change the world that they have controlled all these years.
But it will really freak them out if they find out, despite your Phelps family there already, that in the heartland of America there are people and a publication that is spreading hope for homosexuals that the world may be changing and they may get equal rights.
Two good gay churches are really a threat: MCC in Topeka and Wichita. They are a growing threat to the "approved" version of the Bible and religious thought.
A good group of people that get together and sing, sort of like those Mormons, (Heart of America Men's Chorus), young people may get confused by such normal things.
And a university in Kansas (KU no less) with a professor publishing books on how to help social workers deal with gay issues (Dr. Lori Messinger, Director of the Bachelor of Social Work Program): Sexual Orientation and Gender Identity in Social Work Practice, and Case Studies on Sexual Orientation and Gender Identity in Social Work Practice.
And here is an attorney (Pedro Luis Irigonegary) there talking at a discussion on Trans issues at Washburn University (Transgender Issues in the Workplace, in the Diversity Matters Seminar Series). Again, this could be understood at a San Francisco college, but in Kansas!
And even worse, a professor at KU (Dr. Robert Minor) writing intelligent thoughts on how homosexuals should deal with the world and work to change it. Encouraging those queers!
And to get back to the MCC churches, they are even now having preachers who are trained to go from town to town to promote and support local gay churches.
And there is a long list of social service groups supporting a homosexual community, including one for older homosexuals (Prime Timers of Wichita).
And you list books that entertain and educate homosexuals. And give names of professionals that will support homosexuals in their legal, etc., needs.
Oh, how horrible! Even "red" America is now in the sight on those gay people. And you are letting this community news get out so that even the closet queens will know about it — they may even go see how the gay bars are.
"They" would ask: How can you sleep at night? I say, I hope you are sleeping well! You are doing a great service to your readers and our community/movement. And that you are doing as good a job as those in the big cities on the coasts is the best evidence that we will win in the long run.
Best wishes for another good year. I like that large 15 on the cover.
---