Micheal Tolliver Lives
by Armistead Maupin
Published by Harper
Published June 12, 2007
Fiction
288 pgs. • Find on Amazon.com • WorldCat
Reviewed by Stephen O. Murray
August 8, 2007.
---
"Beach read" is an exotic notion for northern Californians. I thought that Armistead Maupin's latest [circa 2007] novel, Michael Tolliver Lives would provide light reading—some relief of the heavy dose of European alienation I'm imbibing.
The novel, in which many characters from Barbary Lane (the Tales of the City serialized novels) return is (unlike the Tales of the City series) told in the first person, by Michael "Mouse" Tolliver, who it seemed was going to die of AIDS when the series officially ended in 1989 (with Sure of You).
Like many others, he was saved by protease inhibitors. Other than his HIV-negative-status, Maupin has put much of himself into Tolliver, including having a new husband, Ben, 21 years younger (than his 55). Grateful as Michael is for a new lease on life, there is "the kicker: the longer you survive the virus, the closer you get to dying the regular way."
Somewhere close to half the new novel is set in Orlando, where Michael's mother is in a nursing home. Although she has never accepted her son's homosexuality, she finds him more bearable than her Christianist daughter-in-law, Lenore.
Michael's mother has been alarmed by the Terri Schiavo imbroglio and is concerned that Lenore will convince Irwin, her conventionally masculine, heterosexual son, to keep her alive on a ventilator. She also reveals some information (family skeletons as it were) to Michael that she has not told Irwin and Lenore. The latter are miffed that she has reached out to Sodom-by-the-Bay instead of to those on the spot who visit her regularly.
There is also a proto-gay nephew, Sumter, who does Christian puppet shows with his mother and makes his father uncomfortable, and Mama's Tolliver's burly black hair-dresser who moonlights as a stripper.
Back home, the second-in-command at Michael's landscaping/nursery business is a bearish female-to-male transsexual. And the mother in what Michael terms his "logical" family (in contrast to the "biological" one), the now 85-year-old Anna Madrigal is still spreading good vibrations (and marijuana) to her scattered children—including Brian Hawkins, whose daughter by Mary Ann, Shawna, is about to leave the nest and has been discomfiting him by writing a sex column in the Susie Bright manner.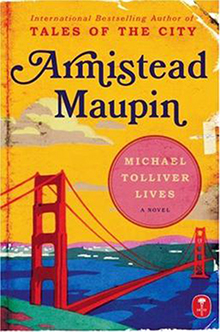 For all the upbeat good cheer, some choices must be made, particularly when it seems that both biological and logical mothers are about to die. Earlier, Michael reflects that "the truth was that I had long ago stopped caring what the biologicals thought about me, but I had never stopped accommodating their nonsense—making them all as comfortable as possible." (This is an example of covering, a phenomenon very insightfully explored by Kenji Yoshino in his book with that name.)
And for all the facing mortality in the book, Maupin is a "feel-good" writer, and most everything turns out well for the characters many readers have loved for decades.
A new lease on life for a gay San Franciscan expecting to die of AIDS-related illness is also a central ingredient in Maupin's previous, semi-autobiographical novel, The Night Listener, when the narrator was left by the partner he was set to bury revived. For those who want traditional bleak, hopeless gay aging (also with a mother in a Florida nursing home) there is Andrew Holleran's exquisitely self-pitying The Beauty of Men.
I think that the novel can stand alone (and might send readers back for the backstory).
[Ca. 2018, there have been two more volumes, Mary Ann in Autumn (2010) and The Days of Anna Madrigal (2014).]
---
© 8 August 2007, Stephen O. Murray
---