News and Views
Tangents
November 1965
Vol. 1 No. 2
Originally published in the Nov. 1965 issue of Tangents
---
WASHINGTON — Opinion pollster Louis Harris recently asked "a carefully drawn cross-section of the adult public" for its opinions on non-conformity. He reports the results in the Washington Post:
The man who stands apart from the crowd—because he does not believe in God, because he pickets against the war in Vietnam, because he demonstrates for civil rights — is regarded as harmful to the American way of life by two out of three of his fellow citizens.
Beatniks, wearers of bikinis, lawyers who defend notorious criminals, teachers active in unpopular causes, student campus demonstrators — these too are frowned upon. And "an overwhelming majority of Americans regard … homosexuals … as harmful to the nation…"
Most tolerant of deviant behavior, the poll discloses, are the wealthy and well educated, and the tolerance level is highest on the east and west coasts, lowest in the midwest and south. Though Harris offers no explanation for this marked geographical difference, it probably lies in such continuing educational efforts as the following.
NEW YORK—Radio station WRYR-FM has been broadcasting a series of panel discussions, interviews and lectures on the subject of homosexuality, involving homosexuals of both sexes, psychologists, clergymen, sociologists, criminologists, and attorneys, as well as officers of the Mattachine Society and other homophile organizations. There were ten broadcasts in all, commencing in September and ending this month. Each was broadcast twice — on Thursday evenings and Monday evenings.
Starting with "Who is a Homosexual?" the broadcast titles ranged through "The Causes of Homosexuality" (Dr. Albert Ellis) and "Homosexuality, a Theological Perspective" (Drs. Arnold B. Come and Benjamin A. Heist of San Francisco Theological Seminary) to "Homosexuality and the Law" (a panel including Dr. Joseph Lohman, Dean of the University of California School of Criminology, and Rev. Byron Esheiman, Chaplain of San Quentin Prison), and concluded with "Homosexuality and Civil Liberty" (Marshall Krause of the American Civil Liberties Union).
The two interviews (broadcasts two and three in the series) were, first, "The Lesbian," a personal interview with two women who are living together in a homosexual relationship, and, second, "The Male Homosexual."
It is through courageous broadcasts such as these over the past few years in New York, San Francisco, and Los Angeles that inroads have been made in the unmapped areas of public prejudice against homosexuals which show up clearly in the tolerance testing poll taken by Harris.
Tangents wishes that the tapes of these broadcasts might be aired in the midwest and south. Only through continued and ever widening discussion of homosexuality by rational and responsible men and women, homosexual and heterosexual alike, can the ignorance that breeds fear and hatred be dispelled and replaced by tolerance and acceptance.
NEW YORK—Not only in radio broadcasting, but in magazines with nationwide circulation (see Tangents, July 1965) frank discussion of homosexuality occurs with growing frequency. The Ladies Home Journal this year ran two articles plumping for sex-law reform. Now the staid Saturday Review (October 9, 1965) has printed Robert K. Woetzel's fair-minded and coolly reasoned article, "Do Our Homosexuality Laws Make Sense?"
It is too bad not to be able to quote at length from Woetzel's synthesis of the U.S. homosexual dilemma, prepared at the Center for the Study of Democratic Institutions as part of that Center's continuing inquiry into various facets of the American character. But one quote will have to suffice:
It is tragic that, where the homosexual is concerned, social institutions have produced exactly the opposite of the intended results. Laws and social taboos against homosexuality have not only tended to mar the personalities of many homosexuals but have also encouraged criminal behavior. There seems to be no other alternative for many homosexuals than to seek their satisfaction on some anonymous place like a public lavatory where they can explain their presence if challenged.
The outspokenness of this article seems to Tangents commendable but also ironic, in that over the past 13 years the Saturday Review has consistently refused to accept paid advertising for this magazine which has from its outset presented the same views and arguments as now find their rightful place in the pages of the Saturday Review. It is good to learn at last just how far ahead of its time this small magazine of ours has been!
ROCHESTER, MINN. — Dr. Walter Alvarez, widely syndicated health columnist and emeritus consultant at Mayo Clinic, reaches a readership many of whom probably never heard of the Saturday Review, and most of whom undoubtedly never witnessed a radio or TV discussion of homosexuality.
And in a recent column. Dr. Alvarez came to the defense of homosexuals in unmistakable terms. "I feel," he wrote, "that every sensible physician in the land ought to rise up and fight to get legislators to remove from our statute books our ancient, punitive, cruel and senseless law [against homosexuality]."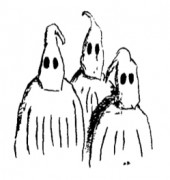 WILMINGTON, DELAWARE — Ralph E. Pryor, Jr., slender, good looking star member of the Wilmington vice squad for eight years, is reported by the Evening Journal to be organizing a Delaware klavern of the Ku Klux Klan.
"It is to be regretted," said Wilmington Public Safety Commissioner Joseph A. L. Errigo, "that a man who has had … police training should stoop so low as to be connected with the Klan." But Tangents' own correspondent asserts Pryor's chief merit as a vice-squad man was his ability to lure and entrap homosexuals — an occupation Dr. Alvarez and Tangents and many other decent citizens regard as pretty low.
SAN FRANCISCO—The Living Church, an Episcopal journal, reported on October 10, "A score of pickets demonstrated at Grace Cathedral … on Sunday … in protest against an action of the council of the diocese of California which, they charged, was discriminatory against the Rev. Canon Robert W. Cromey …. Canon Cromey had served as diocesan director of urban work … in depressed neighborhoods," and "he has been prominent in the campaign of some San Francisco clergy for what they call fairer treatment of homosexuals. Some church leaders, said Canon Cromey, oppose his championship of equal treatment for homosexuals as 'going against the teachings of God'."
He issued this statement: "My participation in such issues as homosexuality rocked the boat of the religious establishment, caused money to be lost to the diocese and led some people to imagine that I had besmirched the image of what the Church ought to be."
Retorted Suffragan Bishop Richard Millard: "Nobody's trying to eliminate Bob. Like any of the other 200 clergymen in the diocese, he is perfectly free to speak out on social issues." But Cromey is no longer director of urban work, nor has he been made director of Christian social relations, a post he had been expected to be asked to fill.
NORTH WOOL WICH, ENGLAND— Pub keeper Daniel Cousins has lost his license and been fined 35 pounds plus 50 guineas court costs as a result of police testimony that "powdered and painted men, wearing earrings and carrying handbags, infested his pub."
Said sailors Michael Crookshank and Geoffrey Draper, "We were sitting on the floor and acting like Port Said traders and arguing about prices, but we were not drunk." Said Dr. Richard Bell, who with his wife was at the club when the raid took place, "There was a liveliness about the place. I was amazed that I didn't see any signs of drunkenness." Said tavern owner Cousins, "I have never seen any handbags. I have perhaps seen them with blond hair and vivid clothing. I have never noticed make-up."
Said his wife: "There are 'queers' who use the public house, but I've never seen them behaving in a disorderly manner." Asked how "do you find people who are 'queers'?" Cousins answered, "Extremely well-behaved." He further said that there were "four to six in every bar."
Will there always be an England?
LONG BEACH, CALIF.—Half across the world from Blighty another bartender tangled with police and came off loser.
One night in the Fidley Inn, the bartender told two customers, "I won t serve you because you are undercover officers…" and the vice-squad boys hollered that this was a violation of their civil rights. Under the law, no California business may discriminate against a person because of his race, religion or occupation. Furthermore, said the officers, the Fidley Inn permitted "the premises to be used as a disorderly house with lewd acts and conversation." James Reimel, director of the State Alcoholic Beverage Control Dept., said the charge was based on alleged homosexual offenses and ordered its license suspended indefinitely. But the Fidley doors remain open.
Will there always be a Long Beach?
SAYVILLE, N.Y .—The Suffolk County News reports on the annual raid on Cherry Grove this summer. It was carried out by "plainclothes detectives and patrolmen who dressed casually and some hardly at all, in order to make themselves as inconspicuous as possible. They bagged 20 males at Cherry Grove and an additional five at Fire Island Pines in simultaneous raids carried out with split-second precision." While the report seems matter-of-fact, even good-natured, there is nothing good-natured about printing the names of each and every man arrested. That the court was merely going through the motions of enforcing the law is evident from the fact that all sentences were suspended and fines were a minimal $50. But the News seems to have felt constrained to ruin as many lives and reputations as possible.
SAINT-TROPEZ, FRANCE — Another beach, in another corner of the world, experienced a police raid recently.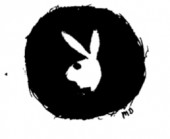 On the Riviera a 300-yard stretch of sand was, by common consent, given over to nudists. But, while undoubtedly the largest, General De Gaulle's nose is not the only blue one under the tricolour. Neighbors began complaining about exhibitionists and homosexuals beyond the rocks and bushes that sheltered the nudists from the rest of the beach. Result: rocks and bushes bulldozed away and nudists put to rout! What ever happened to Liberte, Fraternite, Egalite?
News & Views
The New York Review, in a brilliant essay on the new Kinsey report on Sex Offenders, submits it bears out the thesis of Norman O. Brown in his important book Life Against Death — which, briefly stated, is that all kinds of sexual expression are equally natural to human beings.
But down in old Virginny, the Richmond News Leader headlines an editorial "Cracking Down on Sex Criminals" that asks for even stricter laws against what our still benighted society calls deviant behavior …In Chicago the censorship concept dies hard (see July Tangents). The Sun Times prints pictures of vice-squadders raiding bookstores on South State Street and hauling away cartons of girlie and nudist magazines.
In another issue of the same paper, writer Cliff Sessions sheds saurian tears over the plight of virtuous Post Office officials who have to answer complaints about "obscene" mail with a form letter telling the recipient the P.O. is powerless to interfere with delivery and that only the recipient himself can stop the stuff coming to him by contacting the sender direct . . . But the P.O. does interfere with mail despite its protests that Supreme Court decisions have robbed it of this right. The New Republic reported cases of government employees and professional men whose employers had been told they were receiving "obscene" mail before they were told anything about it. And one of the instances cited involved First Class Mail from a "pen pal."
…On a more cheerful note, the Topanga Canyon Club is out of trouble. Judge John Merrick of the Malibu (Calif.) Justice Court has dismissed two misdemeanor charges against the club's owner and ruled that the establishment does not come under the law requiring licenses for dancing clubs or dancing schools. In 1964, the county revoked the club's dancing license on testimony of sheriff's deputies "that males were dancing with males."
…A new British play, The Killing of Sister George, that tells of the downfall of a soap-opera star who is a lesbian, is a smash hit
…Science News Letter reports that "men who smoke are, as a group, more feminine than those who do not … therefore, smoking may in part symbolically represent a search for masculinity. The nonsmoker is a better marriage prospect. The heavy smoker is restless, nervous, extroverted, energetic, thrill-seeking, independent; the nonsmoker is puritanic, conservative, stable, agreeable, dependable, religious …"
If this is science, give us back superstition!
Along the same lines, the Montreal Star carried this opinion by New York psychiatrist Lewis R. Wolberg:
Confronted by a woman in [slacks] who sometimes look more like a motorcycle cop than a femme fatale — [the normal man] will soon develop a whole new set of conditioned sexual responses….
He sees coming "a civilization of weak men and strong women that find expression in long hair and perfume in males and leather coats and sloppy pants in females."
…An American tourist just back from Copenhagen wrote to the Chicago Sun Times: "Help! I think a third sex has developed. On our first visit to the famous Tivoli Gardens … we saw thousands of young boys, or were they boys? with long hair, much longer and curlier than the Beatles hair, walking around in pointed toe shoes and high heels. Our son, with a crew cut, looked a little out of place…."
Only a little?
…Ann Landers answers a boy too late who thought that "any guy who says he's a homosexual gets classified 4F" as follows: "If you think kissing the draft board doctor and announcing that you are a homosexual would have excused you from military service, I have a flash for you…. This is what would have happened: The draft board doctor would have turned you over to a psychiatrist for examination … a battery of tests. And if you had flunked, you'd have been on your way to Fort Ord or Camp Robinson faster than you could say "My high heels are killing me."
Then again, he might not have flunked the tests.
---