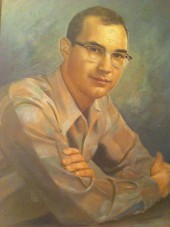 March 20, 2008.
The following press release is worth noting.
---
Washington, DC – The Historical Society of Washington, D.C. and the Rainbow History Project are pleased to announce their archival partnership in bringing Rainbow History's collections of documents, images, and ephemera to a wider audience of researchers, students, and members of the community.
Mark Meinke, chair of Rainbow History, states:
Rainbow History's mission of collecting, preserving, and promoting the lesbian, gay, bisexual, and transgendered (LGBT) history of metropolitan Washington, DC fully complements the Historical Society's mission to "the history of the Washington metropolitan area and its people accessible and understandable to public audiences in order to achieve a sense of identity, place and pride in Washington for those who live and work here."
The Historical Society of Washington will house and preserve the collections transferred to it by the Rainbow History Project. The collections will be processed and made accessible under the leadership of Yvonne Carignan, Director of the Kiplinger Research Library at the Historical Society.
The agreement between RHP and HSW preserves RHP's rights to materials in its copyright and to access and display items from the collections in keeping with its mission. Both organizations look forward to working together to bring the history of the city's LGBT community to a wider audience. RHP will work with HSW to bring other collections to the Historical Society in the years ahead.
Ms. Carignan remarked:
Those of us at Historical Society's Kiplinger Research Library welcome this partnership. Since 1894 the Historical Society of Washington, D.C., has been dedicated to collecting, preserving, exhibiting and celebrating the many stories of Washington. We are very excited to have the RHP collection because it adds important depth and dimension to our rich collections on Washington history.
Among the first items to be transferred to HSW will be Rainbow History's collection of The Furies newspapers [The Furies: Lesbian/Feminist Monthly]. A local lesbian feminist separatist collective which practiced and taught self-reliance to women, The Furies' newspaper initiated nationwide discussion of the rights, challenges, and opportunities for women in the 1970s.
Also transferred will be Rainbow History's collection of seminal African-American LGBT publications including issues of Blacklight, BlackOut, BGM, BLK, and publications of The National Association of Black and White Men Together from the 1980s. The David Aiken collection of draft articles for The Advocate and his topical clippings and document files from 1970 to 1981 also joins the publications at the Historical Society of Washington.
---