Reader At Large
by Barbara Grier writing as "Gene Damon"
Photograph courtesy JEB[1]Barbara Grier image ©2017 by JEB (Joan E. Biren.) Used by permission.
Printed in the January

 1966

 issue of Tangents
pp. 27–29
---
This month the column will be primarily feminine in emphasis and next month exclusively male.
Those keeping track of the enormous quantity of titles with some homosexual interest will note that the last three columns, this column, and the one appearing in the February issue of Tangents concern titles for the most part appearing before 1965. Future columns will make up for this.
I sincerely hope that authors will soon tire of castigating the morals of the so-called "jet-set." Burton Wohl's novel, The Jet Set (Dial, 1964, Dell, 1964), is a boring recounting of several sexual athletes exercising their major skill on several continents with a wondrous variety of partners. For those of very advanced tastes, he includes the African native on a sham hunt in a safari who rapes a lesbian after breaking her neck smartly by yanking it over her shoulder. (He has seen lions kill their prey this way.) All varieties of homosexuals included, of course.
Signet, Bantam and Dell are primarily reprint paperback publishers. Sometimes, however, they publish a good quality paperback original. If the Wohl book above deserved hardback publication, surely The Girl Who Had Everything, by Victoria Kelrich Morhaim (Signet, 1962) also warranted it. This is the story of "Sammy," the girl of the title, whose latent lesbianism keeps her from accepting a male lover. Her friend, Dwitty, an interior decorator, while overdrawn, is handled with love, and his role is sufficiently important to make this book interesting to the male audience. The character, Ann, is very intriguing—she is an artist specializing in pottery and is pretty clearly based on an identifiable celebrity.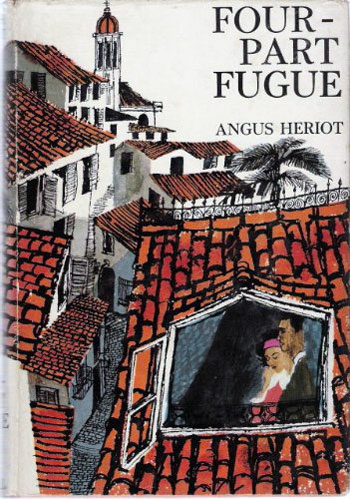 Angus Heriot's novel, Four-Part Fugue (London, Cassell, 1962) is a muggy failure, mentioned here primarily because it is substantially homosexual in content and characters, both male and female. A bit of the emotional "ring around the rosy" so popular (apparently) these days.
H. E. Bates is becoming another of the prominent and prolific writers to watch for inclusion (as has John O'Hara, for example). Since 1961 he has published two male homosexual short stories: "Now Sleeps the Crimson Petal" and "The Snow Line," in The Enchantress and Other Stories (Little, Brown, 1961). He has also published a lesbian novella, Breeze Anstey, in The Best of H. E. Bates (Little, Brown, 1963); a lesbian short story, "The Diamond Hairpin" in The Fabulous Mrs. V. (London, Michael Joseph, 19640; and a lesbian novel (very poor) A Crown of Wild Myrtle (Farrar, Straus, 1963; London, Michael Joseph, 1962).
Elizabeth Bowen, of course, has been of interest to readers of this theme since her famous 1928 novel, The Hotel. Her recent novel, The Little Girls (Knopf, 1963, 1964), is terribly tedious, considering her extreme talent, and is very disappointing. It is about the reunion of three old friends, fifty odd years after the beginnings of the friendship. Two of the three had emotional attachments bordering on lesbianism, and the revelation of this provides some of the tension in the reunion. Many of Miss Bowen's stories and novels are relevant enough to mention (and others are pertinent, but only mildly) including "Happy Autumn Fields" in Ivy Gripped The Steps (Knopf, 1946; also in The Short Stories of . . . Vintage, Random, 1959); "Mrs. Windemere" in Encounters (London, Sidgwick, 1923; also in Early Stories, Knopf, 1950), and her early novel, Friends and Relations (Dial, 1931).
Denys Val Baker includes an ironic lesbian tale in his collection, The Strange and The Damned (Pyramid, 1964). The aptly titled "Testament of a Green-Eyed Man" tells of a man whose jealousy drives him to rape a lesbian in love with his wife. The consequences are hilarious.
Marguerite Steen, long a good reliable novelist, has joined the parade with her witty A Candle in the Sun (Doubleday, 1964)— that good old standby, the story of a complete bitch and how she ruins both men and women. Oggie Schneider, lesbian and old pal of the husband, turns out to be the wife's lover, but it is all amicable enough and Oggie is a delightful character.
If you haven't yet introduced yourself to all of Louise King's homosexual coterie, now is the time. Her first novel, The Day We Were Mostly Butterflies (London, Michael Joseph, 1963; N.Y., Doubleday, 1964) and its sequel, The Velocipede Handicap (London, Michael Joseph, 1965; N. Y. Doubleday, 1966), concern the household of Maurice Soule Calhoun, mentor and guardian of Miss Moppet, the flutter-headed femme of all time, and her butchy lover, Miss Lillian Richardson (ex truck driver, now in public relations and promotion). This kind of writing can be very dull if it is not always right on the edge of the proper blade of humor, and fortunately Miss King never misses.
History bugs will enjoy, as will mystery fans, Robert Van Gulik's The Chinese Maze Murders (N.Y., Gregory Lounz, 1957; London, Michael Joseph, 1962). This is a literary curiosity in that Van Gulik uses ancient oriental tales to write modern mysteries. This one has a lesbian as villainess, and in his supplementary notes he indicates that such literature is full of lesbianism.
The Benefactor (Farrar, Straus, 1963), by Susan Sontag, is primarily male homosexual in emphasis and is included here only because of an incidental lesbian episode. Surprisingly, Miss Sontag has done a good job in depicting a male prostitute on the prowl. Jean-Jacques writes by day and cruises by night, adopting suitable disguises for each Paris quarter he visits.
The mixed up history of The Night of the Iguana, by Tennessee Williams, is amusing and is entirely of interest in this column. As everyone knows. The Night of the Iguana was a hit Broadway play in 1959 and in 1964 was made into a movie. However, back in 1948 when Tennessee Williams' collection of short stories, One Arm (New Directions, 1948, 1955) first came out, "The Night of the Iguana" was a short story about a pair of male homosexuals who excite the interest and hatred of an embittered spinster. A very symbolic iguana is the unfortunate focal point of the malice of the tale. Then, in 1959, when the play opened, the story was radically changed and expanded, and the two gay boys were removed. The spinster had become Judith Fellows, a lesbian, resentful of the hero because he has slept with her girlfriend. The play was published in Esquire magazine, February 1962, and in paperback by Signet in 1964. In the movie the lesbianism is very, very clearly portrayed (out of line with the published text). It is almost as weird a conversion as the changing of Algren's Negro madame of the whore house in A Walk On The Wild Side (book is wholly heterosexual in emphasis) into the lesbian played by Barbara Stanwyck in the movie version.
A very welcome novel, The Late Breakfasters, by Robert Aickman (London, Gllancz, 1964), uses the fey qualities of the late Shirley Jackson to tell a charming lesbian love story, abortive, mysterious and far too brief, but very romantic.
Plays dealing honestly with homosexuality are rare, and Ronald Duncan's The Catalyst (London, The Rebel Press, 1964) comes close to being a fair treatment of the old ménage à trois theme. There is considerably more candor and sanity than would have been possible in a publicly presented play a few years ago. (The presentation history in the book is, in itself, very interesting.)
Edward Mannix deliberately misuses the novel form in his literary joke, A Journal of Love (Dial, 1964), which tells of the love affair of a selfish male student and a mindless girl. Part of the exercise is a lengthy lesbian sequence between the girl and a woman in a neighboring apartment. The writing is excellent, but the joke is pretty flat.
1964's inevitable college novel, A Share Of The World, by Andrea Newman (London, The Bodley Head and N. Y., New American Library) includes a male homosexual and a lesbian, neither handled with much perception, but it is fairly well written.
Poetry is always rare in these days of diminishing interest in it as an art form, and it is good to be able to mention two fine new collections of lesbian poetry, each very different from the other. Mary Oliver, who has been very fairly and very accurately compared to Edna St. Vincent Millay, included many poems of lesbian and variant coloration in her first volume, No Voyage and Other Poems (Boston, Houghton Mifflin, 1965). Those particularly rewarding are: "Explanation," "The Judgment," "In A Far Summer," and "The Return."
Having become accustomed to the absence of love in much of the so-called modem poetry, the reader will welcome Naked Poems by Phyllis Webb (Vancouver, Canada, The Periwinkle Press, 1965 (c/o Takao Tanabe, 3939 Viewridge Place, West Vancouver, Canada). The author is a radio and television program director for the C.B.C.; and despite having published three previous volumes of poetry (two by commercial and one by a private press) and being very well known in Canada, she is, unfortunately, not known in this country. It is hoped that this present volume will put an end to this situation.
Naked Poems is divided into five sections, the first three considerably better than the other two. "Suite I" and "Suite II" tell a continuous lesbian love story, and certain of the poems in the third section seem to be retrospective additions to the same story. Miss Webb is unbelievably economical in her use of words. Many of the poems have less than 20 words. The tone is erotic, subjective, and shattering, which makes this distillation of emotion even more unsettling for the reader than it would have been had the telling been more detailed. The book is designed and printed by Takao Tanabe, Canadian artist, and is, in itself, a work of art. (The address is included here since this is not likely to be in U.S. bookstores; more to their loss, it must be added.)
—GENE DAMON
---
Image: Barbara Grier, c. 1972, by JEB. Courtesy of the San Francisco Public Library
 Content ©1966, 2016 by The Tangent Group. All rights are reserved.
---