Reader At Large
by Barbara Grier writing as "Gene Damon"
Photograph courtesy JEB[1]Barbara Grier image ©2017 by JEB (Joan E. Biren.) Used by permission.
Printed in the

March 1966

 issue of Tangents
pp. 29–31.
---
This month I'll cover a few of the many many newer titles. We really have an abundance of literature now dealing, at least in part, with homosexuals and homosexuality. I know of over 50 titles in 1965 concerned with male homosexuality, and past experience tells me that this figure will grow during the next year or so as I discover overlooked titles.
Daphne Du Maurier, the long renowned spinner of suspense tales, incorporates subtle overtones of male homosexuality and sadomasochism in The Flight of The Falcon (Doubleday, 1965). The use of all the well-known visual and psychological symbols will amuse the knowing and it is a credit to Miss Du Maurier's talent that this one could be left in the hands of your maiden aunt with impunity.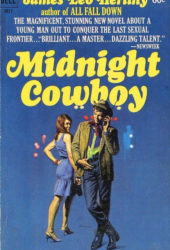 Midnight Cowboy, by James Leo Herlihy (Simon and Schuster, 1965), belongs in part with the Rechy, Baldwin, Blechman bunch of modern horror stories but is, in fact, a much warmer book than any of the others. Joe Buck, not bright but likeable stud, goes to New York to live his dream of being supported by women. He is more attractive to men, however, and his few encounters are fairly well-handled. He meets a sickly cripple who acts as father surrogate successfully for awhile, but then Ratso Rizzo falls ill, and Joe Buck cannot cope.
There are several wonderful characterizations in the book, including a rather familiar special hustler, Perry. Everyone will recognize him.
More on that national lunacy, the removal of people from public office for real or imagined moral offenses. This time it is a ghost from the past which brings back the harrowing experience of unjust persecution. "Goldilocks At Graveside," by Irwin Shaw, in Love On A Dark Street and Other Stories (Delacorte Press, 1965), is one of this past year's better stories, and possibly the finest treatment of this particular phenomenon, the persecution of a person over his sexual orientation.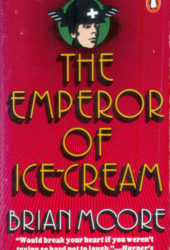 The Emperor of Ice Cream, by Brian Moore (Viking, 1965), is getting lots of critical praise, so it is sad that it is a very dull novel with one of those wide-eyed boyish heroes unlike anyone one knows or ever knew. Our hero innocently adores all the homosexual poets but can't quite take meeting one of his poet-loves in a happy homosexual menage which incidentally includes the local Presbyterian minister, Reverend Kenneth McMurty, who fittingly runs a program for wayward youth.
Robert C. Ruark's last novel, The Honey Badgers (McGraw-Hill, 1965), was not his best, but it whips along in a bloody way, as reader's of Ruark have come to expect and Francis Hopkins, very gay, is quite a major character. One of this century's substitutes for the swashbuckler.
Gentle love, the love between children, is handled with talent in Among the Cinders, by Maurice Shadbolt (Atheneum, 1965). Nick, young white African boy, must learn to live without Sam, his Maori friend, who died in his arms after an accident. This is a tear-jerker for men, a sentimental trip to boyhood with very adult undertones.
From the gentle to the vigorous. Alan Sharp's masculine face leaps from the jacket of A Green Tree in Gedde (New American Library, 1965; also London, Michael Joseph, 1965), with the same force as his words leap from their pages. There are many plots, but the primary one tells of Harry Gibbon, young Greenock boy, and Peter Cuffee, young Manchester artist, footloose in Paris and environs. Peter involves himself with a lesbian and gets his head bashed in a bit for his trouble. Harry becomes close friends with Norman Kimber, a homosexual poet, who teaches him to live with dignity, to face his feelings for Peter, to come to terms with circumstance. These two are not physically intimate, but this kind of novel can affect more people favorably than a dozen like Gide's Corydon, which it resembles in the philosophical section where Norman explains homosexuality to Peter.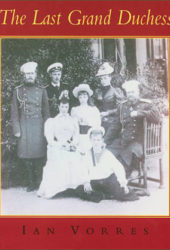 In The Ladies of the Rachmaninoff Eyes, by Henry Van Dyke (Farrar, Straus, 1965), we have one more hot sullen Southern novel. If you've read Capote, McCullers and Bell, you've been here before. Sergeant Klein, son of one of the heroines, is dead, a suicide. He was homosexual. Le Fleur comes to help the ladies of the title, you can imagine his orientation from his soubriquet. Maybe we've been here too often?
A biography of Olga Romanov, The Last Grand Duchess, by Ian Vorres (Scribner's, 1965), includes an account of her marriage to Prince Peter of Oldenburg. The marriage was in name only because of his homosexuality. Not a vital book, but a name for the record keepers.
Beware Au Pair, by Liselotte Durand (London, Heineman, 1965), is about two years in the life of an "au pair" girl in London. Liselotte runs into a lesbian (no passes) and a perfectly lovely pair of gay boys.
The chapters on the boys are far and away the best in the book, and they turn out, not surprisingly, to be her nicest employers. Light entertainment, but very good.
Reviewers have rightly emphasized the lesbian aspects of La Batarde, the autobiography of Violette Leduc (Farrar, Straus, 1965). However, Violette was involved with Maurice Sachs, the famous (or notorious?) author of Witches Sabbath (Stein and Day), and this would make her book of interest to the male audience. Unfortunately Violette's book is a blasted bore, even for the lesbian audience, despite or perhaps because of its plethora of love scenes with women. No one should miss Mr. Sach's book, nor the portions of La Batarde which deal with his life.
Hart Crane, the poet whose short life holds so much continuing fascination, is brought very much to life with the publication of his Letters, 1916–1932, edited by Brom Weber (University of California Press, 1965 paperback, $2.25). The editing hasn't been too unfair, and many letters to anonymous recipients deal with Crane's homosexual adventures with sailors, etc.
An excellent history, with some specific place in this column, is Charles Lam Markman's The Noblest Cry (St. Martin's Press, 1965). It is subtitled "A History of the American Civil Liberties Union" and it is that, but it is also a strong polemic in favor of the principles of this group dedicated to fighting any injustice impartially. Several instances concerning the homophile organizations are included along with some very surprising paragraphs on page 226 and page 227 about the treatment of homosexuals in this country.
For those who can bear weak-livered satire, Pamela Hansford Johnson's new novel. Cork Street, Next To The Hatter's (London. Macmillan and Scribner's, 1965) has some rewarding moments. This is supposed to he a lampooning of the current "decadence" in the theatre and it tries engagingly enough and includes some "characters" worth meeting, at least in a novel.
'The Baroness", a short story in Strange Possession, by Denys Val Baker (Pyramid Books, 1965), concerns a happy unconventional household, two gay boys and a straight girl, all with interests elsewhere. Short believable and quite well done.
Robert Payne's fictionalized The Lord Jesus (Abelard, 1964) treats the relationship between Jesus and John with some realism. It is quite clear what interpretation Mr. Payne has placed on the pair. Some may be offended, but those who really believe in the gentle love of God and his son, Jesus, will welcome this novel.
The last book to be discussed this month is possibly the most major. Two People, by Donald Windham (Coward-McCann, 1965). Mr. Windham apparently writes slowly, for through the years he has published in this country only three novels, one collection of short stories, an autobiography and a play. To some extent his entire body of work belongs in this column and his minor-keyed additions to homophile literature are excellent. The Two People are Forrest, married and theoretically fully adult, and Marcello, a seventeen year old Roman youth. Superficially it is the story of their summer affair in Rome and beyond that, on a more serious level, it is a play in contrasts, with the differences between American and Italian upbringing the major story. The novel fails in one important way. Mr. Windham provides no real motive for either of his characters, and the reader is left not quite believing the story as it is told. But this is a well done book and should he widely read for the writing skill alone.
—GENE DAMON
---
Image: Barbara Grier, c. 1972, by JEB. Courtesy of the San Francisco Public Library
 Content ©1966, 2016 by The Tangent Group. All rights are reserved.
---