Reader At Large
by Barbara Grier writing as "Gene Damon"
Photograph courtesy JEB[1]Barbara Grier image ©2017 by JEB (Joan E. Biren.) Used by permission.
Printed in the May 

1966

 issue of Tangents
pp. 21–26
Reader At Large column #8
---
Those who have seen this column from its first appearance realize that it is deliberately formless for the most part. I make little attempt to tie in all of the books in any one column, primarily because that would not he possible each month. Of course, we all know that homosexuals differ greatly among themselves, a view not held by the general pub- lic, and our reading tastes are not exceptions to this rule. This month, and every month, I hope to provide some titles for every different taste.
One of the reasons for changing the legal status of homosexuals can be found in the many novels which deal with the tragedy which often follows when a homosexual enters into a heterosexual marriage. The Young Divorcees, by Lissa Charell (Macmillan, 1963; Dell, 1964), concerns those happily and not so happily divorced women whose numbers increase daily in the world. The heroine, Tiffany, marries a homosexual, Lex Bishop, and much of the novel is devoted to their problems which, inevitably, end in divorce. The tone is anti-homosexual, but the problems are well presented, including an analysis of one of the possibly destructive relation- ships which develop between mothers and sons.
A much more melodramatic approach to the same error is used by Vera Caspary in her novel, The Chosen Sparrow (Putnam, 1964; Dell, 1965). War waif Leni becomes a singer in a second-rate club where she meets the older, sophisticated Gerhard. They marry and he takes her to live in his family "castle." The blurb on the paperback edition says: "She went to live a fairy tale." How True! This is awash with sturm und drang and entirely for laughs.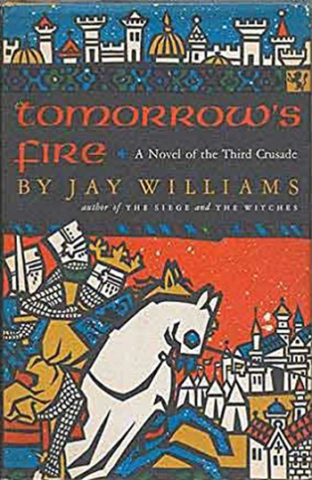 The endless fascination afforded by the homosexual king, Richard I of England, is explored again in Tomorrow's Fire, by Jay Williams (Atheneum, 1964). Mr. Williams uses the fictional trouvere approach (as did Norah Lofts in her novel, The Lute Player, Doubleday, 1951). Denys de Courtebarbe tells Richard's life from the vantage point of a good deal of love, with the primary action focusing on the Third Crusade. History bugs rejoice.
Unintentionally I have just completed a handful of novels about either California small towns or that favorite target, Hollywood. Bernard Wolfe's almost incomprehensible novel, Come On Out, Daddy (Scribner's, 1963; Macfadden, 1964), tells of the unhappiness borne by an Eastern writer visiting Hollywood. There are several homosexuals dotting the landscape (for realism, no doubt), but most will be nostalgic for Nathaniel West who said it all earlier, and far more intelligently.
Again to the movies, but this time it is Hollywood in Rome, for West Wind, by Mel Heimer (Simon and Schuster, 1964; Pocket Books, 1965). You've all heard about the "love affair of the age," the one celebrated by the same movie star every few years with a different leading man? Well, this book is a thinly disguised account of the latest hapless mantis, who thinks he is doing the preying. To spice his sexy, redolent broth, Mr. Heimer includes accusations of homosexuality.
In an overlooked book about a California Peyton Place, author Dariel Telfer includes quite a homosexual brou-ha-ha. The critics dislike this lady for her sensationalism, which is certainly present in The Corrupters (Simon and Schuster, 1964; Dell, 1965), but which does not overshadow the fact that she can plot and write well, something not every published writer of today can do. This novel tells of the explosions created when several of the high school boys join a secret homosexual fraternity. The young group soon gets involved with a much older, more sophisticated group featuring some of the town's leading male citizens, including some of the high school teachers. Some of the characters are well portrayed, and it is too bad that Miss Telfer is an "anti," for this is a major study.
A small California suburbanite community gets a royal blasting in The Disconnected, by Kay Martin (Putnam, 1964; Dell, 1965). Three male homosexuals play substantial parts in this general analysis of the sex life of several dozen people, and they fare no worse at the hands of the author than the rest of the crew. Sun, sin, sadism, suburbia tells the story; and you'll keep reading.
A world away, to Asia, scene of too much violence for too many years, for the topical novel, The Brinkman, by Desmond Meiring (London, Hodder, 1964; Boston, Houghton-Mifflin, 1965). Peter Pridie (an aptly named New Englander) is the titular brinkman and his adversary is French newspaperman, Jean-Philippe Raymond. At first it seems these two must battle politically and then sexually (over a girl), but it soon becomes apparent that under their surface hostility, there is a different kind of war. Pridie, in his stiff-necked way, loves Jean-Philippe—and the resultant sexual tension rather overshadows the broader universal problems faced in the novel. Mr. Meiring, a well known reporter, is very anti-American, which may put off some readers.
Stockade, by Jack Pearl (Trident Press, 1965; Pocket Books, 1966), indicates by its title the probable themes, brutality and sexual sadism. This one is strong meat, but remembering that James Jones already told part of this story in his 1951 novel, From Here to Eternity, now almost a classic part of our war literature, reminds us that there really isn't anything new under the sun. Private Edgar Remington, a nose-clean-never-volunteer soldier, under the pressure of watching an officer successfully commit murder, various assaults and brutalities, suddenly snaps. Lt. Black orders Remington to kill an innocent man for a minor infraction of the rules. When he does not instantly obey, Lt. Black indicates he will machine gun a yard full of prisoners. Ed Remington shoots, but he kills Lt. Black. Much of the book concerns the resultant trial, and it is during the trial that the history of Lt. Black's misdeeds is made public. A variety of other homosexual involvements exist in the book, and for comic relief (and there is little of it in this book) there is the usual bar-racks darling, complete with unbelievably cute bottom, who comes in for far more than his share of the expected ragging.
Insanity is never a pleasant subject, but it is certainly always a popular one, and The Inner Room, by Vera Randal (Knopf, 1964), is one of the better studies. Three of the five major portraits concern lesbian women and the author makes a strong case for allowing expression of these desires. Those who fulfill their needs improve or become entirely well; those who are left frustrated are also left in the shadow world of the institution. Good subtle propaganda.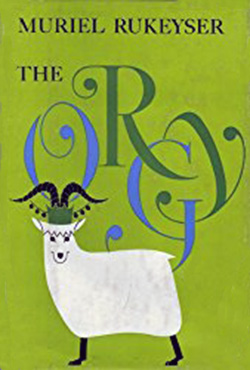 Muriel Rukeyser, noted poet, has written a book which is variously described as a novel or an autobiography. Probably it is a little of each. In any case, The Orgy (Coward-McCann, 1965), is an interesting example of the surrealistic novel, containing the shifts in time and focus which intrigue while they confuse. Ostensibly it is the recording of a bacchanal, but that is only the more superficial scene. There are lesbian touches and male homosexual touches not obscured but well-blended into the overall story.
The Unmelting Pot, by Michael Sheldon (London, Hutchinson, 1965), is laid in a Canadian city, and the titular thesis is that varying peoples do not always wish to become amalgamated. One of the major characters, Rosemary, is a 30 year-old repressed lesbian with a history of abortive attempts to face her own needs and desires. She becomes involved with an attractive male, Brian, to "get over" her love for her boss, Carola. Predictably, the attempt ends with her complete mental breakdown. One more example, and they are endless both in fiction and in life, of the danger of repressing homosexual (or indeed, any sexual) needs. The almost inevitable end is some kind of serious mental conflict or complete mental collapse.
It is going out on something of a limb to say so, but The Winners, by Julio Cortazar (Pantheon, 1965), is far away a better book than the celebrated Ship of Fools, and it is a very similar tale in many ways. Mr. Cortazar has leaped to deserved fame on the Continent with this book, and it has been critically well received here, but has not had the general popularity it deserves.
Among the many passengers on a cruise, which each has won as a lottery prize, are several men of interest here: Raul, whose relationship with a girl makes one wonder why he is with a girl (she wonders too); Felipe, who dreams of the male homosexuals in his school and of his homosexual teacher but has never had enough nerve to respond until he meets the enigmatic sailor, Bob, who shows him exciting pictures and feeds him whiskey and tobacco before… Other figures pass briefly across the screen as the author analyzes the nature of the prize in life and who really wins.
Every male homosexual who has been arrested (and every one who still faces this danger), and particularly those who have been the victim of Entrapment[2]Also see our review of this book by "R.M."from the March 1966 issue of Tangents, will want to read this novel by R. McCoy (Argyle Books, 1965). Jimmy Rendon, a policeman with the kind of past which might have made his superiors doubt their wisdom in using him to catch male homosexuals, finds that the sexual endowment of Vince Ramirez is too much to resist. The ending, with Vince exacting a kind of justice, will probably please the reader. Competent enough writing and plenty of sexy scenes to keep you reading.
Lonely for the Future, by James T. Farrell (Doubleday, 1965, 1966), might better be titled "lonely for the past." for Mr. Farrell has never left his past and still writes of the kind of world inhabited by Studs Lonigan. In this case, it is the 1920's tale of three young men in Chicago, a writer, a hedonist, and a businessman. The larger than life George, becomes a love object for the homosexual poet, Riggs. There is a good deal of space given to Riggs, but it is very unsympathetic space and while he is a far from lovable fellow, he is mistreated here beyond his desserts. Sadly, if this book hadn't come from Farrell, no publisher would have accepted it. To see James T. Farrell in his better days look up his early stories: "A Casual Incident" and "Just Boys" in Calico Shoes (Vanguard, 1934), and "Footnote" in Guillotine Party (Vanguard, 1935. All three stories also in The Short Stories of James T. Farrell, Sun Dial, 1945 and "A Casual Incident" is in Cory's 21 Variations on a Theme). These stories show Farrell at the height of his vigor. One wishes, as with singers who perform after they lose their voices, that Mr. Farrell had quit while he was ahead.
City people get used to the presence of gay bars, even expect them routinely in most medium-sized and larger cities. Have you ever wondered what gay bar life is like in a rural southern location? Well, read Night Story, by Babs H. Deal (David McKay, 1962; Paperback Library, 1963, 1965), for what will be, for some, the surprise of a lifetime. Oh well, I knew they must manage socializing somehow; but a gay bar, in the middle of a cornfield??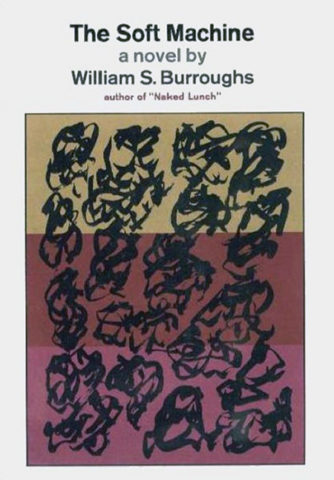 William S. Burroughs, justifiably famous for Naked Lunch, and very well-known as the pseudonymous William Lee, author of Junkie (published in 1953 by Ace Books and then issued by them in 1965 under his correct name), has worn out his subject matter to some extent. His latest book, The Soft Machine (Grove, 1966), is an impossible picaresque journey through Peru which features all known sexual (primarily homosexual) experiences. The title refers to the penis when not in use, which is hardly ever in this book. The line between art and pornography is very obscure, except that this book can't be pornography for it does not make the reader happy, and that is a prerequisite. Certainly it doesn't miss anyone's special interests; but it is dull, miserably dull.
For the serious student of homosexual literature, A. S. Byatt's Degrees of Freedom (London, Chatto and Windus and N.Y., Barnes and Noble, 1965), is a must, for this is a detailed critical analysis of the first seven novels of Iris Murdoch. Of course. Miss Murdoch has written and published two more novels since work on this book was completed, but the book does discuss The Bell, A Severed Head, An Unofficial Rose, and The Unicorn, four of Miss Murdoch's five novels which deal with homosexuality. Some of the author's ideas are pretty revolutionary, but she does not shy away from discussing the homosexual content of these books at all. A very convincing parallel is drawn between the old lesbian vampire classic, Carmilla, by J. Sheridan Le Fanu and the lesbianism in The Unicorn. It is hard reading, but worth the effort. It is a good idea to have copies of the novels handy, too, when reading this book.
"The Friendly Cycle," by Tom Cole, in An End to Chivalry (Little, Brown, 1965), is about an unfriendly bicycle trip. It is very short, but it records a near psychological victory won by the unnamed narrator over a classmate who has bested him academically. The classmate has, in the eyes of the narrator, two weaknesses; he cannot ride a bicycle well, and he desires the narrator. The author wisely leaves judgement to the reader.
A way from fiction for a moment to The Face on the Cutting Room Floor, by Murray Schumach (Morrow, 1964), which takes up the chicanery and hypocrisy that has prevailed in movie and television censorship. Mr. Schumach is the movie critic of the New York Times. Don't use the index as a guide to the homosexual incidents since it shows only eight and there are many more than this. Most of the book seems to have the ring of accuracy, though there is one error which even a casual viewer of television can discount, and that is the quoted statement that "homosexuality is still untouched on television." Leaving out all of the programs which have appeared on little stations, primarily for educational purposes, there have been many dramas with clear-cut homosexual themes. This was especially true on the old Naked City series. My own sporadically-kept files show over 25 dramas based on male or female homosexual themes in the last 10 years.
The Decline of the Gentleman, by Simon Raven (Simon and Schuster, 1962), is an unusual entry for this column since the majority of the book deals with the history and current status of the English class, the gentleman. However, it includes Mr. Raven's autobiography to some extent, particularly in the last half of the book, and very frankly discusses his homosexuality and his being expelled from school as a result of homosexual escapades. A long analysis of the problems faced by the military in dealing with the sexual needs of the men and a discussion of the shambles created in many regiments by the increased number of early marriages of the junior officers also deserves attention.
Faithful readers of the male homosexual fiction scene will remember Desmond Stewart for his fine novels, Leopard in the Grass (Farrar, 1952; Signet, 1954) and the Unsuitable Englishman (Farrar, 1954, reprinted as A Stranger in Eden, Signet, 1955). Both of these are quite major male homosexual treatments. His latest novel, The Round Mosaic (London, Chapman and Hall, 1965), is the first novel of a proposed triology [sic], set in England, Scotland, Ireland and Egypt. While the novel is loosely based around the futures of two families, it is a panoramic historical view, covering ways of life as well as actors on the stage of life. Briefly, one Alexandea Lomax marries Alexandra Amos, one of four sisters—and this couple is the focal point for the entire triology. However, two of Alexandra's sisters, Oonagh and Fanny are lesbians—and their life histories are given in great detail. A variety of very interesting and socially prominent lesbians figure in the novel, including a Miss James Bouverie, who is said to be a famous artist, and Miss Lavinia Strauss, an art patron and philanthropist. The milieu is the same as that inhabited by Oscar Wilde and his friends, England's so-called Yellow Decade (in America the Mauve Decade). It is likely that someone very familiar with the upper-class lesbians of that time (about which much less has been written) could identify the major characters. In any case, it is an unusual and very welcome book by an excellent writer.
Venus in Transit, by Audrey Laski (London, Heinemann, 1964; N.Y., McGraw, 1965), features one of those witless types (female variety) flitting around looking for something to do, and causing a bit of havoc in the doing. Among the stopping places for this Venus, who is called Dorothy, is a provincial village in France which houses a fair-sized art colony. Among the flora and fauna are a lesbian pair (with built-in complications) and a few languid males. The male parts are pretty minor; the lesbian portions somewhat more emphasized. A pleasant way to spend an evening, nothing more.
No one expects to find a beautifully written, cleverly plotted love story in a run-of-the-mill mystery, but that is just what awaits the reader in From Doon with Death, by Ruth Rendell (London, Long, 1964; Garden City, N.Y., Doubleday, 1965; Ballantine, 1966). Margaret and Ronald Parsons are a very ordinary couple, living very quietly. The discovery of Margaret's body in a wooded area, strangled to death, seems impossible to believe. Police Inspector Wexford begins his patient examination of the life of Margaret, only to find that there is virtually nothing to examine. Then he discovers the expensive collection of love poetry volumes carelessly put away in the attic of the Parsons' home, each lovingly inscribed "From Doon." Someone must be Doon, but Ronald Parsons has never heard the name, and neither have their few friends—yet one of them is Doon. Don't miss this one.
—GENE DAMON
---
 Content ©1966, 2016 by The Tangent Group. All rights are reserved.
---