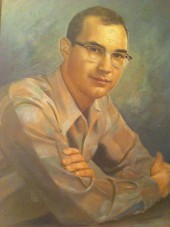 October 17, 2009.
Even though I watched Larry Craig and wife on NBC (and immediately repeated on CNN) last night, I have no idea what to think of him.
What I do know, as we have all said, is that his arrest is a classic example of entrapment. I don't think it matters if he is gay or not. What is obvious is that he still will be anti-gay and so he doesn't deserve any sympathy.
But it is pure evidence that many of us plead guilty even if we aren't, to avoid publicity and further costs, etc. And that our "friends" often abandon us, many assuming we are guilty even if we weren't.
So I hope he continues his fight, and if he really is an intelligent person, and wife and kids, he should sooner or later realize that his actions as a politician have hurt innocent people as well as the "gays" he doesn't like or want to be.
See what another blogger has said about Craig: "Larry Craig is a Nasty Boy"
I agree, mostly.
---