Shank

Directed by Simon Pearce (and Christian Martin)
Written by Darren Flaxstone
and Christian Martin
Premiered March 20, 2009
at the Melbourne Queer Film Festival
Genre (subgenre)
94 min.
Review by Stephen O. Murray
July 19, 2017.
---
The very low-budget independent British film Shank achieved some notoriety in 2009 for its grittiness.
Seen by some as a portrayal of a very difficult coming-out, others saw it as one long fag-bashing or as a series of five fag bashings. Light entertainment it definitely is not, though there is a romance, or arguably two romances, with one of them ending in rape.
(Various plot points are revealed below)
The protagonist is a Bristol lumpenproletariat boy named Cal [the darkly handsome Wayne Virgo] who hangs out with a group led by the viciously sadistic Nessa [Alice Payne] whom he once impregnated. (It was not clear to me whether she lost the baby before or after giving birth.) She is perturbed at the intense intimacy between Cal and Jonno [Tom Bott] that increasingly is leaving her out. She has sex with Jonno in a cemetery, though resisting his attempt at anal intercourse with her.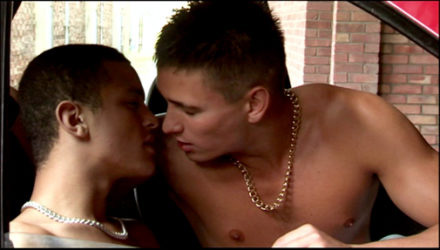 Cal cruises for sex (as a "pussy boy," that is, a bottom) that at least in one case involves knocking out with a head-butt the man who had just topped him, teacher Will [Bernie Hodges].
Cal is uneasy about the attack of a faggy-looking foreigner, who turns out to be a French student of Will's, Olivier [Marc Laurent] and returns the packages Olivier was carrying when he was set upon by the gang. Though Cal continues to deny that he is gay, he and Olivier become lovers (with Cal taking on the unfamiliar role as a top).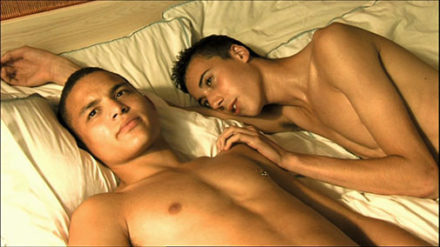 Johnno is horrified to learn that his best mate is a poofter. It is not entirely clear if he recognizes that Cal was in love with him, still less than Johnno had erotic feelings for Cal. What better way for Johnno to prove that he isn't a fag than to beat up and sodomize Cal in front of the rest of the gang and Olivier.
Nessa is sickened by this. Olivier persuades Cal to come along with him to France at the end—after Olivier gets Will to rescue both of them and clean up Cal.
The sequel, titled simply Cal" (2013, directed as well as written by Christian Martin, who wrote and produced Shank) is set in Bristol four years later. Cal, now 21, has been summoned back because his mum, Cath [Lucy Russell] is dying. (In Shank there were nothing about Cal's background, though I wondered how he was paying for gas and rent, guessing low-level drug dealing supplemented by muggings that were recorded on his mobile phone, as were his sexual receptive encounters.) She is a tough woman who rejects Cal's homosexuality, even though he has no lover in tow. (An inside joke for those who have seen Shank is that Cal now wears a scarf all the time, having rejected Olivier's attempts to put one on him in Shank.)
Cal cannot find a restaurant job (he has been a sous chef in France) or get welfare payments. His mother's friend (I'm not sure whether a lodger or a sister) Jane [Emily Corcoran] is nearly as homophobic as Cath, a scrounger who attempts to impale herself on Cal (who dumps her off the bed).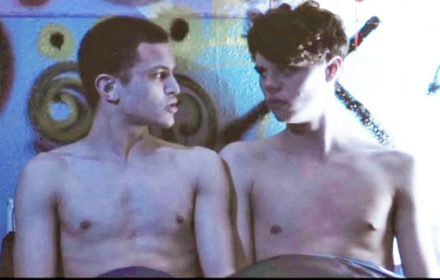 As in Shank, Cal goes to the rescue of an effete young man he does not know and the two fall in love (rather more slowly in the second instance than in the first). Jason is an acting school dropout who is owned by a very nasty Russian pimp (of both male and female prostitutes) Ivan [Daniel Brocklebank, who was also in Martin's 2010 Release].
There is a variant on the Shank male-male rape, and a variant on the lovers going off together at the end. Cal has not become articulate but is no longer perturbed at being labeled a fag (etc.) There is a tender "making love" scene in each movie that provides extended opportunity to gaze at Wayne Virgo's bubble-butt along with more of his full-frontal nudity (gratuitous, but who's complaining?), but, this time, not of his partner(s).
Violence seems to me less pervasive in Cal than in Shank, though the later movie intercuts "Occupy" riots beaten back by the police with the hardscrabble lumpenproletariat lives. Those who respond positively (whether the basis is erotic or not) to Wayne Virgo will like—or at least by fascinated by—both films. Those repelled by the seamy milieu will likely fix on the various thug characters, whom I find pretty scary.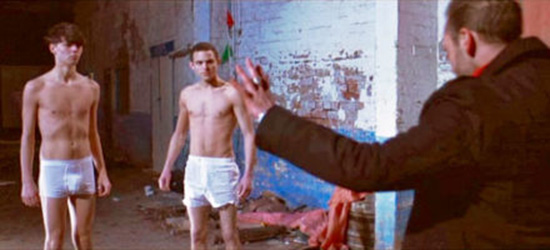 Olivier was more self-confident than Jason is. Both are credible as characters about whom Cal feels protective. The sizzling "chemistry," however, was between Jonno and Cal (at least while Jonno could avoid recognizing anything homoerotic with his "mate").
---
©2017, Stephen O. Murray
---