Stranger by the Lake

L'inconnu du lac
Written and Directed by Alain Guiraudie
Premiered May 17, 2013, at the Cannes Film Festival
Drama/Suspense (foreign)
100 min.
Review by Stephen O. Murray
October 13, 2014.
---
The French film L'inconnu du lac, Stranger by the Lake, written and directed by Alain Guiraudie (2014), is a dark film in the tradition of William Friedkin's Cruising, making the film both homoerotic and homophobic.
It is homoerotic in that the all-male cast is mostly naked, lying on a beach, swimming in the lake, or cruising for sex in the woods. But it is homophobic in suggesting that all gay men have death wishes, in particular Franck (the film's unemployed protagonist)[Pierre Deladonchamps] and also his pudgy beach pal Henri [Patrick D'Assumçao], who denies wanting to have sex with Franck (and claims to be straight although not lacking in same-sex sexual experience), and the popular Michel [Christophe Paou], who reminds me of Mark Spitz with a 1970s mustache.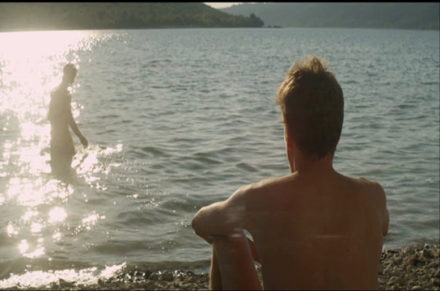 The first time Franck follows Michel into the woods, he finds him already having sex with someone else. A day later, Franck gets lucky, and they have steamy sex. The next time Franck follows his love object into the woods, though, he witnesses Michel drown his clingy boyfriend. This seems to excite rather than to frighten Franck, who starts being a regular sexual partner in condomless sex with Michel—and who does not tell police Inspector Damroder [Jerôme Chappette] what he saw.
Though the Inspector chides Franck and Michel for their lack of concern that one of their fellow gay beach/woods denizens who had been a good swimmer drowned, this seems to cast no pall over the men who continue to cruise the woods by the beach and to have anonymous sexual encounters. Though the Inspector does not know who killed the young man, the viewer and Franck do, so the suspense is whether Franck will implicate Michel before Michel tires of Franck and kills him.
I find the ending, which is quite dark in the sense of unlit, but also in the thematic sense, annoying. I think that Michel, however, may be a metaphor for HIV: a risk that Franck knowingly takes by not using condoms. There is no evidence for my supposition that Michel is HIV+ and taking revenge on the hedonistic, masculine, body-fetishizing class of men who infected him. As far as the movie shows, he is just a cunning killer.
There is no music in Stranger by the Lake. The characters do not have cellphones, so the story must be set in the past. There is so little wardrobe that one cannot get a fix on the era from that (and I can't judge the vintage of French cars). The severely trimmed if not shaved pubic hair suggests the present or recent past, but this fixing of a time is undercut by the lack of gym-manufactured bodies.
French moviemakers are far more comfortable with full-frontal male nudity (Franck's penis is shown being fellated and ejaculating, not just hanging on display) but not very interested in character motivation. Franck seems turned on—if ambivalent—about the risk of engaging a relationship (even one confined to the lake, lakeshore, and adjacent woods and parking area) with a murderer.
Stranger By the Lake won the Un Certain Regard Award and the Queer Palm at the 2013 Cannes Film Festival. It won five Césars, including Best Original Screenplay and Best Supporting Actor (Patrick d'Assumçao) and was nominated for four others including Claire Mathon's cinematography, Jean-Christophe Hym's editing, Guiraudie's directing, and Best Picture (which went to Me, Myself and Mum).
---
This review has also been posted on Out In Jersey
©October 13, 2014, Stephen O. Murray
---