The String (le fil)
Directed by Mehdi Ben Attia
Written by Mehdi Ben Attia and Olivier Laneurie
Released May 12, 2010
Gay drama (romance)
93 min.
Review by Stephen O. Murray
July 28, 2011.
---
The relationships in the Tunisian movie (in Arabic and French) Le fil / The String are very complicated.
The passive protagonist, Malik [Antonin Stahly-Vishwanadan], son of a French mother [the divine Claudia Cardinale with some very heavy jewelry] and a just-deceased Arab father [Lotfi Dziri, in flashbacks] was trained as an architect in France, where he has been living for many years.
He has returned to comfort his mother. Early in the movie, he tries to tell her he is gay, but fails. Malik has his eye on a hunky Arab Bilal [Salim Kéchiouche], who does some work around the house in exchange for free lodging. Bilal grew up in French and is taking beginning Arabic (in which Malik is fluent). Many things frustrate Bilal, including his low class status and hiding his gay desires.
Of course, Malik and Bilal connect, but things are further complicated by Malik deciding to marry his lesbian coworker Siryne (Ramla Ayari) who is undertaking artificial insemination. Malik's grandmother is applying heavy pressure on him to produce a great-grandson, and Siryne and her partner realize it is best for a child in Tunisia to have a father, at least officially.
At the wedding, the grandmother detects that the bride is pregnant but does not intuit the rest. Her daughter-in-law presides at the wedding with grace and tells Bilal about her own wedding after her Catholic family disowned her. She is willing to play along with the fiction of Malik's marriage and being a grandmother. I adore Claudia Cardinale from such movies as 8 ½, Bell' Antonio, The Leopard, Once Upon a Time in the West, and Fitzcarraldo, and am glad that she comes to terms not only with having a gay son but one who forms a liaison with a lower-class Arab (who is also an artist. At least Bilal is drawing a graphic memoir—graphic in both senses, btw).
Bilal's frustrations at being a quasi-servant (especially in the view of Malik's grandmother) and not being admitted to a disco are easy to understand. Malik, a professional with interesting work, high status, a loving family, and a mansion on the Mediterranean, can find (rough) sex easily enough, but he wants love.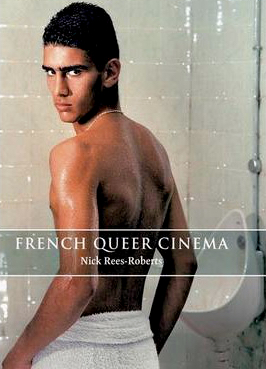 Bilal and Malik become life partners with startling speed, and a family of choice with the lesbian pair raising Malik's nominal son, a gay cousin of Malik's, and Malik's mother and apparently are living happily ever after despite some bumps like a shakedown on the beach and residues of Malik's neurosis (as a child, he imagined he trailed a string in which he sometimes got tied up, and had to spin to unravel).
All in all, The String is a sunny gay romance in which obstacles of classism and heterosexism are managed. It is not condescending to any of the characters, gay or straight, Muslim or agnostic. The resolution seems too good to be true in the Mother Will Do What It Takes to Keep Her Gay Son tradition of the Mexican Doña Herlinda y Sus Hijos, one of my favorite fairy tales.
Cardinale was born (in 1938) in Tunis. French was her mother tongue. She speaks Arabic, and didn't learn Italian until she was 18 (she also speaks English and Spanish).
A picture of Salim Kéchiouche (who was born in Lyon, France) is on the cover of French Queer Cinema. In addition to portraying the object of desire in François Ozon's Les Amants Criminels (1999), he has played gay in Gaël Morel's Full Speed (1996) and 3 Dancing Slaves (2004), in Robert Solis' Grande École (2004), and in Bastian Schweitzer's short film Gigolo (2005, included on Boys Briefs 4).
---
published on epinions 28 July 2011
©2011, 2016, Stephen O. Murray
---