Together to the Very End
by Tony Reyes
Don Slater:

a gay rights pioneer remembered by his friends
©1997 by Homosexual Information Center, Inc.
Jim Schneider, Chairman
Page 8
Second Printing, revised
Assembled, edited, and composed by Joseph Hansen
Laguna Beach, CA
---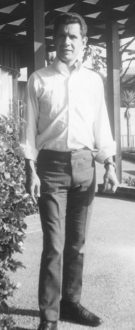 Don and I were together for over fifty years. We both shared many wonderful, beautiful memories. I was very young when we met.
Don was attending the University of Southern California at the time, and I was a student at Belmont High School in Los Angeles.
We went through a lot together, but nothing seemed to bother us because we were too much in love to care about anything else. For a while we lived at Don's parents' cabin up at Mt. Baldy, Calif., then we rented an apartment on Bunker Hill, in downtown Los Angeles.
We bought our first house, in Angelino Heights, and later on we bought a fixer-upper farm in Colorado. We both enjoyed every minute of our lives, and stayed together to the very end of his life. It was fun, maintaining our two homes.
Don especially loved the country-style life in Colorado, and did a lot of his writing and planning there. He listened to my music, and watched me do my folkloric dancing. He helped me a lot with my education, and got me started with the birth of a new magazine called ONE, together with Dale Jennings and Martin Block.
I am doing quite well in managing day by day, to get over my loss of Don. The process is very painful, and I know it will be long, but I must be patient. Meantime, I have Don's books here, and hope to settle in and read a lot.
I hope that these few lines will help with the editing of the memorial booklet.
---
©1997, 2017 by The Tangent Group. All rights reserved.
The HIC is grateful to Stephen Brzoska for his help in digitizing this text.

---