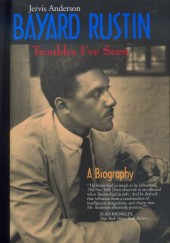 Bayard Rustin: Troubles I've Seen
by Jervis Anderson
Published by University of California Press (reprint ed.)
Published on June 30, 1988
Nonfiction: biography
432 pages
Find on Amazon.com:
Hardback • Paperback
---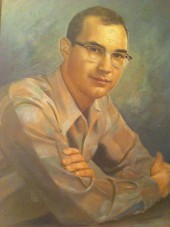 Review by Billy Glover
June 11, 2008
I Must Resist: Bayard Rustin's Life in Letters, has left a message that too many black preachers have not learned from. I suggest they need to stop preaching hatred of homosexuals since their lives today are better because of a black homosexual: Bayard Rustin.
Do they not know that it was a homosexual who was the main force behind the work of Dr. Martin Luther King, and the main strategist for several early black civil rights groups?
If not, they can read, among other books, Jervis Anderson's biography of Rustin, titled: Bayard Rustin; Troubles I've Seen. It would also be a very worthwhile book for all Americans to read, especially activists today in the black and homosexual civil rights movements.
The most important point about Rustin's life is that he, as the book shows, did not waste any time trying to explain his homosexuality to his co-workers, all of whom where heterosexual, male and female, black and white, young and old. You "hear" of his arrest on sex charges in Pasadena, California, early in his career, and that is the end of discussion except for the bigots in the FBI and black organizations who tried to use the arrest to prevent him from doing his work, which they were jealous of.
There is a direct parallel between the black and homosexual civil rights movements, and only ignorant people try to deny it. Rustin was the perfect example. The tactics used by southern racists against him were due to his being a proud black man who happened to be homosexual. He combined the two movements even though he only worked for the black movement.
The issues he and the black organizations faced were the same that homosexual movement pioneers faced. They were both attacked by the FBI and politicians and churches. There are many examples given, but one that stands out to show how the media was complicit in working against both civil rights movements is that the Alabama paper allowed itself, as did The New York Times, etc., to be used by his enemies to attack Rustin and the black leaders of the march in Alabama.
And it is not widely known that Rustin was a main organizer of this work, as well as the famous March on Washington. Some people in the black movement were jealous of his power and influence, including Adam Clayton Powell who blackmailed leaders to keep him out of the movement. Some good leaders tried to stop Rustin because they felt he, as was and is true of both movements today, was trying to join/combine too many issues together, in his case pacifism, black civil rights, and poverty, etc.
(This issue is relevant today in politics thanks to Senator Clinton's famous remark that Dr. King's work and words were important, but it took President Johnson to change the laws. This argument was used by Roy Wilkins against Dr. King when he said to King, "Your words have not changed any laws.")
Rustin, in the black movement, like Don Slater in the homosexual movement, was not always in agreement with the views and tactics of the majority of his co-workers. Many plans and events that Rustin warned his friends against turned out to do harm to the movement when his warnings were ignored. His views on affirmative action were not in the mainstream. Same with Don slater. He came to think that the time of marches had passed. Same with Don Slater. He was the most important person in the background in several organizations and few knew of his great work. The same is true of Don Slater.
Southern racists used Rustin's skin color against him. Jealous coworkers used his homosexuality against him. But in the end, Rustin remains the most important unknown person in the black civil rights movement. His words are as important today as when he was speaking them. And it would be a good idea for Senator Obama and his associates to take the time to read about Bayard Rustin—as he was the person behind the scenes who helped make Dr. King and later black civil rights leaders who they were. And he planned what they did.
Note: Bayard Rustin: Troubles I've Seen, was originally published by HarperCollins in 1997.
---