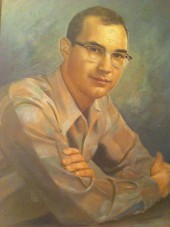 October 4, 2010.
I have often tried to put in words how it has felt working for a cause and with people who had the same vision.
I think one of the best efforts I have seen is an essay, "WCT 25: Back in the day," by Jorjet Harper in this week's issue of Windy City Times. While Tracy Baim covers well the history of the paper and the movement in the Chicago area, Harper tells how she feels, looking back at the life she led. She like many of us has material from the old days and looking through it brings back memories, of faces and names and events often forgotten but which make up your history.
As is said, it is difficult to convey how exciting it was to be in the movement a quarter of a century ago, to be in the midst of the gay and lesbian renaissance, or as is said, naissance, since nothing like it had ever happened. Memories include working on a publication, the buildings they were in, strangely similar for the Windy City Times and ONE magazine, rundown, etc. And who today can experience the fun of clunky typesetting machines and even the early computers. No email.
But meeting the other people working for the cause was always fun. And sometimes it was frustrating, such as the coverage of the ongoing struggle of people such as, in Harper's case, Karen Thompson's efforts on behalf of her lover, Sharon Kowalski, whose parents kept them apart after the car crash that disabled her. You wonder where all these people are today.
Most of us who worked at WCT and Outlines lived and breathed gay and lesbian community; gay activism; and gay and lesbian culture. When we weren't actually working on specific newspaper tasks, we'd sit around the office and discuss the waves and waves of controversies that were always swirling around in the community and, in one way or another, making news.
And a point well made, this history month, "The Wikipedia article on LGBT history dismisses the 1980s as 'a dismal period for homosexuals.' 'Dismal' is not how I'd describe it at all."
Even with AIDS the '80s were a time of enormous expansion, as had been each decade since the movement's founding in 1950. And again, something we've all felt but historians still don't get in trying to learn how this movement has worked — "But the mainstream press was still loathe to report anything about gays and lesbians except AIDS-related news."
An example is the failure to cover the 1987 March on Washington. Another example given is the failure to cover the Olivia Records 15th anniversary concert at Carnegie Hall in 1988. And the pleasure of writing about the importance on James Baldwin, the most important black gay author of the 1950s and 1960s. Sitting alone in the office reviewing his history for the article, trying to tell his importance to people who might not know or be too young to remember how groundbreaking his books had been in the 1960s.
I look back almost in awe on the hope and exquisite moments of those times amid the poignancy of our great losses. It was a rare opportunity to combine activism and culture, and feel like I was contributing something tangible to the movement for LGBT rights. We felt, and we knew, that we were fighting for something that really mattered, and that we were going to win, because we had to. I feel privileged to have been not only a part of that, but one of the people to document those times as they unfolded.
Amen.
---