June 29, 2001.
(not in ranked order)
Improper Conduct (Mauvaise Conduite) (1984) is co-directed by the legendary Catlán cinematographer Néstor Almendros (Days of Heaven, Chloe in the Afternoon) and Cuban writer Orlando Jiménez Leal. The film explores the repression of homosexuals and intellectuals by the Castro dictatorship. Especially notable is footage of Reinaldo Arenas, author of the recently (and gorgeously!) filmed memoir, Before Night Falls.
Marlon Riggs' Tongues Untied (1991) is perhaps the most adventurous documentary about gay experiences, specifically African American gay experiences. After playing with "gay black" or "black gay," it reaches the conclusion that the question is as sensible as asking which testicle is more important. There is some searing material, especially poet Essex Hemphill's performances, and considerable "laugh to keep from crying" mordant humor. This is, indeed, a hallmark of the films on this list. (I haven't seen it recently, and don't know how dated the snap "voguing" may seem.)
One of my favorites that is, alas, little distributed is Sis: The Perry Watkins Show (1993) about a black career soldier who had been openly gay through several tours of duty. Ejecting him from the U.S. Army was opposed by all of those who had commanded him and the courts ruled in his favor, accepting the argument that he had not concealed his homosexuality and the army had allowed him to re-enlist two or three times before. The USA and Turkey are the only NATO countries that ban open homosexuals from military service. Watkins showed that even the U.S. Army could function with an open—indeed flamboyant— queen in the ranks. Aside from making that point, the film is very funny, including interviews of family members and former commanders.
There is considerable humor in the four documentaries made by Rob Epstein on my list, although one is about Nazi concentration camps for homosexuals, one about an assassinated gay politician, one about AIDS, and the last about homophobia.
The horror of the round-ups and concentrating of pink-triangle prisoners is not slighted in Paragraph 175. (The title indexes the part of the Prussian legal code that made sodomy a crime; it was retained not only by the Third Reich but by both postwar German governments through the 1960s.) All but one of the half dozen (or 7?) still- (then-) surviving pink-triangle prisoners agreed to be interviewed on film.
The most memorable part is absurdist and heartbreaking recounting of Gad Beck, a Jewish man active in the Berlin resistance who borrowed a Hitler Youth uniform, went into the police station where his Jewish lover and that man's family were being held before being shipped off to a death camp, and extracted his lover. (However, the lover felt he needed to stay with his family to try to protect them and went back to his death. The story is also told in Beck's recent book An Underground Life: Memoirs of a Gay Jew in Nazi Berlin.)
Harvey Milk had an often self-mocking sense of humor. His assassin claimed that it was Milk's smirk that drove him to shoot him after he assassinated San Francisco's mayor (though it is clear he planned to assassinate Moscone, Milk, and another supervisor when he entered City Hall through a window to avoid the metal detectors). The Times of Harvey Milk (1984) shows the silent candle-lit march that occurred the night of the assassinations and the White Night riots when assassin Dan White's exceptionally lenient sentence was handed down. But it also recalls the randy life-affirming queen.
The AIDS Show (1986) records a set of sketches relating to AIDS that was developed at San Francisco's Theatre Rhinoceros in the early days of the AIDS epidemic. It, too, mixes heartbreak and gallows humor.


The Celluloid Closet (1995) contains some absurdities from the Hollywood past including some flamboyant unmasculine retainers and many sinister homosexual villains…and my first picture of gay life, the bar from hell from Otto Preminger's 1962 Advise and Consent. (I saw Vito Russo's slide-show that preceded his book, and preferred it, but he was not alive to provide the narration for the film.)
Coming Out Under Fire (1994), directed by Arthur Dong and based on Alan Bérubé's book, excavates gay and lesbian participation in World War II. Again, what I remember best is the gallows humor, this time Pat Bond's recollection of postwar witch hunts to extirpate lesbians from the armed services.
Pat Bond was one of the memorable talking heads in the pioneer documentary Word Is Out (1978) directed by Peter Adair. Longer version of the interviews are available in book form. The most chilling part is San Francisco attorney Rick Stokes' account of shock therapy administered to "cure" him of homosexuality during his adolescence (in Oklahoma, if I remember correctly). Although some regard the film as overly earnest, I think that it was very important in showing a range of class and race-ethnicity among lesbians and gay men.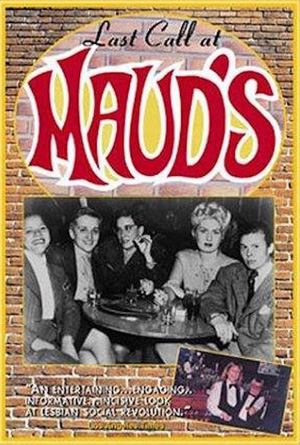 It's Elementary: Talking about Gay Issues in School (1996), directed by Debra Chasnoff and Helen Cohen, explores discussing the existence of gay and lesbian people in grades one through eight in six U.S. schools. What the children say often astounds the teachers. They know more than adults imagine they know, although (like adults!) not all of what they know is true.
Last Call at Maud's (1993), directed by Paris Poirier, recalls a San Francisco lesbian bar that operated between 1966 and 1989 by Ricky Streicher. She was an engaging host, and patrons remember her place with fondness. Even the anti-bar lesbian activists forget their critiques of alcohol and "promiscuity" to wax nostalgic.
---
published on epinions, 29 June 2001
©2001, 2016, Stephen O. Murray
---