June 30, 2001.
I
have posted lists of my favorite 20th-century documentaries about gays and lesbians here and my favorite 20th-century feature films not in English about lesbians and gays here.
(Ang Lee's The Wedding Banquet (1993) is on my foreign-language list, though at least half of it is in English. So is Julian Schanbel's Before Night Falls, which is mostly in Spanish.)
The 1994 Australian play adapted to the screen The Sum of Us (directed by Kevin Dowling) with a young Russell Crowe as a gay son of a father who amusingly overshoots acceptance is quite good and deserves a wider audience.
My Beautiful Laundrette (1985), directed by Stephen Frears from a screenplay by Hanif Kureishi (author of My Son, the Fanatic and The Buddha of the Suburbs) also has a happy ending after much familial (a Pakistani emigrant family's) opposition to Omar (the sleekly gorgeous Gordon Warnecke) partnering Johnny (a punkish young Daniel Day-Lewis) in business and bed (or on a table).
The laundrette they fashion is also a fantasy facility, but is an amusing one. The two lead characters sizzle amidst racial/economic resentments of a decaying London.
Stephen Frears had also directed the excellent 1983 Prick Up Your Ears with Gary Oldman as the provocative playwright Joe Orton and Alfred Molina as his failed-writer (and considerably less marketable on cruising grounds) long-term lover Kenneth Halliwell. Vanessa Redgrave turned in a sparkling portrayal as Orton's agent. Things end very badly, but there is an idyll (even for Kenneth) in Morocco before that. Alan Bennett adapted John Lahr's Orton biography of the same name.
I seem to be one of the few people who remembers or who liked Making Love (directed by Arthur Hiller), the 1982 "first mainstream Hollywood movie about gay men." Having Wendy Hiller play a neighbor would probably have sufficed to make me like it, but I thought that Harry Hamlin as the out gay man, Michael Ontkean as the married man who falls in love with him, and Kate Jackson as the hurt and perplexed wife were all convincing and, in differing ways, sympathetic.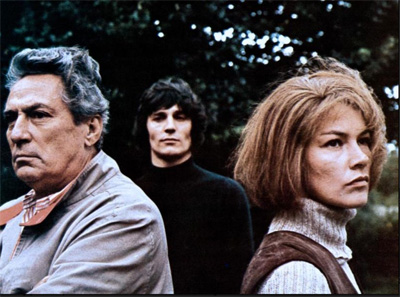 Another (pinkish?) "triangle" movie that seemed to me honestly to portray the frustrations of loving a bisexual man was John Schleisinger's (1971) Sunday, Bloody Sunday with Peter Finch and Glenda Jackson both in love with a lithe sculptor played by Murray Head. Plus Peggy Ashcroft is on hand.
Head was not as accomplished an actor as the others and/or was playing something of a cipher. (Schleisinger also made Midnight Cowboy which I loathe, and The Lost Language of Cranes, which I like.)
I think that the Merchant-Ivory film of E. M. Forster's long-suppressed novel Maurice is quite good. The happy ending seems to me to work better on screen than on the page, and the doltish James Wilby breaking loose from social expectations to go off with Rupert Grave is fascinating to watch (as is the smarter character played by Hugh Grant locking himself up in a sham marriage).
There are very, very few films about adult gay men for whom coming out is not a problem.
Family is a problem for Martin Donovan's character in The Opposite of Sex (1998, directed by Don Roos), though it is a member of a younger generation (Christine Ricci), not siblings or parents, who poses the problems.
This is the funniest film about the depredations of straight kin on gay people of which I know.
What is most memorable about Parting Glances (1986) is not the gay couple whose relationship is in trouble (John Bolger and Richard Ganoung) but their friend with AIDS, played by Steve Buscemi (and Kathy Kinney).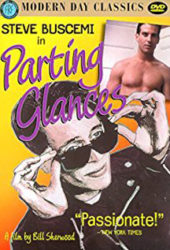 Alas, writer-director Bill Sherwood died of AIDS soon after making this superb film.
The Business of Fancydancing (2002, written and directed by Sherman Alexie) focuses on the return from Spokane (the city) to the Spokane reservation where he grew up of Seymour Polatkin (Evan Adams [Smoke Signals, Raven Tales]) a successful gay poet for the funeral of a friend (Swil Kanim).
The first minutes are a confusing kaleidoscope of flashbacks, but the movie settles into an affecting portrayal of ambivalent connections with old friends, most notably Aristotle Joseph (Gene Tagaban), who also left the reservation, and to Seymour's white lover, played by Kevin Philli, who tells him: "They're not your tribe anymore; I'm your tribe now."
I was impressed by David Rabe's 1976 play Streamers on-stage and thought that Robert Altman's claustrophobic 1983 screen adaptation of the play set in an army barracks with green troops waiting to be shipped to Vietnam was superb, with Mitchell Lichtenstein (a decade before playing the Anglo lover in The Wedding Banquet) provocative.
It is unclear whether his character, Richie, has any homosexual experience, but bated by Billy (Matthew Modine), he takes the name, and flirts with ghetto provocateur Carlyle (Michael Wright, who would later be one of The Five Heartbeats). Along with the steamy flirtation and the predictable violence, there are punch drunk veteran sergeants getting sloshed and unaware of the rising tensions. ("Streamers," btw, are parachutes that fail to open.)
Honorable mentions:
• Gods and Monsters (1998), especially Ian McKellan as James Whale
• Breaking the Code (1996), especially Derek Jacobi as Alan Turing
• An Englishman Abroad (1983) a short with Alan Bates and Coral Browne, directed by John Schleisinger from a play by Alan Bennet (The History Boys, Lady in the Van, 102 Boulevard Haussman)
•Butley (1974, Simon Gray's adaptation of his play, directed by Harold Pinter) in which the bitchy title character, superbly played by Alan Bates, is not gay
What I think are the best lesbian films (in alphabetical order) are:
• Boys Don't Cry (although more properly a transgender film)
• Chasing Amy
• Desert Hearts
• Fried Green Tomatoes (though considerably desexualized from the book)
• Go Fish
• High Art
• Lianne
• Maedchen in Uniform
• Personal Best
---
published on epinions, 30 June 2001
©2001, 2016, Stephen O. Murray
---