Akron

Directed by Sasha King and Brian O'Donnell
Written by Brian O'Donnell
Debut: October 12, 2015 at the Seattle Film Festival
Drama (romance)
88 min.
El Tercero (The Third One)

Written and Directed by Rodrigo Guerrero
Debut: April 3, 2014 at BAFICI
Drama (romance/foreign)
70 min. (Spanish w/ English subtitles)
Review by Stephen O. Murray
August 7, 2017.
---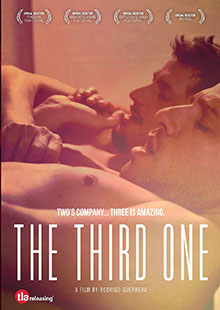 Though its running time is only 70 minutes, I was bored by the Argentine gay movie El Tercero (2014, written and directed by Rodrigo Guerrero), especially the seemingly interminable video flirtation at the start.
The younger Fede goes to have dinner with a gay couple, who have been together for eight years, and then plays Lucky Pierre between them. The next morning they go down in the elevator together and intimate they will connect again. The End. (With no bonus features.)
There are only wisps of backstory; there is no full frontal nudity and I only found one of the three very attractive. (Not that the other two were ugly.)
In marked contrast, I found the protagonist of Akron (2014, written and codirected by Akron native Brian O'Donnell with Irish producer Sasha King), Matthew Frias, who plays Benny Cruz, is the apotheosis of my type. Well, a little young, and Joseph Melendez, who plays Benny's father, is plenty hot, too, as well as sagacious and compassionate.
A tragic accident occurs before the opening title. After it, Benny and Christopher [Edmund Donovan], both of whom are freshmen at the University of Akron and natives of Akron, have what seems to be a very easy time of mating. There is no animosity from other students or from the Chicano family. Eventually, we'll see that Christopher's divorced mother Carol [Amy de Luz] is also totally accepting of her gay son.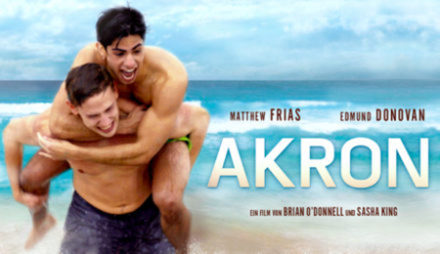 Trouble comes out of the past and knocks the boys apart, but with considerable assistance from Benny's father, Benny's mother, Lenore [Andrea Burns] is able to move on.
The boys were already out in high school. Neither their sexual orientation nor the Cruz family's ethnicity is in any sense a problem for them or anyone else seen in the movie. The love of the young gay men hits a bump, but one unrelated to their being gay or Benny being Mexican American. There is no self-hatred, no bullying, no economic difficulties. There is something very refreshing about the lack of these usual bases of conflict.
Their past connection to the tragic accident seen before the title has no role in their attraction and that the two would meet years later is a contrivance requiring difficult suspension of disbelief, especially in that Christopher grew up in Florida, where his mother is, and where he and Benny go for Spring Break (Benny's first time out of Ohio and first opportunity to cavort in an ocean).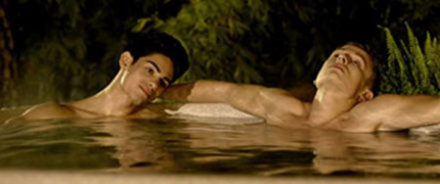 The cast is superb. In addition to those already mentioned are Isabel Machado as Benny's sister and Cailan Rose as his gal pal. (The actresses playing the mothers had a lot of stage experience, but the young actors—who were actually the age of their characters—lacked experience (as did the two first-time directors!), but had presence. I didn't especially like the music (guitar strumming provided by Bill Snodgrass, who also edited the film!), but it didn't annoy me either (as movie music quite often does).
The making-of featurette goes overboard in everyone loving everyone else SO much, but O'Donnell (who also has a short bonus feature of his own) makes very clear that gay "love now" may not be burdened with the homophobia with which many have struggled into recent times and that everyone in Akron (and the other locations) was helpful, knowing that the movie was a gay love story.
Being gay was also not problematic for any of the threesome in the Argentine movie. None of them showed any signs of lack of self-acceptance either.
---
©2017 by Stephen O. Murray.
---