Antonio's Secret
(Ang Lihim ni Antonio)

Directed by Joselito Altarejos
Written by Lex Bonife and Joselito Altarejos
Released February 13, 2008
Drama (foreign)
117 min.
Review by Stephen O. Murray
January 24, 2017.
---
Shot in Marikina City in the Philippines, north of Manila, Ang Lihim ni Antonio (Antonio's Secret) is a slow-moving look at one fifteen-year-old, Antonio [Kenji Garcia, who also starred in Altarejos's Kambyo in 2008], starting to act on his homosexual desires. First, sleeping over with his buddy Nathan [Ferdinand Zandro Salonga], Antonio very hesitatingly touches Nathan, who wakes up and puts Antonio's hand back inside his boxers. Antonio fellates Nathan, who seems to enjoy it but shuns Antonio after the episode.
Antonio's other buddy Mike [Jiro Manio] is titillated hearing about what happened and gauging whether Antonio is a bakla, but frankly admits that he can't break with Antonio, because he has no other friends.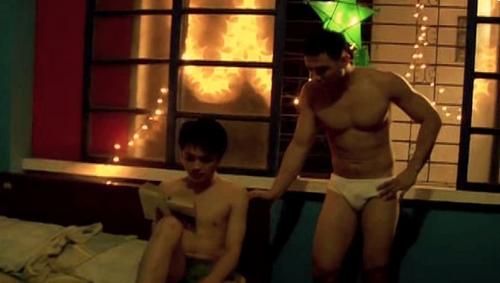 Antonio's deadbeat, rapacious uncle Jonbert [Josh Ivan Morales], who is staying in the household, sharing Antonio's bed also gets the skittish predation in his sleep. The next day he tells Antonio that he knew what Antonio did, and starts receiving blowjobs from his nephew. Antonio is not ready for anal penetration.
Antonio's secret is not that he is gay/bakla but what happened when Jobert forced himself on him. It is tied in with his loving mother [Shamaine Buencamino] discovering that her husband, who has not been back in seven years, has another family where he is working (in Dubai).
Although there is not full frontal nudity, several cock heads are visible various times, and the youth are bare-legged all the time, bare-chested often, and bare-assed sometimes.
Most of the movie proceeds at a slow pace, not least Antonio's hands hovering over and touching the sleeping males with whom he is sharing a bed. There is also a protracted scene in which his mother walks and walks and walks toward the camera on her way home.
There is bad singing (a group going around singing Christmas carols, particularly a girl who cannot carry a tune), but no bad acting, though there is also no rivetingly great acting.
The American DVD has (white) subtitles in English for the movie, but none for the making-of featurette.
---
©2017, Stephen O. Murray
---