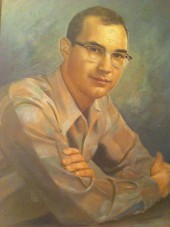 March 22, 2005.
Neal H. wrote upon news of the death of Charles Lucas:
Charles Leslie Lucas was born June 27, 1919 in Lewistown, Montana. He passed away Friday March 18, 2005 at St. Vincent Medical Center in Los Angeles, California. He checked himself in the hospital because of pneumonia and became free of it but was unable to recover because of his congestive heart failure. Educator, author/editor, performing artist and director are some of his accomplishments here and in Mexico despite his health problems. He helped people in crisis. He helped many. He cared. He was a true and trusted friend.

He was a test pilot in WWII and his remains will rest at Riverside Memorial Cemetery.
I will try to find the pamphlet that Joe Hansen created and Jim Schneider published for Don Slater's memorial. It has Charles' thoughts on Don but will help us on his own involvement. As I understood Neal, the family or someone is taking charge, and he will be buried in the VA Cemetery in Riverside, and a nephew will come after Easter and then there may be a memorial. I asked Neal if there were any materials on homosexuality that Charles may have wanted HIC to have, since I doubt Neal or the nephew wants them.
I'm not even sure we have a copy of Charles' book on Rev. Troy Perry, The Lord Is My Shepherd and He Knows I'm Gay, in our library but I would really be surprised if we don't. I think we can handle the issue of Troy by just saying Charles worked with Troy on the first biography — or is it an autobiography?
Melvin reminds me that we had several HIC business meetings at Nina Blanchard's home where Charles lived when he was her secretary when she was a talent scout for—what do you call them, talent agencies?
And I think Jeanne Barney said that Charles had been involved in theater, writing or something, as Melvin did. And we had a great time at the meetings, eating and swimming. Obviously Charles was a member of the Homosexual Information Center, Inc. He was on our Board, not sure the years, but was still, even though he could not attend meetings and work, due to his arthritis. I think he died from emphysema, or however you spell it — as Neal said, to much fluid just built up in his lungs, but as we know he was ill even when Don Slater died in 1997.
I'm sure we could say Charles was an Associate Editor as I think he helped on Tangents magazine.
---