City Boy
by Edmund White
Published by Bloomsbury USA
Published October 7, 2009
History (memoir)
304 pgs. • Find on Amazon.com
Reviewed by Stephen O. Murray
November 26, 2016.
---
Going back to 1978–79, I've read a lot of Edmund White (25 books). Four years after his 2000 memoir by topic, My Lives, he published a memoir of "my life in New York During the 1960s and '70s," City Boy, which is mostly about cultural figures other than himself, some of whom would recur in Sacred Monsters (2011). White had also used most of the autobiographical material from the 1960s in The Beautiful Room is Empty in 1988 and would resift his own experiences for Jack Holmes & His Friend (2012).
He fled (he thought) AIDS for Paris in 1983, where he lived the rest of that decade. He had also spent a year of the 1960s in San Francisco (working on the Saturday Review) and between a stint in Rome and summer visits to Venice, about another year in Italy. He writes a bit about his life in San Francisco (before the Castro and its clones), very little about his Italian sojourns. He found the sexual opportunities for rapid, anonymous sex in lower Manhattan more extensive.
The "New York" of the subtitle is the city, not the state, and mostly the southern half of the borough of Manhattan, rarely reaching as far north even as Times Square. His New York chauvinism/ethnocentrism promotes the myth of Stonewall as the birthplace, birth-moment of a gay rights movement and of the conception of gay people as a minority, a conception that was central to Donald Webster Cory's 1951 The Homosexual in America. White appears never to have heard of the Mattachine Society (of which there was a New York City chapter) or Frank Kameny, another early proponent of the gay minority group and transvaluation of stigma conceptions. Nor does he mention that New York's sodomy law lasted until 1980 (New York v Onofre). Moreover, White sometimes and especially at the beginning overgeneralizes what "everyone" did or thought (in the '60s and '70s).
Although White recalled his unrequited love for one man and his refusing to put out for others who wanted him, the memoir is mostly of (once-)prominent culture figures including Jasper Johns, Peggy Guggenheim, Robert Mapplethorpe, Virgil Thompson, Richard Howard, James Merrill, John Ashberry, Elizabeth Bishop, Robert Wilson, Vladimir Nabokov, William Burroughs, Ezra Pound, Truman Capote, Richard Sennett, John Barth, John Irwin, John Gardner, Harold Brodkey, and, in what I think a generous final chapter than I'm sure would have incensed her, Susan Sontag.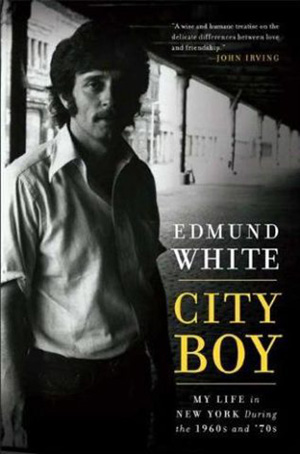 What White wrote about them seems insightful and plausible. The one sketch that I have my own experiences to compare with White's portrait, Berkeley Russian professor Simon Karlinsky, seems quite right.
The book is not lacking in candor about White's (abjection-seeking) sex life, craving for recognition, and excessive complaisance with established culture figures. He points out that there is not a French term for "name-dropping" to deflect an accusation he could easily anticipate (moreover, the names are of mostly dead figures). ("And arrivisme isn't really the same as 'social climbing.'")
I wish there was more about how White wrote his early work (for starters, how he found time to write anything between having a job at which he did not write his own stuff and his compulsive cruising and scoring). I was interested to learn that the largely forgotten Elizabeth Bowen (rather than E. M. Forster), whose "combination of closetedness, snobbishness, and blending of fable and Edwardian morality" did not appeal to White. Bowen's "quiet passion and sense of tragedy" did. (Mavis Gallant is another favorite, whom I would more quickly have guessed.)
---
©2016, Stephen O. Murray
---