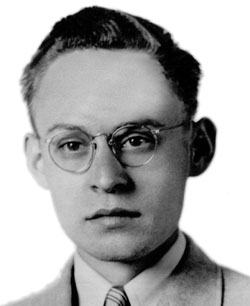 William Dale Jennings
Founder of Mattachine and ONE magazine
Author of The Ronin and The Cowboys
Secretary of the HIC
Profile by Jim Schneider and C. Todd White
---
William Dale Jennings was born in Amarillo Texas on October 21, 1917. Not long thereafter, his parents moved to Denver, Colorado. After graduating from high school in Denver, Jennings moved to Southern California where he wrote, produced, and directed stage plays in Los Angeles and Pasadena. He studied dance under Lester Horton and later worked with Martha Graham, two early pioneers of modern interpretive dance.
World War II
In 1942, Jennings joined the U.S. Army and was stationed for two years in the Asiatic-Pacific theater. One of his journals of his time there survived — entitled ONE, in which he detailed life as a Technical Sergeant for the 256th Searchlight Battalion, stationed on Guadalcanal.
While in the service, Jennings was awarded a World War II Victory Medal, an American Campaign Medal, an Asiatic-Pacific Campaign Medal, and a Philippine Liberation Ribbon with one bronze star.
In 1946, after being honorably discharged, Jennings returned to Los Angeles and studied theater and film at the University of Southern California for two years.
Mattachine Society
In 1950, Jennings stepped into history as one of the first five cofounders of the Mattachine Society, with Harry Hay, Rudi Gernreich, Bob Hull, and Chuck Rowland. Unlike Hay, Jennings did not believe that homosexual people qualified as "a people." "How could you construct a cultural minority out of a group of people with little in common except what they did in bed?" he often puzzled with his friend, ONE magazine coeditor Don Slater.
Entrapment Trial
One night in 1952, as Jennings walked home from Westlake Park (now MacArthur Park), four miles west of downtown Los Angeles, he was followed by a plainclothes vice officer and arrested in his house under charges of indecent behavior.
Jennings, of course, was totally disheartened. If word of this got out, his dream of a career in screen writing would be over. From jail, Jennings called Mattachine cohort Harry Hay. Hay posted bail early the next morning, and it was then, over breakfast at the Brown Derby, that they decided to fight the charge in court, under grounds of entrapment. To this end, they founded the Citizens' Committee to Outlaw Entrapment. Long Beach attorney George Sibley took on the case.
After a dramatic Los Angeles court trial that lasted for ten days, Jennings won a jury acquittal in a rebuke of police harassment, intimidation, and entrapment of homosexuals. The acquittal energized other persecuted homosexual people into action throughout the nation and brought respect to the Mattachine Society, which had funded Jennings's defense. "The Love That Dared Not Speak Its Name" was now on its way out of the closet, and the infamous statutes of "Crimes Against Nature" on the law books in every one of the United States were targeted for eradication. By the year 2000, most states had removed those statutes from their laws, partly due to the influence of Dale Jennings.
ONE, Inc.
Riding on the success, Jennings cofounded ONE, INCORPORATED, along with Don Slater and Bill Lambert (later known as W. Dorr Legg), which started publishing a magazine called ONE, dedicated to speaking out for homosexuals and sold on newsstands and by mail subscriptions throughout the country. The First Directors of the new organization were Jennings, Martin Block, and Tony Reyes.
The idea to publish a magazine was first discussed in Los Angeles on October 15, 1952, during a Mattachine Society meeting at the home of Bill Lambert. Jennings, Lambert, Martin Block, and two friends from the bars on Olvera Street, Don Salter and his lover, Tony Reyes, took the idea and ran with it.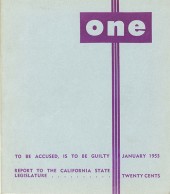 The first issue of ONE was published in January, 1953, largely through Jennings's initiative. The Articles of Incorporation for ONE, Inc. were filed with the Secretary of State in Sacramento on May 27, 1953, and the official by-laws were filed later that year, on October 16.
The Obscenity Trial
In 1954, the shipment of ONE to subscribers was confiscated by the Los Angeles Postmaster on the basis of obscenity. This led to a Federal Court case which ended with a 1958 U.S. Supreme Court decision ruling that a magazine calling for equality for homosexuals is not obscene. The Post Office was prevented from any further interference in the mailing of ONE. This decision brought more freedom to all media and was the basis for all future growth of the gay and lesbian press.
This famous court battle is the subject of the first chapter, "ONE Standard of Justice," in Courting Justice: Gay Men and Lesbians v. the Supreme Court by Joyce Murdoch and Deb Price (Basic Books: 2001, pp. 27–50).
Over the years Jennings contributed articles and book reviews to ONE magazine and later for Tangents, the publication of the Homosexual Information Center where he was a member of the Board and served terms as Secretary and Vice President.
Later Writing
Jennings was an accomplished writer and reviewer of mainstream books and movies. His published books are The Ronin, The Sinking of the Sarah Diamond, and The Cowboys. He sold the movie rights for The Cowboys to Warner Brothers, who produced it as a movie, starring John Wayne, that is still commonly broadcast on television.
Death
Jennings died from respiratory failure at Specialty Hospital, La Mirada, California, on May 11, 2000. He has bequeathed to HIC some 125 unpublished novels, movie scripts, treatments, his personal library, and movie critiques. He is survived by one nephew, plus friends and admirers from around the world.
All thankful people may help by donating funds in memory of Dale Jennings to HIC for the preservation of his work.
---
This commemorative profile was written soon after the death of Dale Jennings, by Jim Schneider and C. Todd White.
---

This page was created by C. Todd White from information gathered while researching his doctoral dissertation, Out of Many… A Social History of the Homosexual Rights Movement. Dr. G. Alexander Moore was director of White's dissertation committee, in the Department of Anthropology at the University of Southern California.
---