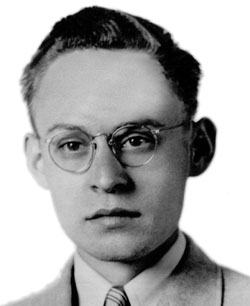 Reporting the Death of
William Dale Jennings
Founder of Mattachine and ONE, Inc. • Secretary of the HIC
by Jim Schneider
---
Jim Schneider
7041 Lanto Street
Commerce CA 90040
May 12, 2000
TO: Board of ONE Institute & Archives
Sadly I report to you the passing of Dale Jennings at 4:17 PM PDT yesterday, May 11, 2000. Now he belongs to the "ages." I was with him at the hospital in his last hour of life.
About 6 months ago I reported to several of you that Dale's health was beginning to fail. Six weeks ago his health began to deteriorate. He had given me Durable Power of Attorney for his health care two years ago at which time I did not know much about him or his accomplishments. Coincidentally, his care fell in my hands.
In February 1998, Isabel Morarity (a social administrator at the Westwood Veterans Hospital) informed me Dale had been diagnosed with Vascular Dementia, a forerunner of Alzheimer's. I was instrumental with the help of others in getting Dale placed at Del Rio Convalescent Center and Sanitarium, two blocks from my home. I used my staff workers to help me pack up 40 boxes of his books and material, along with 7 file cabinets full of his works and collections which I have since stored in my business warehouse. Fortunately, during the board retreat at my home last year, most of you got to see and visit Dale when we walked over to Del Rio.
None of you need to worry about his arrangements. They are underway with his cremation and forwarding of his ashes to his only living relative, a nephew who lives along the coast about 150 miles north of San Francisco. His collection and works in my possession are now available for the benefit of the [HIC] Archives. All of you are cordially invited to help prepare his memorial. With the skillful help of Walter Williams, herewith is the announcement of his passing. Also enclosed is his picture. Comments and all corrections needed are welcome.
As for our Archive building there have been a couple of delays not of my doing. However, our mail box and key keeper box for the postman have been in place for 10 days and mail is now being received at 909 West Adams. I suggest all of you send a test mailing of a letter to 909 to insure there aren't any slip-ups. Also, I am pleased to relate the new floodlighting on the south and east sides of our building has been completed and all 4 sides are now well lit at night. Additional the tile flooring is being completed this week, and the coating of the ground floors in the east and west rooms was completed last week followed by the installation of the molding. Hopefully the carpeting specified will be completed next week. After that….
All good wishes,
Jim
---
At the time of this writing, Jim Schneider was serving both as Chair of the HIC and as a Director of ONE Institute & Archives.

Note: I had been working for the ONE/IGLA, and for it's online publication, the International Gay and Lesbian Review, since the summer of 1998, and I gradually became acquainted with Jim Schneider during that time. Jim and I had both grown up in Nebraska, so we hit it off right away.
Jim and Dr. Williams asked me to help distribute a press release they had composed for Dale's passing, and I was happy to oblige. It was then that I began to learn about the history of ONE, Inc., and these amazing people who changed the world. I set out to learn as much as I could from the aging pioneers of the movement. I remain their grateful student to this day.
It is fitting that this document mark the start of this blog, for it was indeed the first thing posted on what was to become this very site, Tangents Online. 
—CTW
---
This page was created by C. Todd White from information gathered while researching his doctoral dissertation, Out of Many… A Social History of the Homosexual Rights Movement. Dr. G. Alexander Moore was director of White's dissertation committee, in the Department of Anthropology at the University of Southern California.
---