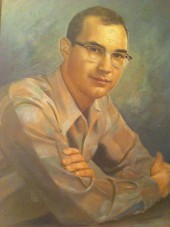 October 11, 2010.
I wonder how many LGBT graduates of LSU have contacted you and the various disciplines there offering to help give resources to the coverage of homosexuality.
I over the years have made such offers, to the library, sociology department, psychology, etc. I find it makes me have doubts about the education students get when the professors reject serious offers from people who have first-hand knowledge of subjects. I am, to quote a professor at Centenary College, a primary source on the history of the movement to gain equal rights for homosexual Americans. I have been discussed in two major books, Before Stonewall, edited by Dr. Vern Bullough, and Pre-Gay L.A. by Dr. C. Todd White. I have worked with the founders of the movement, most  no longer with us. One of my co-workers did the first book on how to cover the issue in the various disciplines based on his work (W. Dorr Legg, Homophile Studies in Theory and Practice), the first in the world on developing courses on aspects of homosexuality.
Yet to my knowledge the library, and the professors in these departments, have never heard of any of this history. That means LSU is not a first-rate university. The material saved from our work in is two universities now, at USC and our own collection at Cal State Northridge in Southern California, where this movement began in 1950 — something too many "academics" don't know — they have only heard of Stonewall because that is what the popular media has heard about. So students will not know the most important information about the best documented of the three major civil rights movements in America.
And since I have a personal interest in supporting education that is competent and ethical, I see nothing to suggest that LSU fits that category.
---