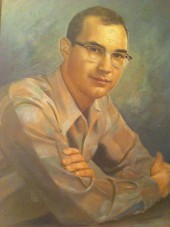 October 7, 2010.
Thanks for the good report on the 20th anniversary meeting of NLGJA.
Sarah Blazukie is right — and she hits the issue from the start of our movement when she says that LGBT journalists present a view of news that the general media does not.
Harry Hay said that we have a different view, which may not be better but sure does spot a devil sooner than most lazy general reporters, etc. This does not mean we should not seek full integration into the national society, but that doesn't mean we will not be viewing life from a different perspective, until we gain full equality.
As to communication, I don't even see some publications and resources listed in Gayellow Pages — I don't have an email for Here-TV or Madison's paper or The Rage Monthly.
And it is hard for people who have worked in this cause for decades to "hear" a journalist/paper say that it was essentially sparked by Stonewall, in 1969, and then list various names which do not include the very founders of the movement or founders of LGBT journalism — such as Harry Hay, Jim Kepner, Don Slater, etc. (current editorial in Gay & Lesbian news of San Diego)
And I also can't understand any responsible journalist who did not see Karen Ocamb's point, valid, that the newspaper played an active part, directed news, and thus helped pass Prop 8.
---