I am puzzled that movies about the early daze/days of the beat writers keep being made, despite their limited commercial success. Following on the heels of "Howl" and "On the Road," and going back further than either, "Kill Your Darlings" centers on an early sun who literally got away with murder, Lucien Carr (1925-2005) whose seeming self-confidence somewhat bewitched Columbia freshman Allen Ginsberg (1926-97) and totally bewitched David Kammerer, son of a prominent St. Louis family (like his friend William S. Burroughs who is also on the scene injecting heroin and acting peculiarly). Much to the dismay of Lu's mother, Kammerer had followed Carr from place to place and at least for a time (in Mexico) had requited his love for the younger man.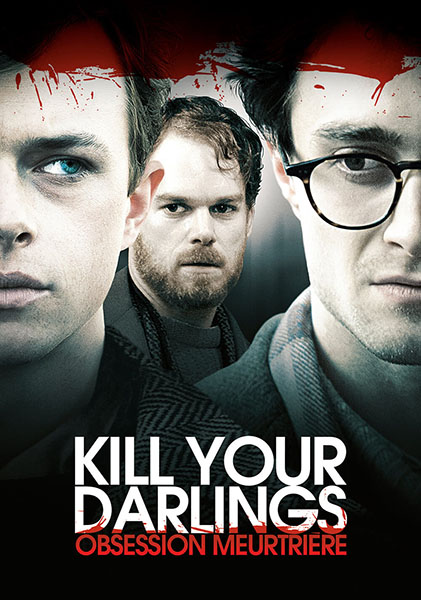 The screenplay implies that Carr tried to commit suicide in Chicago (in a gas oven) out of guilt about the homosexual affair. What seems to me very clear, in the movie and in what has been written about the era of the young (Carr, Ginsberg, Kerouac) and not-so-young (Burroughs, Kammerer) literary rebels is that Carr got away with murder. He got off with second-degree manslaughter, making an "honor killing" defense, that is killing the predatory Kammerer for attempted rape. I do not doubt that Carr resisted Kammerer's advances (which he had earlier at least acquiesced in) and Kammerer may have been a bit larger than Carr, but it was not the knifing by which Carr slew Kammerer. Rather, Carr bound the wrists of the bleeding Kammerer and drowned him in the Hudson River.
There are indications of premeditation, but one does not "accidentally" kill someone by binding and drowning him! If not murder in the first degree, I would judge it murder in the second degree. BTW, it is shown at the very beginning of the movie, which is mostly flashback to Ginsberg's freshman year at Columbia, and after considering coming to Carr's defense for killing his homosexual stalker, does not.
The climax of the movie is a montage of 1944 penetrations: Carr knifing Kammerer, Burroughs shooting up, and Ginsberg more than willingly giving his rear-end to penetration by a handsome man he met in a gay bar (de facto if not de jure gay bar), and Kerouac learning that a buddy of his who was badly wounded at the Anzio landings has killed himself.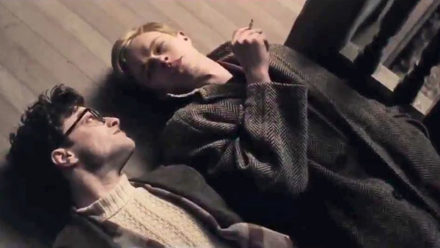 Michael C. Hall is relatively creepy as Kammerer. I've been watching Hall stalk pretty for years as Dexter Morgan and, before that, on "Six Feet Under," playing gay, but have not seen him playing a character as needy and unwilling to let go of a passion as Kammerer. Daniel Radcliffe, who auditioned for and got the part of Ginsberg in 2008 (and was not available until the last two Harry Potter volumes had been filmed) is very convincing as the tentative (not least about his homosexual desires) future poet and has a sex scene in which there is no question of who is doing what to whom (as is so often the case in movie representations of gay sex).*
John Cullum (Hollis for years on "Northern Exposure") is surprisingly effective as Professor Steeves (where is Lionel Trilling, the star of the Columbia English department?). Jack Huston has the right amount of swagger and willed ignorance (of the feelings of others) as Jack Kerouac, contrasting with his part on "Boardwalk Empire." And Ben Foster is appropriately affectless as Burroughs. Of course, Jennifer Jason Leigh can do crazy and pathetic, and does so here as Ginsberg's mother. And David Cross is gnomically supportive as traditional rhyme and meter poet/father, Louis Ginsberg.
Dane DeHaan (Jesse "In Treatment") is appropriately enigmatic but IMHO somewhat under-charismatic as Lucien Carr. Even before his murder defense, Carr manipulates pretty much everyone else (maybe not his mother, a skilled manipulator in her own right! Played by Kyra Sedgwick). De Haan's Carr seems a poseur, not "stunningly brilliant" as Carr struck those who knew him as a Columbia sophomore. The proto-Beats (then calling themselves "the Libertine Circle"), including junkie Herbert Huncke (1915-96, not in the motion picture) followed Rimbaud's exhortation to derange the senses.
I have to say that the title is remarkably inapt. The phrase comes from William Faulkner recommending ruthless editing, which is pretty maximally opposite to the Beat/Ginsberg maxim "First thought, best thought"! The screenplay (which I don't think is as good as the actors) was co-written by Austin Bunn and (first-time feature-film) director John Krokidas. As overexposed as I think the Beats are (on film and elsewhere), I think "Kill Your Darlings" among the best movies released in 2013. (The DVD has seven and a half minutes of deleted scenes and, if I counted correctly, eight trailers that have to be skipped one at a time, i.e., the top menu cannot be directly accessed, something that I think is killing the market for DVDs and making streaming more attractive, though I don't doubt that mandatory ads will soon stand in the way of streamed movies, too).
*Radcliffe is the most convincing young Ginsberg I have seen, and I have also seen James Franco, Tom Sturridge, and Damien Boisseau playing Ginsberg in the last four years.
© 12 May 2014, Stephen O. Murray