I think that "Howl" (produced, written, and directed by Rob Epstein and Jeffrey Friedman) is a very interesting movie with outstanding performances by an impressive cast mixed with quite striking animation about an important trial (in San Francisco in 1957) of an epoch-making poem, Alan Ginsberg's (1955 "Howl." A lot of the movie has James Franco, who plays the young Ginsberg, overacting the poem (as Ginsberg probably did) at a reading at the Six Gallery in San Francisco that became famous and which convinced poet and bookstore owner Lawrence Ferlinghetti to publish it.
It was Ferlinghetti who was on trial for obscenity. The poem included a number of words that epinions censors more than half a century later. Given the standard the US Supreme Court had set back then that to be judged obscene (and censorable) a work had exclusively to appeal to prurient interests (that is, have no "redeeming social value"), it is odd that a San Francisco district attorney pressed the case. The "naught words" may titillate readers (now as then), but who could be sexually aroused by the poem which is an outcry against dehumanizing treatment of dissidents?
At the start of the movie is a statement that the person portrayed in this docudrama said everything that is said during the course of the movie. Alan Ginsberg gave a lot of interviews, and Franco has lengthy speeches as Ginsberg looking back a few years on about the poem and the controversy. In addition to declaiming the poem and talking at length in retrospect, Franco also has some scenes of Ginsberg before he wrote "Howl," relating to Jack Kerouac (Todd Rotondi) and Neal Cassady (Jon Prescott), whose legend Ginsberg created and relentlessly promoted for the rest of his life (which was considerably longer than either of theirs). William S. Burroughs is not on display, but Aaron Teat makes a very handsome young Peter Brodsky, who became Ginsberg's life partner.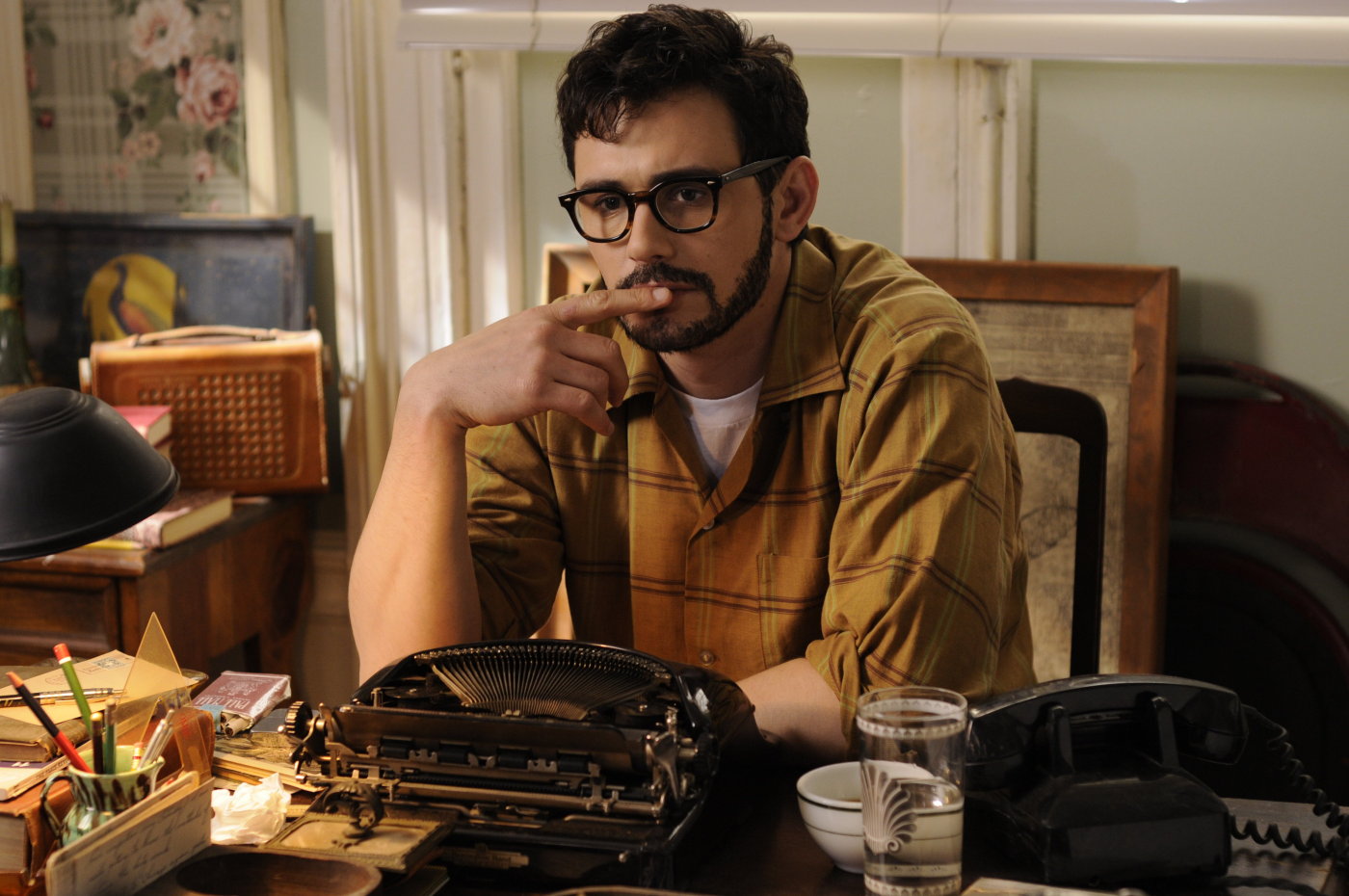 As expert, witness for the defense Berkeley professor of English Mark Schorer, Treat Williams suggests as that the trial would do much to stimulate interest in the poem, one which btw continues to the top-selling City Lights book now. He also gets to say that poetry cannot be translated into prose: the line Williams says in the fascinating making-of featurette was what made him want to take the part.
The ACLU layer, Jake Ehrlich, played by Jon Hamm (Mad Men) provided an eloquent defense of freedom of speech. More concisely, so did the very conservative judge, Clayton Horn, played by Bob Balaban (whom I just saw on the "Bernard and Doris" featurette).
Jeff Daniels has a difficult role as a sententious USF professor, David Kirk, whom Ehrlich shreds on the witness stand. David Strathairn matches Hamm in gravitas as the prosecutor and is not a caricature villain. Remembering that the words were emitted by the real-life figures, Mary-Louise Parker played a caricature, as a prosecution witness form another Bay Area Catholic school (Domincan College; USF is Jesuit).
The period production design by Thérèse DePrez and set decoration by Robert Covelman are very convincing. In addition to leaving a lot of testimony about his life and circle (the Beat poets), Ginsberg took a lot of snapshots (there is a book of them deriving from a show that I saw last June at the National Gallery), so the clothes and his apartments in San Francisco and on Manhattan are well documented. (I was amused that both were shot in a building in the Upper East Side of Manhattan, a much posher neighborhood than either of the original ones).
Tom Rubalcava, who worked with Ginsberg illustrating some of Ginsberg's poems created the images that were animated (in Thailand). They are very vivid.
The DVD is loaded with bonus features. I have not listened to the commentary track of Franco, Epstein and Friedman, but the 40-minute making-of featurette goes into fascinating depths about many aspects of making the film. There are also a set of research interviews, including ones of Orlovsky, Ferlinghetti, and Jake Ehrlich (whose first trial the Howl one was). Orlovsky died last summer, and it's great to have these interviews recorded and available on the DVD. There are also readings of the whole of "Howl" by Franco and 35 minutes of Ginsberg reading other works he wrote. I might have rated the movie 4.5 stars (dismayed by too many comet-like humanoid projectiles), but the DVD is definitely 5-star!
Epstein and Friedman won an Oscar for their documentary "The Times of Harvey Milk." I have to say that James Franco continues his fearlessness in undertaking playing Ginsberg, albeit before Ginsberg became a public institution. Also, making writing convincing (never mind dramatic!) is a challenge unmet by the many films about writers I've seen (including Franco's turn as Hart Crane).

© 3 January 2011