Nonconformism in
Part IV: The Gamy Treats of Naturalism
by Mark Daniel • translated by Marcel Martin
originally published in Tangents, Oct. 1965
---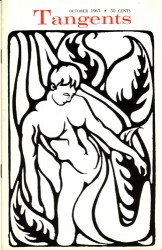 André Gide, Marcel Proust, Colette, Jean Lorrain—these are great names in literature, and their very prestige might lead us to question their value as documentarians of their period.
The question of what must be added to novels in order to arrive at a true history of mores and morals is far from being answered. Are they faithful mirrors or are they more like those grotesque mirrors at a funhouse pavilion? In any case, one may fear that the greater the literary qualities of any work, the more it is to be distrusted as an accurate historical record.
But there is another kind of writing—that which is not ordinarily considered literature at all, which never appears in the histories of literature and which makes no claim to he remembered by posterity. Yet, it may be and can be in these second or third rate works that we find some aspects of life which we can never hope to find elsewhere. We can, to construct a parallelism with what Georges Bourgin has labeled "the archives of the obscure," label this undeniably vivid, if mediocre, work the "literature of the obscure."
The most salient characteristic of this kind of writing is the exaggeration, with surprising lack of taste and critical mind, of the stylistic faults of other contemporary writing. It is in this manner that in the Belle Epoque "artistic fioritura," the re-cherchée, and the glitter of pseudo-erudition reach their apogèe. We cannot, however, allow these un-attractive features to keep us from examining what otherwise would be a little known aspect of the Sodom of 1900.
Now it so happens that Sodom and Gomorra were very popular subjects among the would-be writers of this period, whose excess of prudery leads naturally to the most detailed exposé of the erotic. The words "filthy," "perverted," "revolting," and infamous abound on every page, but they do not deter their writers from indulging in the most detailed and precise kind of description — intended, no doubt, to inspire in their readers a healthful horror of vice.
In Chariot s'amuse by Paul Bonnetain, [29] the tearful recital of the misadventures of a poor orphan is tempered by an anticlerical diatribe without which, we must admit, our picture of the sexual practices of the Belle-Epoque would be considerably less complete.
From a literary point of view Charlot s'amuse may be placed among the sequels to the naturalistic movement, of which, were it not for the unmistakable seriousness of the author, might be taken to be a parody. Yet it requires the evil minds of mid-twentieth century readers to find anything laughable in this basically touching "slice of life."
Indeed, this novel lacks nothing — an alcoholic and syphilitic parentage, a wretched childhood, the death of a father whose corpse is eaten by rats in a sewer, and an emotion-wracked scene describing the transfer of his corpse to a coffin, an apprenticeship in vice among the friars of the church, scandal, nervous breakdown, masturbation in the woods, debasing experiments with prostitutes, a liaison with a big-hearted whore, final abandon and suicide. The accent is always on the most ignoble aspect of things and persons and a reading of this repulsive and grandiloquent work provokes one both to nausea and laughter.
Of course, homosexuality in its broadest aspects is completely ignored and appears only in the form of pederasty in which the Friars engage in an indecent competition. Even so, the vice which the author attacks vehemently and with a kind of secret complacency — far more than he does pederasty — is masturbation which he paints, as it is painted in the studies of Professior Tardieu, in the blackest of colors.
The use of "scientific" words, so characteristic of the naturalist school, adds to the sordid tone of the work: "…inflammation of the rectum…, complex catarrhal infection of the prostatic-urethral portion of the canal…, irritation spreading from place to place to the meatus itself." Fine literature, isn't it! The moral: Do not be the son of a degenerate nymphomaniac and an alcoholic, or you will become addicted to onanism and will go crazy as do all masturbators.
If I have given this much space to this discussion of Charlot s'amuse, it is due first of all, to the fact that this work was in 1884 the subject of a criminal law suit for outrage against public morals. The case ended in acquittal — a memorable event in the history of jurisprudence in this area — but more important, from our point of view, is that in the prosecutor's address to the court, which was directed against the "ignoble cassocked nymphomaniacs," there appears a description of one aspect of homosexual life which, otherwise, we find little mention of in the Belle Epoque: Life in boarding schools and colleges, a subject which the literature of the mid-twentieth century was to exploit to surfeit.
To the same literary genre as Charlot s'amuse, though it appears twenty years later, belongs the novel by Jean Bosc entitled Le Vice Marin, [30] which is to the French navy what Charlot s'amuse is to the Brothers of Christian Doctrine. The plot is just as hackneyed and puerile as that of Charlot. The hero, like Charlot, is an orphan; like him he is from a very early age the target of seducers who are here not friars but the pederasts of the navy. The plot differs, however, in that, unlike Charlot, Bosc's hero does not yield to temptation but steadfastly refuses to have any part of "the naval vice."
The style is, if possible, even more labored and pretentious than that of Bonnetain. Thus, beginning with the boy's first night aboard the training ship Moskva he hears "disturbing noises, noises suggestive of caresses, noises new to him and which frighten and trouble him, filling his soul with terror, with shame and disgust. The following night there are glimpses of "monstrously coupled shadows, phallic silhouettes, an array of onanistic nervewracking horrors which soon disappear into a chaos of filth."
Later, Captain de Manciet, mad with love, grovels at the feet of the handsome boy: "Look, my little Alain, my pretty little sailor, take pity on my suffering, you naughty boy…" But Alain does not see him in a sympathetic way; rather "he is horrible and comic, frightening and monstrous. His octopus-like hands clasping my arms and my legs. Then, with my fingernails I tear at his face like a demon; with my teeth I tear out chunks of his poisonous flesh…"
Here again, I have made a point of quoting Le Vice Marin because this work is worse than mediocre; it is ridiculous — particularly when one considers that the tale is supposed to have been taken from Alain's diary which was enclosed in a bottle and thrown into the sea after a shipwreck — yet, is a documentary source of information on homosexual practices around 1900!
Despite obvious and awkward exaggerations, it does contain some authentic information on the lives of sailors, particularly during the long voyages of that era. Jean Bosc, it is true, makes not attempt to hide his hatred of the military, and his observations become somewhat suspect as a result: in "those little brothels which our warships on maneuvres become" there reigns uniformity, according to Bosc, the horrible tyranny of the strong over the weak. (There was considerably less sensitivity to the possible effect of criticism on the morale of the armed services in 1905 than there is in 1960.)
Yet there is a ring of authenticity in the description of the curious couple named "she" and "he" whom the hero meets in Toulon: "She" is an androgynus [sic] from Paris with soft dull skin, tired gestures and circlets around "her" eyes; "He" is a brute, the son of a prostitute and a sailor from le Havre. This strange pair of sailors supplement their meager savings in a notable fashion: At night "She" hustles in a furnished hotel on the rue Courbet, and "He" blackmails the victims which are most often officers of the Navy.
Of course, this kind of activity has always existed, and I am not so naive as to think that this Toulon story is anything new — one has only to look though the records of the Courts of Justice and the Criminal Courts to be disabused of any such notion. In Paris, the Boulevard Bourdon appears to have been the center of such activity. Quantum mutatus ab illo! [31]. But the literature of 1900 had not yet taken a fancy to the kind of milieu which, with the help of Jean Genêt, has come to hold such an important place in works devoted to homosexuality, and from this point of view Jean Bosc may be considered somewhat his precursor.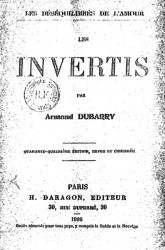 While Le Vice Marin does not spew forth scientific jargon as did Charlot s'Amuse, we find it again in Les Invertis — the very title being a program — by Armand Dubarry [32] which illustrates in somewhat the manner of a caricature another tendency of the literature of the Belle Epoque, the worldly novel. Here there is nothing sordid nor revolutionary, for we are dealing with first cousins of the heroes of Marcel Proust. But the hero, "who possesses normally formed genital organs which show no signs of atrophy, and who has, moreover, non of the visible exterior characteristics peculiar to his psychopathological defect" [34] — (in what gallant terms are these thoughts expressed!) — nevertheless, dressed himself "in silk stockings with rose colored garters above the knees and a blue corset;" he likes young boys, and his nipples secrete "in intermittent lactose fluid."
This would be of no interest and of no consequence if Armand Dubarry, whose work was widely read in his day, had not had the serious purpose of making his work a veritable encyclopedia of pederasty; fully half of the volume is devoted to digressions on the history and geographical distribution of this "vice," and is written in a style which is at the same time chauvinistic and produces, as a result of a most curious effect. "Thank God," he writes, "our army does not know these filthy degradations; from the simple woman-chasing private to the General-in-Chief everyone cries 'long live women' with the same fervor that he cries 'long live France!'"
Moreover, in France, Armand Dubarry finds few inverts other than Wagner lovers, "Bearded esthetes, neo-mystagogues, and some who are exceptionally ill…" some adventurers, "ricket-ridden, easily identified, their health ruined by masterbation," and some "lewd worn-out beggars in search of stimulation."
This delirious prose is interesting as evidence of the attitude of a certain kind of mind which exists in any and every period and which refuses to see what it does not want to see (like the lady who, in 1925, described the France of pre-1914 as being "free of inverts and negroes"). It demonstrates also how the super-patriotism, which for a long time had been laying the groundwork for the great revenge against Germany after the defeat of 1870 and which cannot be omitted from any history of the Belle Epoque, reached even into the realm of sexuality, and it helps to explain how and why, after the war of 1914–1918, cosmopolitanism and licentiousness exploded simultaneously with the force of pressures too long restrained.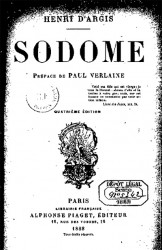 Despite its provocative title I shall do no more than mention Sodom, by Henri d'Argis, [33] because this book, with a preface by Verlaine, considerably antidates [sic] in spirit the period with which we are concerned. The work is interesting, however, first because of its style, which is less bad than that of Bonnetain, Bosc or Dubarry, and, secondly, and particularly, because it relates in delicate terms a liaison — chaste, it is true — between a man and a 17-year old boy: "It was not a question of vice, of debauchery, nor of obscenity; it was simply love hovering vaguely over both of them." There can be no question of the documentary value of this work for it was inspired by the true story of Verlaine and Rimbaud.
To conclude this discussion of marginal literature I shall but mention the comic figure of Achille Bécasse, other known as Achille Essebac, author of DéDé (1901) and Luc (1902), both vapid novels about adolescents, which Roger Peyrefitte unexpectedly rescues from oblivion by making mention of them in two or three bitter-sweet paragraphs in l' Exilé de Capri.
As for Geroges Eeckhoud and Binet-Valmer, we shall come back to them a little further on.
---
Notes
29 Paul Bonnetain, Charlot s'amuse, Paris, A. Charles, 1883.
30 Jean Bosc, Le Vice marin, confessions d'un matelot, Paris (Pierre Douville), 1905
31 Affaire Mielle, 1885: A Baraille, Causes criminelles et mondaines de 1885, p. 57
32 Armand Dubarry, Les Invertis (Le Vice allemand), Paris (Chamuel), 1896.
33 Henri d'Argis, Sodome, Paris (Alphonse Piaget), 7th ed. 1888.
---