Reader At Large
by Barbara Grier
writing as "Gene Damon"
Photograph courtesy JEB[1]Barbara Grier image ©2017 by JEB (Joan E. Biren.) Used by permission.
Printed in the

October 1965

issue of Tangents
An informal column of reviews and book notes on all phases of homosexuality in literature

---
Most of us hear of the big books, those total theme extravaganzas which treat nothing but one aspect or another of the homosexual picture, and generally exclude any other part of the world.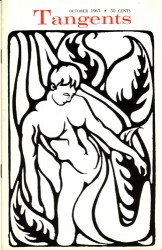 For each of these books, well known, well talked of, often well or at least frequently reviewed, there are dozens of other books, less wholly concerned with homosexuality and homosexuals, but still having some portion on the subject or some relationship which makes them of interest to our audience.
This column, then, is designed to bring a little balance in, to tell you of the many many books, not just the few, to offer a choice of reading for the various tastes.
When you do your searching remember that your local library which may not purchase Baldwin or Rechy is likely to have some of the books which will appear in this column.

The death of quiet, literate genius Edward Lewis Wallant, leaves a niche in American literature not to be soon filled. His novel, The Tenants of Moonbloom [Harcourt, Brace, 1963], concerns Moonbloom, a rental collection agent drawn unhappily into the lives of the down and-out-tenants of several substandard apartment houses.
Tenant Marvin Schoenburn, fastidious faggot and occupant of an over-decorated apartment, is a symbolic villain. He is contemptible as a person, and Wallant makes no bones about this.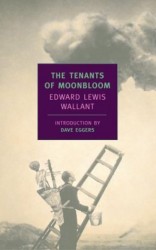 On the other hand, his portrait of Negro novelist Joe Paxton (quite clearly drawn from life) who is also, incidentally, a homosexual, shows Mr. Wallant's intentions. His dictum is that a man should be judged as a man, just that and nothing more, and he succeeds well without polemics.
Merle Miller, another novelist concerned with the moral aspects of our society, includes a liberal sprinkling of male and female homosexuals in his titles. His latest, A Day in Late September [Morrow-Sloane, 1963, Macfadden, 1964] and also his earlier, A Gay and Melancholy Sound, Sloane [1961, Avon, 1962] are of interest. He's fair, about 10% of his pages concern homosexuals, a statistically reasonable proportion, and he reads well and fast.
The "school" of writing which includes James Baldwin and John Rechy spawned Charles Wright and his 1963 novel, The Messenger [published by Farrar, Straus and reprinted by Fawcett Crest, 1964]. He is more closely allied with Baldwin than Rechy, not because of the racial heritage they share, but because of tonal attitudes. Sexually he is diluted Baldwin and even more watered down Rechy but he has a voice of his own, though some readers may wonder why everyone (my dear!) wants to sleep with the messenger boy.
Children of Lucifer, by Dana Faralla [Lippincott, 1963] is weakly compared by the publisher to Henry James' Turn of the Screw. However, it is likely that James would resent the comparison and he might be shocked by the book. The lovely cast of this psychological melodrama, which is more closely allied with the Daphne Du Maurier style of writing, includes too wise children, including a young boy with an already rather lurid past, several male tutors from the past and a very charming one in the present, and all those boy friends, an elderly horror of an old woman who devours young boys, and on and on all over a nice Mediterranean setting. The plot concerns who slept where with whom and why. Fun and games in the sun.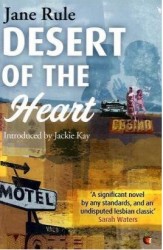 In August, 1965, the first American edition of Jane Rule's lovely novel The Desert of the Heart was released by World publishers. Widely reviewed in Canada and England on its appearance in those countries last year [Secker and Warburg, London, and Macmillan, Toronto, 1964], this is one of those very special books which should last for many years, please many new "generations." There are several levels of appeal in the novel, though primarily the straightforward and very beautiful love story between Evelyn Hall, an English professor in her 40s, and much younger Ann Childs, a "change apron" in a Reno, Nevada gambling casino, will be the primary drawing card.
Evelyn is in Reno to divorce her misfit husband after 16 years of marriage. Ann is a changeling child, lost, a little fey, very desirable and not likely to wish to be caged. They pursue separate courses to their mutual meeting ground and consummate their love in the fire and ice contrasting atmosphere afforded by the sun in the desert and the air conditioned nights of the casino.
A good adventure novel, Trial at Monomoy, by John Masters [Harper, 1964, Dell, 1965], contains a repressed male homosexual who takes his repression out, typically, in a pattern of sadistic hatred for homosexuals.
Elliott King, ex-marine hero, is impotent with his wife (and other women) and a good fellow with the boys. Plot concerns a severe storm's effect on the lives of the inhabitants of a New England village. Not as effective a novel as Henry Morton Robinson's The Great Snow [Simon and Schuster, 1947, Pyramid, 1964], which also concerns a freak storm and, incidentally, includes a very poignant portrait of a young boy undoubtedly headed toward a homosexual life.
John Le Carre, English mystery writer whose novel The Spy Who Came in From the Cold has broken many best-seller records and helped spark enormous interest in spy stories, has an earlier novel of interest in this column. His A Murder of Quality [London, Gollancz, 1962, N. Y., Walker, 1963, Signet, 1964] is set in that traditional hotbed of homosexuality, a boys' school. Here though, the emphasis is on staff rather than student and includes a sympathetic male homosexual master whose foibles are more endearing than defamatory and whose predilections are understood, if not wholly condoned, by the author.
From Australia we have the kind of all male marriage which ends unhappily, told by Neville Jackson in No End to the Way [Barrie and Rockliff, London, 1965]. There are bad literary flaws in this book, which reviewers will delight in landing on hard, such as the about-face portrait of one of the major protagonists, Cor, which seems unreal. This, and some other slight flaws, do little however to detract from a basically serious and sometimes quite lyrical romance told in a very unpretentious, natural narrative style.
Ray, a youngish advertising man in Australia, lives with his family and uses his weekends for a quick pickup in a local bar. When he meets the handsome, clean and apparently "straight" young Dutchman, Cor, he can hardly believe his good fortune, for wonder of wonders, Cor is also gay and immediately returns the affection.
They begin their months of drama on fairly good footing, but soon it comes out that Cor is married (to the most sickening woman ever created in fiction, I might add) and more, he has been kept by a local nasty type, Hamilton (again almost a caricature of evil).
Hamilton decides to move Cor and wife back to Holland, and Cor rebels and runs to Ray. They have a few short months of marriage, and then Hamilton, in a last attempt to destroy the pair, ruins Ray's reputation locally, and Ray's business fails.
To really boil the pot, Ray falls ill. Just as the novel seems about to take on a relatively cheerful note, as Cor becomes a good boy again and nurses Ray back to health, Ray accepts a new job in a distant city where it will be impossible for Cor to follow him.
Ray, who narrates the tale, is left lamenting his wasted life, and the reader is left wondering why he had to take the job. While it lasts though, this story has its lovely side and will be welcomed by those tired of the one night stands in literature. A little good here for both the realist and the romantic.
---
Content ©1965, 2016 by The Tangent Group. All rights reserved.
---