Tennessee Williams:
Plays 1957–1980
by Tennessee Williams
Published by Library of America
Edited by Mel Gussow and Kenneth Holditch
Published October 1, 2000
Drama
975 pgs. • Find on Amazon.com
Reviewed by Stephen O. Murray
May 26, 2003
---
I've been reading the 1957–1980 Library of America volume of Tennessee Williams plays backward in order, so I can look forward to Night of the Iguana and not be depressed by the decline in quality. That was, I see, not linear. The penultimate play, View Carré, the only one of the late ones I've seen stage, isn't bad—another New Orleans swirl of pretensions to gentility and brutal economic realities, plus a young writer very like the one from The Glass Menagerie who goes off with a man.
In the very last play, A Lovely Sunday for the Creve Coeur, set in St. Louis of the 1930s, has a woman with hopes for marrying up (Dorothea) being practical and taking what she can get (the never seen Ralph, her roommate Bodey's brother), and disappointing the pretentious Helena who wanted her to share the rent on a new apartment (somewhat the way Stella in Streetcar frustrates and appalls Blanche by going back to Stanley after he bellows for her; Helena does not crack up, however).
Out Cry is an attempt at Beckett/absurdist despair with a brother/sister (I think) pair of actors abandoned by their troupe, going on with the show to an audience that leaves (as Williams's had). In his foreword, he claims to have "the necessary arrogance to assume that a failed production of a play is not necessarily a failed play." Alas, in this case, the problem was the play.
The (internalized) homophobia of Small Craft Warnings bothers me. Plus it's a not very interesting variation on The Iceman Cometh in a gay bar, with Leona in the Hickey role.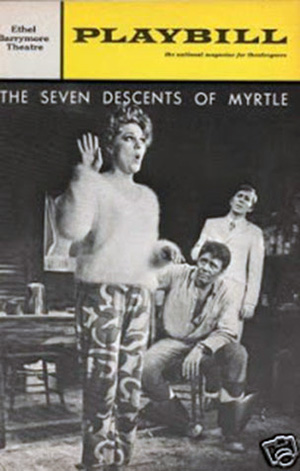 The Mutilated is short and stupid, but Kingdom of Earth, aka The Seven Descents of Myrtle, is fairly compelling though its leading male character, Lot, seems close to Blanche's husband Stanley and other Williams brutes. Myrtle is relatively clear-eyed (like Dorothea heading for Creve Coeur), not as flighty or as delusional as Blanche. I guess that means she resembles Maggie the Cat, not least in having a steady, clear eye on obtaining Mississippi Delta property. Although I can see that the title The Seven Descents of Myrtle is not very commercially attractive, I think it's a delightful title, especially in that it is descriptive. Myrtle does descend to the ground floor seven times, though there is much talk of ascending to the roof when the floodwaters arrive a few hours behind the dying Lot and his new bride Myrtle.
I think that Tennessee exaggerated in claiming that "The Eccentricities of a Nightingale is a substantially different play from Summer and Smoke." It is tighter, but more than the characters and location are the same. With some difficulty, Alma receives the kindness of a neighbor (John) who is a "catch" being vigorously guarded by a social-climbing mother, and after an hour of fulfillment becomes a woman depending on the kindness of strangers—randy traveling salesmen to be exact—after the end of her career as a Delta warbler (the descriptions of her singing at weddings and funerals and 4th of July pageants seems to me more warbling than nightingale song).
Mrs. Goforth, the central character in The Milk Train Doesn't Stop Here Anymore, has more in the way of riches than Alma but is even more cut off from conventional society. She has a Mediterranean villa with servants and does not mingle with anyone else as she blusters memoirs that sound totally false. An angel of death (and professional house guest) visits her, and she tortures him before her final decline.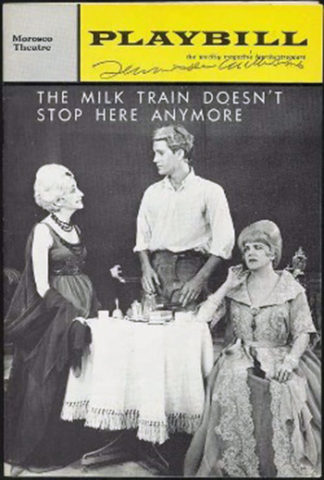 There are a lot of final declines in late Williams plays (Lot in dying of tuberculosis in Kingdom of Earth as is the coughing queen named Nightingale in Vieux Carré) and handsome male drifters who are angels of death scattered through early and late plays. Mrs. Gofoth's secretary Blackie gets off the best lines in Milk Train, whereas Alma gets them in Nightingale. And there are desperately aging women everywhere (besides Alma and Mrs. Goforth, Jane in Vieux Carré, the more practical Dorothea in Creve Coeur, and the very practical Myrtle ensuring a share for herself in Kingdom of Earth). It's hard for me to imagine an actress remembering and uttering Mrs. Goforth's torrent of chatter or audiences sitting through Out Cry or The Mutilated. The Kingdom of Earth is the most compelling of the plays after Williams' last success (Night of the Iguana) though Vieux Carre and Creve Coeur are often funny in territory from Williams's youth (i.e., St. Louis and New Orleans, elusive beaus and affected women).
The most explicit homophobia is on stage in Small Craft Warnings but also pervasive in Vieux Carré, Cat on a Hot Tin Roof, Suddenly Last Summer, and more obliquely (nearly subliminally) in Streetcar Named Desire, Out Cry, and Milk Train.
---
originally published by AssociatedContent, 26 May 2003 and 5 August 2003
©2003, 2017, Stephen O. Murray
---
Feature image: Sean McNall, Rachel Botchan, and Joseph Collins in Vieux Carr.
Promotional photo by Gregory Costanzo via Playbill.
---