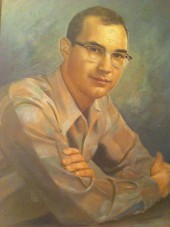 January 28, 2013.
On March 28, 1969, three months before Stonewall in New York, Vector's [SIR San Francisco group's magazine] editor, Leo Lawrence, called for the "homosexual revolution of 1969." He was urging gays to join with the Black Panthers and other radicals, and for this SIR expelled him.
According to Wikipedia, Laurence then co-founded the Committee for Homosexual Freedom, with Gale Whittington, a man fired from States Steamship Company for being openly gay after his photo appeared in the Berkeley Barb next to the headline "HOMOS, DON'T HIDE IT!" by Leo Laurence.
It also mentions a second underground paper, the San Francisco Free Press, as it carried Carl Wittman's article "Refugees from Amerika: A Gay Manifesto." This also appeared later in the Chicago Seed.
---